'Nashville' Scores, Catfight or No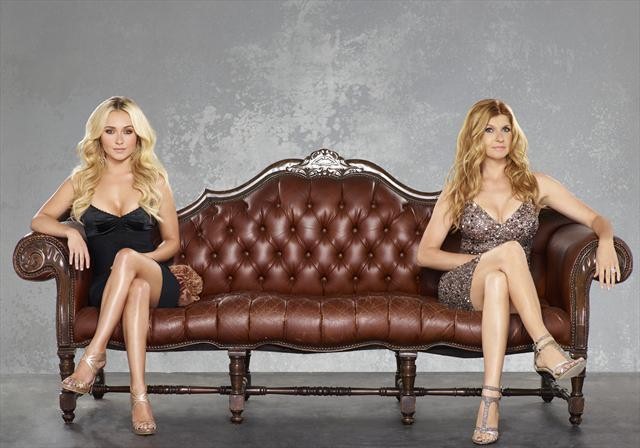 The sublime Connie Britton gets smacked in the face with ageism as a country super star who suddenly finds a brazen little man eater - Hayden Panettiere - usurping her territory in Nashville, premiering Wednesday (10/10) on ABC .

Panettiere's Juliette Barnes doesn't bother playing nice to established star Rayna James. Unlike All About Eve's Eve Harrington, Juliette is vixenishly vicious, snubbing Rayna from the get-go, as she poaches Rayna's guitarist, her producer, her record company. Even Rayna's daughters, sitting in the back seat of the family car, are singing a Juliette Barnes song.

No wonder Rayna gets ticked off.

"I think that we have a real opportunity here to show the complexities of these two kinds of people in show business, and particularly women. And I for one feel a really strong responsibility to do that in a way that is true and dignified," Britton told reporters at this summer's TV critic's tour. "My whole mantra from the beginning is that this is not a catfight. I'm not doing a catfight, you know, and I don't think anybody's interested in that."

Nonsense, Connie. We love a good catfight. But we get the point - that there is more to the characters than hissing and clawing. And indeed, the complexities begin to emerge straightaway in the drama-with-music from Oscar winner ("Thelma & Louise") Callie Khouri. Khouri knows her Nashville - she worked as an actress and as a waiter there - and things simply, satisfyingly, ring right.

The show that was designated as "most exciting new series" at the Critics' Choice Television Awards also boasts the legendary T-Bone Burnett as executive music producer. The leads are doing their own singing, and there is memorable music in the pilot.

For fans of the great Friday Night Lights, it's nice to see Britton playing a Southern woman again - though Rayna James is a world away from Tami Taylor. Both FNL and Britton's exotic American Horror Story series of last year "felt like something innovative and something that we haven't seen before, and as an actor, that's exciting," she said. "And my hope is that Nashville will be that, too."