'Nurse Jackie' Gets an Assist From a 'Dexter' Mastermind
When Nurse Jackie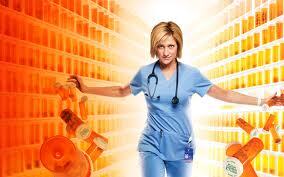 debuted in 2009, ingesting mass quantities of Oxycontin and Adderall, trading sex for pills, careening from raw emotion to mordant humor, she didn't look like a strong candidate for longevity. But here we are, about to embark upon Season 5, premiering on Showtime tonight. Emmy winner Edie Falco's emergency room anti-heroine has made it through rehab and is about to face her toughest challenge yet - sobriety.
Taking her on that journey is the series' new showrunner, Clyde Phillips - known to Dexter aficionados as the three-season executive producer of that show who brought us the horribly good Trinity Killer saga with John Lithgow.
Isn't a half-hour dramedy a strange fit after that? "I'm a storyteller. There's an interlocking of storytelling fingers here, because Nurse Jackie and Dexter - though the shows are obviously quite different - they're a little bit the same. They're both living these secret lives that the people closest to them have no idea that they're living," Phillips told AARP.org. "In Jackie's case, she is living sort of a borderline sociopathic life; in Dexter's case it was a psychopathic life. There are similarities in the way the main characters were approached, in the thinking about the stories and the telling of the stories."
But, hasn't Jackie broken free of that now that she's off the drugs? "You are always who you are," Phillips replied. "The story for Jackie this year is her struggle and her embracing of sobriety - but she's still thrown a hand grenade into her life, her family's life and her professional life. She's suffering the consequences of dealing with that shrapnel, and how she can find normalcy for the first time."
Two hours into her divorce, Jackie also has a new love interest in the form of cop Adam Ferrara. Hunky Morris Chestnut is joining the All Saints staff as a former Army doctor. Betty Gilpin is newly aboard as a preppy medico who gives Peter Facinelli's grabby Dr. Cooper tit for tat, and Bobby Cannavale is back as scrappy Michael Cruz. We can expect "some really wonderful, original medical stories going back to the ER," according to Phillips. "Also, keep an eye on Jackie's older daughter (Ruby Jerins) ... We're going to learn that apples fall close to trees." Look out.
Also of Interest

Join AARP: Savings, resources and news for your well-being
See the AARP home page for deals, savings tips, trivia and more