Oscar Night Was Great for Grownups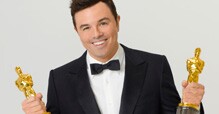 Movies for Grownups winner Dustin Hoffman said on the Oscar red carpet Sunday that the award ceremony hadn't changed even a "titch" over all the years he's been part of the Hollywood scene - and that's going back to 1967 when he was nominated for The Graduate. He was certainly right about that. The inconsistent show was, as usual, overlong and, unfortunately, uninspired.

However mixed the reviews are for the show - some tweeters suggested Seth MacFarlane include himself in the finale "Losers" number - it was a good night for those of us watching for the grownup artists. Among the highlights: Barbra Streisand's performance of Memories, Daniel Day-Lewis' best-of-the-night acceptance speech for Lincoln, Jack Nicholson's presentation of best picture with first lady Michelle Obama, from the White House, no less, and Ben Affleck's heartfelt acceptance speech for Argo, a movie our AARP The Magazine awarded best time capsule. Of course, it was also wonderful to see Jane Fonda and Michael Douglas, costars in The China Syndrome 34 years ago, striding onto the stage together. And then there was Meryl Streep, the always elegant Meryl Streep.

The winning stars were in good humor when they went backstage to talk to a huge room full of press.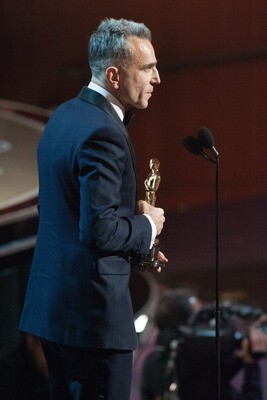 Daniel Day-Lewis said that after Lincoln, he couldn't think of any other historical figures he wanted to play, "because I need to have a lie-down for a couple of years after this one." Asked about his reference to staying in character throughout the time he's filming a role - and his wife having to handle all those different characters - Day-Lewis smiled and said, "She knew how to handle all of them, in their particular ways."

"I'm definitely out of character at this moment," Day-Lewis added, "but if I slip back by mistake, do something - the Heimlich maneuver, an intervention."

Ben Affleck, George Clooney and Grant Heslov brought a whole Oscar night's worth of glamor and charm into the pressroom all by themselves after their Argo took this year's top prize. They joshed amongst each other and with reporters, and looked very suave and handsome while doing it. Through much of awards season, other movies were considered to be front-runners for this year's best picture Oscar. So, when did Affleck sense a tipping point toward his film?

"When they gave us the trophies, I was confident we would win," he dead-panned.

Asked how he felt about his award being introduced by the first lady, Affleck admitted, "I was sort of hallucinating when that was happening - 'Oh, look a purple elephant. Michelle Obama.' I was just asking these guys outside, 'Was that really her?' It was an enormous honor."

Best supporting actor Christoph Waltz, 56, was still in shock. "That's why my answers are so incoherent," he said.

Anne Hathaway was near tears as she talked about her "it came true" comment when she won her best supporting actress Oscar. "I had a dream, and it came true. And that can happen, and it was wonderful, and it can, and it did."

Not so earnest was David Arquette who was planted in the press room as a reporter for The Howard Stern Show on Sirius XM Radio. Arquette livened things up by asking winners such questions as "What was your favorite item in the gift basket?" or calling out "Good one!" when he liked a colleague's question to the winner. The comedy bit fell flat.

Fortunately, brighter moments prevailed. The films being honored this night share a common characteristic worth celebrating, as Quentin Tarantino pointed out - and that characteristic is adult appeal. He believes that the kind of filmmaking spirit represented by this year's best picture nominees compares to the beginning of "what was called the 'new Hollywood' back in 1969, '70, '71 ... I looked at the nine nominees and more than most other times I can think of, I recognize the same spirit that was going on then," said the avid film devotee and Django Unchained best original screenplay winner, who's been studying the period of late. "Even the commercial successes - there's nothing about the subjects that suggest they would be commercial or popular, but they have been." The filmmaker, who turns 50 next month, is glad not all movies are being made for teenagers. "I actually think an adult audience is now rising up, and that's kind of a cool thing - especially since I'm not a teenager anymore." Talk about Movies for Grownups!