Oscar Nominees Luncheon Could Make Irresistible TV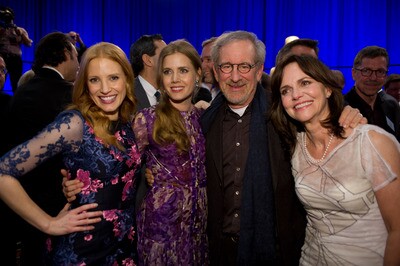 Of all the awards season events, the annual Academy Awards Nominees Luncheon stands out because it is a comparatively relaxed, familial affair; plus, it's not televised. In fact, it has become a welcome respite for the anointed ones, a place where they can bond as a class while out of sight of the viewing audience (though it certainly could make an irresistible show.)

Yesterday's luncheon at the Beverly Hilton Hotel had enough star power to light up the Superdome. Denzel Washington, Steven Spielberg, Ben Affleck, Jessica Chastain, Amy Adams, Sally Field, Jennifer Lawrence, Hugh Jackman, Helen Hunt, Joaquin Phoenix, Naomi Watts, Ann Hathaway, Robert De Niro, Tommy Lee Jones - they were all there, 163 nominees in all. After pausing for fusillades of flash photography on the red carpet, nominees stopped by a small press room to answer questions, before moving on to a cocktail reception.

The luncheon, as is pointed out frequently, is the day when there are no winners and no losers, just everyone savoring the moment and enjoying each other's company - like Steven Spielberg, pictured here, chatting with his Lincoln first lady Sally Field, along with Sally's fellow Best Supporting Actress nominees Jessica Chastain and Amy Adams.

Adams joined the others fresh from a laugh-filled session in the press room that began with her declaration that the media had interrupted her flirting time with Bradley Cooper and Christoph Waltz just outside.

Naturally, the first question was, "Who was more receptive?"

"They're both pretty open. It's going to be a good lunch for me," she replied. Then, for reasons we can only guess, music began blaring over the loudspeaker. "They're playing 'Because the Night Belongs to Lovers' " Amy observed, laughing. "It's the theme of my lunch! I'm very excited."

AARP's Movies for Grownups Best Supporting Actress winner, Australian actress Jacki Weaver of Silver Linings Playbook, said she was happy to be recognized with our award. "It's very nice, thank you. I have to say that's lovely. It's even more fun when schoolboys in the street recognize me."

Having come to the attention of America only a couple of years ago after a long, busy career Down Under, she's savoring this surprising stage of her professional life and she's proud of her age. "I'm a lot more than 50. I'm 65 and very happy about it, I have to say."

This year's Academy Awards show producers, Craig Zadan and Neil Meron, gave the usual speech about keeping acceptance speeches short should they win and promised they have found ways to add more entertainment to the live broadcast on ABC. We'll see.

At "class picture" time, nine-year-old Beast of the Southern Wild charmer Quvenzhane Wallis got especially loud applause. She's the new record holder for youngest-ever nominee, and she was oh-so-cute in her sparkly purple dress. Denzel Washington - AARP's Best Actor Movies for Grownups recipient - said he was looking forward to meeting her, and that "maybe she'll put me in one of her movies." Later on, the two did meet and shared some mutual admiration time. There was more such schmoozing, champagne and desserts before the nominees went their separate ways. They'll meet again at the 85th Oscars on Feb. 24.