Patrick Dempsey Shows Us His Passion in 'Le Mans'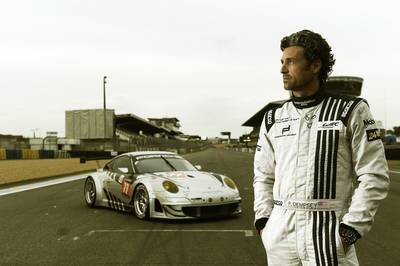 Patrick Dempsey in a Porsche jumpsuit - six words that add up to reason enough to tune into "Patrick Dempsey: Racing Le Mans" on television. The four-part Velocity documentary series roars our way Wednesday (8/28), and there are actually many more reasons to go along for the ride than beholding Dempsey's chiseled profile and voluptuous hair.
The 47-year-old "Grey's Anatomy" star shows us his passion, and it's not for acting. It's for the singular sense of power and pleasure he gets behind the wheel of vehicles such as the Porsche 911 GTS RSR he drives in France's world-famous 24-hour endurance race. In fact, McSpeedy has let it be known that he would willingly walk away from the cameras to race full time. However, his acting helps pay for the extremely expensive sport that he loves, a sport - one gets the sense from the series - that's almost as fraught with funding headaches as making indie films. More money means you get to go faster, he points out, because it buys better equipment, more testing opportunities and support. Viewers will see Dempsey cope with an array of challenges, balancing work and family life while training. Those previously unaware of the mental and physical requirements of endurance racing will gain a new appreciation.
Dempsey has had a need for speed since childhood, when he dreamed of being an Olympic skier and watched auto racing with his dad. In 2004, his wife Jillian gifted him with a three-day Skip Barber race car training course and he was hooked immediately. She is supportive, he told reporters at the recent Television Critics Association press tour; she knows it's something he needs to do. Evidently the "Grey's Anatomy" producers know that as well, since he says that they, too, have been amazingly supportive of the actor's sideline. (Fear not, "Grey's" fans. Dempsey made it clear he's happy to be returning for the show's 10th season that begins on Sept. 26.)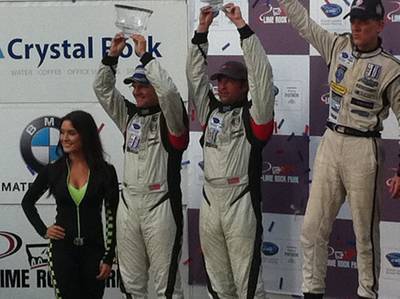 Dempsey executive-produced the series that gives viewers entree to this whole different world, as James Garner's "Grand Prix," Paul Newman's "Winning," and Steve McQueen's "Le Mans" did decades ago. Velocity has made much of the sexy history of Hollywood stars who became real-life race car drivers (yet somehow they keep leaving off Frankie Muniz and Tim Considine, heh-heh). Dempsey said at TCA that he's met Garner, and that he had the opportunity for a long talk with the legendary Newman back when he was first getting into racing: "Mr. Newman was great because all we talked about was racing and how bad the qualifying session was for him. And that was really nice."
Also of Interest

Join AARP: Savings, resources and news for your well-being
See the AARP home page for deals, savings tips, trivia and more