Pierce Brosnan: Back in Bond-age
By Bill Newcott , August 27, 2014 03:52 PM
Why is Labor Day at the movies such a cinematic Sahara? Because the movie studios clearly expect you to be out grillin', not inside chillin', all weekend long. Despite the slim pickings, you'll still find an action flick that stars a familiar face and a film bio of the biggest movie star you've never heard of.
Cantinflas
There's no more beloved figure in the history of Latin American cinema than the Mexican comedian Cantinflas - known to U.S. audiences, if at all, as David Niven's sidekick in Around the World in 80 Days. Action star Oscar Jaenada Gajo ( Pirates of the Caribbean) gives a funny, touching, physically nimble performance in this life story of the man dubbed "the world's greatest comedian" by Charlie Chaplin.
Life of Crime
Hapless crooks Yaslin Bey and John Hawkes kidnap the wife (Jennifer Aniston) of a rich guy (Tim Robbins), but get saddled with their hostage when Hubby decides he'd prefer not to pay up. This field was plowed memorably by Bette Midler and Danny DeVito in Ruthless People (1986), and before that by O. Henry in The Ransom of Red Chief. Not sure why we're here again, other than the fact it began life as the Elmore Leonard novel The Switch.
The November Man
Pierce Brosnan must be missing his 007 days; he stars as a former CIA agent pressed back into service to protect a witness (Olga Kurylenko) being targeted by his former employer. With Brosnan flaunting his action-role chops, let's hope this meaty role turns into a recurring gig for him. Based on Bill Granger's bestselling "November Man" spy novels.
>> Celebrity Couples Still Crazy for Each Other
We're in the middle of  the most promising Grownup Movie Summer ever!
Click here for our exclusive checklist of don't-miss flicks through August.

Still Out There ...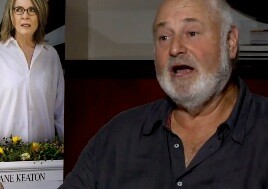 Twenty-five years after he arranged for Harry to meet Sally, director Rob Reiner proves that his take on grownup love has grown only richer with time. A sharp comedy with an ear tuned to the bittersweet cadences of mature romance, And So It Goes delightfully showcases two of Hollywood's most enduring stars: Michael Douglas and Diane Keaton. He's a mean-spirited real estate hotshot (with a hidden heart of gold, of course); she's a retired widow and aspiring nightclub singer. You could sketch out their courtship, loveship, shipwreck and reunion with your eyes closed, but the knowing script by Mark Andrus ( As Good As It Gets) combines with Reiner's jaunty direction to make And So It Goes go down easy. FULL REVIEW
Having made us fall in love with Dublin street singers in Once, writer-director John Carney expands on that theme with a bigger budget and a much bigger city: New York. Mark Ruffalo ( The Kids Are All Right) is a self-destructive music executive who sees his path to redemption in a gifted young English singer (Keira Knightley). The Pride & Prejudice star has a sweet set of pipes to match the film's pleasing soundtrack, and the Big Apple's streets never looked - or sounded - better. FULL REVIEW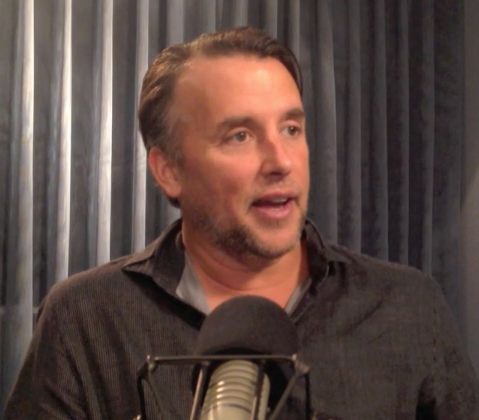 Boyhood
In 2002, writer-director Richard Linklater wrote a script about a young boy's life from age 6 to his late teens. He filmed it over the ensuing 12 years, letting his actors literally grow into their parts. Sure, the nearly three-hour Boyhood could stand some trimming, but it's easy to understand Linklater's reluctance to leave anything on the cutting-room floor. His gamble on casting Ellar Coltrane as the boy is inspired; as his parents, Patricia Arquette and Ethan Hawke show it's not just children who evolve over a decade or so. In fact, Boyhood is most compelling when it explores the complex dynamics between growing children and their oft-confounded parents. FULL REVIEW
>> Sign up for the AARP Leisure Newsletter
Calvary
Once you recover from one of the most startling opening lines in movie memory, relish Brendan Gleeson (In Bruges) in one of the towering performances of the year. He plays an Irish village priest who takes the confession of a man who calmly declares, "I'm going to kill you, father." The deed is to be done a week from Sunday: "Killing a priest on a Sunday," muses the shadowy figure. "That'll be a good one." Gleeson is mesmerizing, and writer-director John Michael McDonagh (The Guard) is relentless in his study of a good man in an increasingly dark world.
The Expendables 3
Before this bomb-tastic action series bowed in 2010, few in Hollywood thought audiences would accept 50+ stars dashing through blazing buildings and firing guns the size of Buicks. Now every veteran actor in town is a potential action hero (we're looking at you, Liam "Taken" Neeson). This time around, team leader Sly Stallone recruits some 20somethings for a particularly tough mission against a deliciously villainous Mel Gibson. In the end, of course, Sly will have to turn to his old pals to save the good guys' bacon. Don't look for surprises here; do, however, buckle up for some first-rate mayhem courtesy of Sly and his cohorts - including Harrison Ford, Arnold Schwarzenegger, Kelsey Grammer, Dolph Lundgren, Jet Li and Wesley Snipes.
>> Get entertainment and dining discounts with your AARP Member Advantages.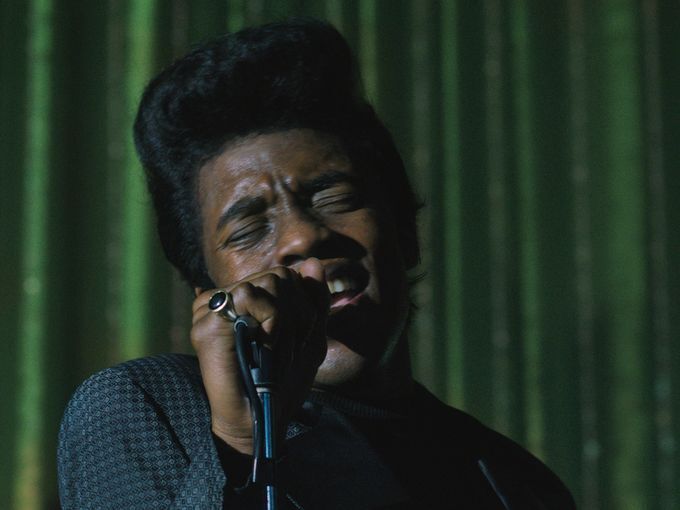 Get on Up
Chadwick Boseman ( Jackie Robinson in 42) makes playing The Hardest-Working Man in Show Business seem easy in this spectacular, funk-driven biography of James Brown. The soundtrack is the genuine Brown, but Boseman nails his Mashed Potato dance steps and inseam-defying splits. At first you may think director Tate Taylor (The Help) is showing you random moments from Brown's tumultuous life, but you'll quickly see the method to his montage.
The Giver
Stern elder Meryl Streep runs a future where older folks and undersized babies get "released" to "Elsewhere" (which is supposed to sound warm and reassuring, but not to those of us who've seen Logan's Run or Soylent Green). Also, the world's painful history has been erased and everyone lives in harmony, thanks to a potent combo of social engineering and daily drug injections. Only the Giver, played by Jeff Bridges, carries memories of the past, and his job is to use those memories to help guide the society's leaders in making wise decisions. But the Giver is getting old, and he must pass his collected knowledge onto a youngster (Brenton Thwaites) who realizes, pretty early on, that this is an unworkable system.
Guardians of the Galaxy
You won't have more fun at a theater this year than you will at this shockingly smart sci-fi adventure. Chris Pratt (the doofus from TV's Parks and Recreation) is a revelation as the wisecracking leader of a gang of intergalactic misfits who accidentally find themselves defending the universe from a very bad dude (Lee Pace). Groot - a gentle, treelike giant, voiced by Vin Diesel - is the most endearing sci-fi character since R2D2. Director-cowriter James Gunn ( Dawn of the Dead) inserts knowing echoes of Star Wars and Indiana Jones, along with a dash of The Adventures of Buckaroo Banzai. Best of all, because Pratt's character is a transplant from 1980s Earth, his personal soundtrack (played on a Sony Walkman) is a greatest-hits mix featuring Blue Swede's "Hooked on a Feeling" and 10cc's "I'm Not in Love." I'd buy that soundtrack - if they release it on cassette.
The Hundred-Foot Journey
Helen Mirren is a snooty French chef; veteran Indian star Om Puri (East Is East) is the immigrant who opens an authentic Mumbai-style restaurant, replete with secret spices and blaring santoor music, across from her chic, white-tablecloth place in the South of France. The resulting culture clash fuels this foodie romance from Lasse Hallström, who also directed Chocolat. The dishes look delicious and the stars are endearing, but the predictable script could have used more seasoning.
Land Ho!
Equal parts comedy, adventure and coming-of-age drama (for the 70-plus set), this is the year's most engaging buddy picture. Paul Eenhoorn (This Is Martin Bonner) and 72-year-old Earl Lynn Nelson (in his first major film role) play a couple of guys who head to Iceland for one a final hurrah. The two actors reportedly improvised roughly half the dialogue, and their spontaneity fuels a film in which surprisingly little happens. Which is just fine: For the most part we happily join the pair's idyll, marveling alongside them at Icelandic geysers and misty hot springs. The landscape they traverse is barren and beautiful; the emotional chasms they bridge are honest and universal. FULL REVIEW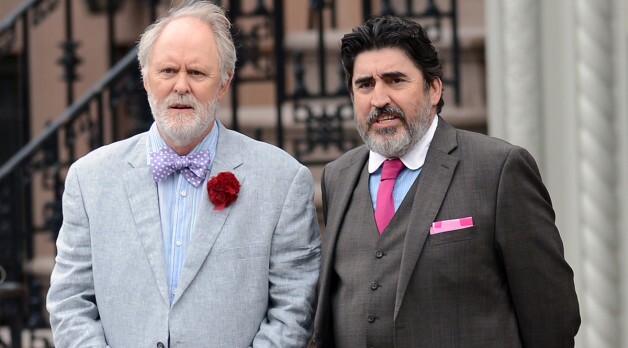 Love Is Strange
Two of the screen's finest actors, John Lithgow and Alfred Molina, bring warmth and humor to a modern yet timeless love story. They play a couple who've lived together for decades, only to see their comfortable Manhattan lifestyle come crashing down due when they get married. Director/co-writer Ira Sachs lavishes uncommon dignity and consistent good humor on the guys, their families and even those who stand in the way of their ultimate happiness. A film like this requires a delicate balance; happily, everyone involved succeeds like a Wallenda - and makes the acrobatics look easy. FULL REVIEW
Lucy
When a brain-altering drug accidentally gets released into Scarlett Johansson's title character, she becomes a superhuman fighting machine, capable of controlling the world around her by mere thought. Because Lucy was directed by Luc Besson ( La Femme Nikita, The Fifth Element), expect lots of kiester-kicking and slo-mo action scenes. Thankfully, Morgan Freeman's on hand to spread some class around.
Magic in the Moonlight
Woody Allen's winning streak comes to a calamitous halt with this period-piece trifle, set in 1920s South of France. Colin Firth is a world-famous debunker of supernatural claims, and Emma Stone is the high-society conjurer he intends to take down a peg or two. The plot is promising. The photography, by Iranian genius Darius Khondji, is nothing short of splendid. But the undernourished creature Woody and his uninspired cast manage to pull out of this particular hat won't please anybunny.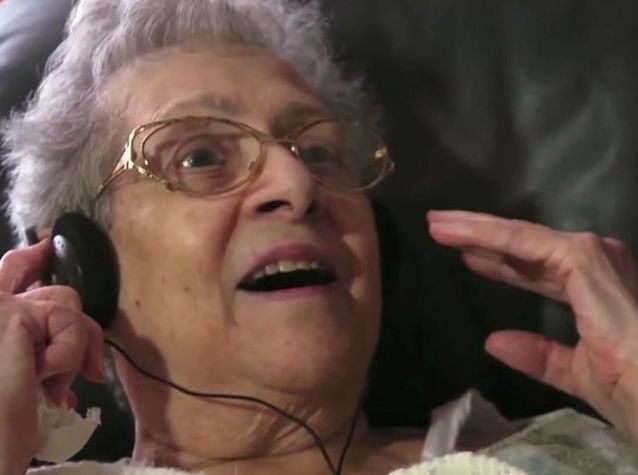 Mood Indigo
Of all modern directors, Michel Gondry (Eternal Sunshine of the Spotless Mind, The Science of Sleep) comes closest to consistently drawing his audience into a dreamlike state. And while Mood Indigo has a story - an inventive, lovesick man (Romain Duris) strives to find a cure for the rare disease afflicting his lover (Audrey Tautou) - it is Gondry's lyrical, otherworldly images (done without benefit of CGI) that stick with you once you leave the theater.
>> Sign up for the AARP Money newsletter
Sin City: A Dame to Kill For
We went to writer-director Robert Rodriguez's hyperviolent comic-book flick because we heard Mickey Rourke, Bruce Willis, Dennis Haysbert and Powers Boothe star in it. We left the theater checking the bottoms of our shoes for human entrails.
The Trip to Italy
If you missed Steve Coogan and Rob Brydon's brilliantly hilarious, largely improvised tour of British restaurants in The Trip, take a moment now to view that 2010 film. All set? Good, because now a team of runaway Ferraris could not keep you from joining the pair on their newest gastronomical adventure, which takes them across Italy. The scenery is breathtaking. The food looks so good you can taste it. And the stars keep up a stream-of-consciousness narrative that will have you a) laughing so much you'll snort Chianti out your nose, and b) wishing you could hang out with these two forever.
When the Game Stands Tall
Football season already? As high-school kids across the United States prepare for the glare of this fall's Friday night lights, Jim Caviezel stars as Coach Bob Ladouceur, who led the De La Salle High School Spartans (of Concord, California) from obscurity to a 151-game winning streak.
Wish I Was Here
Zach Braff (Scrubs, Garden State ) stars as a 35-year-old father who decides to home-school his two children and ends up learning a lot about himself. Kate Hudson is his loving wife, Mandy Patinkin his ailing dad. Look for a brief appearance by the wonderful James Avery (Fresh Prince of Bel Air) in his final film role; he died December 31, 2013.
New on DVD, Blu-Ray and Video On Demand:
All That Jazz (1979)
Just when we had conveniently pigeonholed Roy Scheider as the sheriff who hunts down killer sharks in Jaws, he popped up in this revolutionary autobiographical musical by Bob Fosse. This Criterion Collection edition makes the music jazzier than ever - especially George Benson's cranium-cratering version of "On Broadway."
Curtain: Poirot's Last Case
Who knew that PBS's Masterpiece would ever run out of Hercule Poirot stories to adapt as star vehicles for David Suchet? (He has played Agatha Christie's eccentric detective Poirot since 1989.) The final episodes, available online only at the Acorn.TV streaming service (PBS will air them later, and a DVD set will follow), find Suchet in classic form - which is to say as ingeniously aggravating as ever.
Jethro Tull's Ian Anderson: Thick as a Brick in Iceland
Before the 2012 concert captured here, the last time Anderson mounted a stage in Iceland to perform his album-length song was the year the record was released, 1972. He remains in great form - elfin voice, magic flute and all.