POTUS Takes a "Christmas in Washington" Break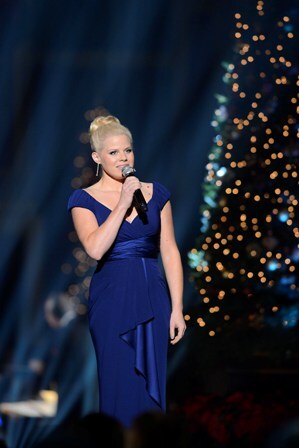 With so many trouble spots to worry about, you have to know the President needs a holiday break. At least he was in the merry and bright zone for a little while the other night, tending to tradition at the annual Christmas in Washington concert at the National Building Museum in Washington, DC. Hosted by Conan O'Brien, with Diana Ross, "Smash" star Megan Hilty, "American Idol" winner Scotty McCreery, pop star Demi Lovato, "The Voice" favorite Chris Mann, and "Gangnam Style" sensation PSY, the event is being aired on TNT Friday, Dec. 21.

Backstage, the stars had chances to schmooze with the Prez before and after the show, and act like fans themselves. In fact, "I'm a little star-struck," admitted Hilty, who lent her voice to "Have Yourself a Merry Little Christmas" during the concert to benefit the Children's National Medical Center. "To be with the First Family is such an honor. I first got to meet Barack Obama at a fundraiser we had called Barack on Broadway. I have a picture of me with him and Bill Clinton, which is in my living room." She even has a photo of herself with First Dog Bo that she got taken "when I had a tour of the White House and saw his trainer walking him around."



Adorable 19-year-old American Idol Scotty McCreery, with the big blue eyes and deep bass voice ("a man blessed with the adult male voice I've always wanted," as O'Brien put it), talked basketball with Barack. Scotty's a student at North Carolina State, while Obama is a fan of the University of North Carolina Tar Heels, so they found common ground. "It was really cool. He was just very casual, talking to us, and we got to see the whole first family, and take pictures," McCreery told AARP.org. He sings "Santa Clause is Back in Town" and "Mary Did You Know."

Other highlights include South Korean rapper PSY, (who apologized under pressure for his anti-American rants at concerts in 2002 and 2004 two days before the concert), doing a holiday version of his "Gangnam Style" hit, "Christmas Style."

And, of course, the legend. Ross got things started with a medley including "Sleigh Ride," "Jingle Bells" and "It's the Most Wonderful Time of the Year" -- and returned for "Amazing Grace," making it a night of both comfort and joy.