'Ray Donovan': On Showtime, Really Mad Men
I'm not sure where Ray Donovan is headed, but I am ready to follow. Showtime's new drama about a Hollywood fixer-to-the-stars whose life could use some fixing of its own makes its auspicious debut Sunday (June 30) at 10 p.m.. The premiere is brash, confident and a tad off kilter - which makes it a lot like its title character, played with stoic but muscular bravado by movie and stage actor Liev Schreiber.
Sunday's opener packs in a few too many storylines but it's undeniably powerful. In Los Angeles, a star athlete wakes up in a swank hotel room, a dead woman lying next to him. His first call is to Donovan. Across the country, Ray's estranged dad Mickey (a menacing Jon Voight) is released from a Boston prison and celebrates by going to church - to murder a priest. Then the old man hops a flight to L.A.
It's not going to be a happy family reunion. Dysfunction pulses through Donovan's life even before dear old dad arrives back on the scene - his two sad, tortured brothers work at an L.A. boxing gym, his home life with a wife and two young kids is in tumult, and addled Hollywood studio execs keep calling with situations that need fixing. There's a lot going on, but it all flows smoothly thanks mostly to the presence of Schreiber and Voight, playing a son and father bound by blood who can't stand the sight of each other. Violence dances around their every testosterone-fueled scene.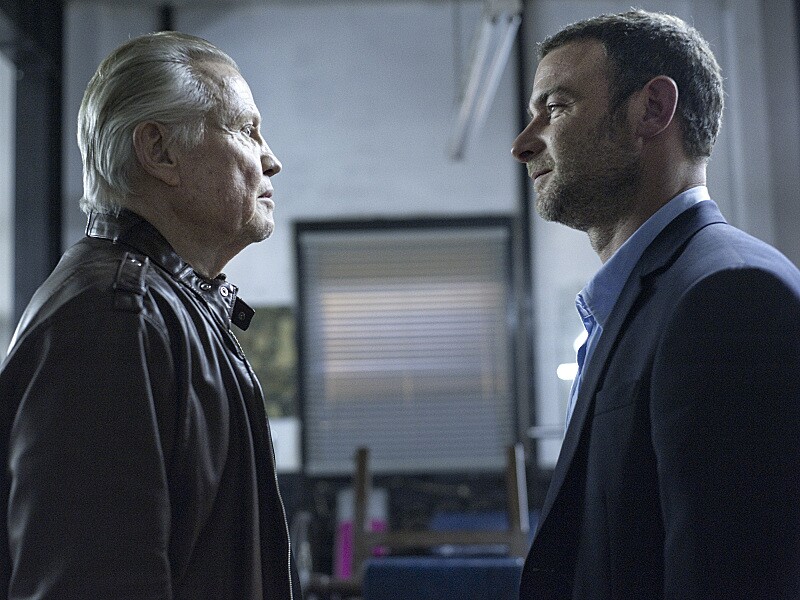 It's an interesting pairing of actors who - in real life - are largely defined, at least publicly, by the women in their lives; Voight is Angelina Jolie's dad, Schreiber is Naomi Watts' longtime partner. Neither man has ever been the shrinking violet type, but in Ray Donovan, their characters could use axe handles for toothpicks. They seethe.
Voight has done a lot of TV work recently ( 24, the short-lived Lone Star), but the 74-year-old Oscar winner has found in Donovan a small-screen role worthy of his talents. It's a career-reviving turn. For Schreiber, 45, it could well be career defining. The actor is renowned for his stage work - he won a Tony for Glengarry Glen Ross in 2005 - but thus far he's only danced around the edges of stardom in movies and TV. From roles in movies like X-Men Origins: Wolverine and Salt, Schreiber's has been a face you think you recognize from somewhere. Ray Donovan should make him someone you know.
Be warned: The sheer amount of exposition in Sunday's pilot threates to overwhelm you and could be a turn off for some. It's heavy lifting, putting all these pieces and people in place to tell their story. Don't let it dissuade you. By the second episode, creator/writer Ann Biderman - yes, this show about troubled, violent men was dreamed up by a woman, a former NYPD Blue writer who most recently created TNT's Southland - has the story in full stride and running at a crackling, addictive pace. No fixes required.