Ricky Gervais: Here Comes Mr. Nice Guy
By Bill Newcott, April 7, 2015 11:55 AM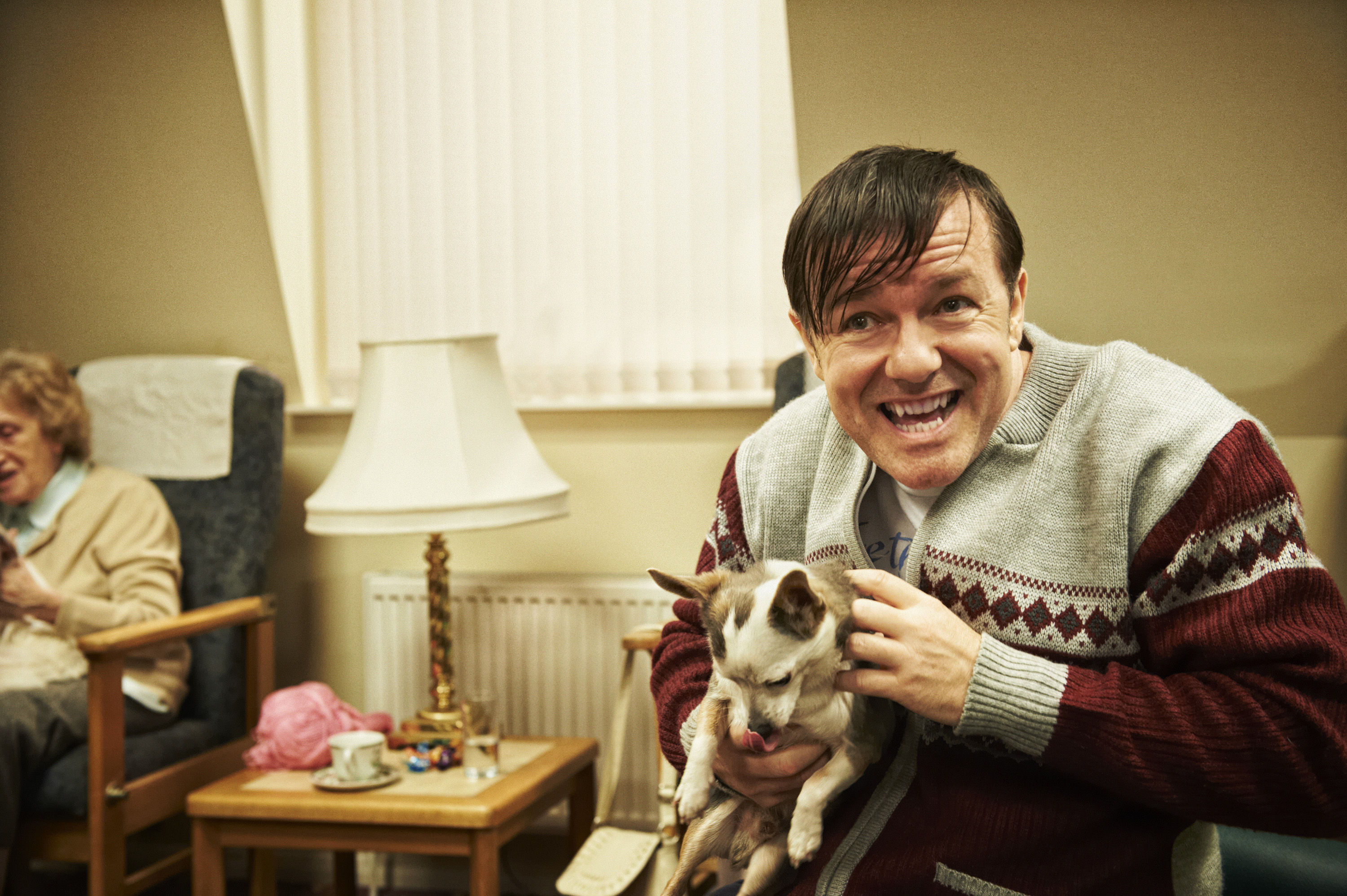 Ask someone to describe nine-time Emmy nominee Ricky Gervais and they might mention his scathing stints as a Golden Globe host, his take-no-prisoners standup comedy routines or his role as the clueless, often thoughtless boss on the original British version of The Office.

Since 2013, though, Gervais — writer, director, star — has been showing a surprisingly tender side on his British sitcom Derek, where he plays a naïve 50-year-old man-child who works as an aide in a home for the elderly.

After two award-studded seasons as Derek, Gervais chatted with us about the show's special one-hour episode, now available on Netflix. Even his biggest fans, he revealed, are often surprised to discover he's really a very nice guy.

Hold on, Ricky. I'm trying to get this recorder to work.

Well, the good thing about interviewing me is you won't have lost anything great.

It's working now!

Ah!

You've said you like to write what you know. How did you know Derek?

Well, he's me when I was little. I think of Derek as an antidote to all the cynicism in the world, particularly in comedy — which I'm very guilty of! I've done 10 or 15 years of ironic humor — the "comedy of embarrassment," of excruciating social faux pas.

But really, I love life. I was like Derek when I was a little kid. I used to lift up rocks and look under them; I used to bring in creatures that my mum would be scared of. I used to take clocks apart. I was in awe of the world. I like that quality — especially in dogs, but also in people.

I love the fact that Derek wants to save the world. Of course everyone knows you're not supposed to call an ambulance to save a baby bird, like Derek would. But his mistakes are naïve mistakes. I suppose that comes from my own positivity.

I particularly appreciate Derek's relationships with the older people who live at the nursing home where he works. Most of us have rather complicated views of getting older, but not Derek; he doesn't overthink it.

Derek says, "I've learned everything I know from old people. They've lived a long time." He treats people based on how they behave, not on how they look or even on what they believe. He's not the smartest guy in the world, but he's got great emotional intelligence, and wisdom that comes from knowing he's not the cleverest person around. In any sitcom you need a nemesis, and in this one I've made it the cruel outside world. People from that world come into Derek's world and they become infected by kindness. It's like Derek says in one episode, "That's the good thing about kindness: It feels good whether you're the one receiving it or the one handing it out."

Where did this positivity come from?

My family were people who cared. I mean the women; the men went to work and then they had a drink. [Laughs] My mum, my sister, my sister-in-law — these were strong women who were kind and caring and nurturing. But they were also lionesses. They'd kill anyone who hurt their babies!




Get discounts on airfare, hotels, car rentals and more — AARP Member Advantages. »

Are you aware that this sentimental side of you would surprise a lot of people?

I think people think of me as this cynical shock comedian, particularly from my standup and the Golden Globes. Still, I was surprised that even before people saw Derek they assumed it was going to be cruel and make fun of old people. That annoyed me. But I was also pleasantly surprised by how many people told me they saw Derek and cried. [Laughs] I guess I should be equally offended when people say to me, "I was surprised to learn you have a heart!"

That must be hard to hear. It's understandable, because you are so good at that caustic persona you created, but it's sort of sad.

Yeah, not everyone gets what you do. But also I think there's a problem doing something that everyone gets because then it loses all its bite — it becomes homogenized. There are only so many times you can do a big nod and a wink to an audience before it loses its satirical value.

Its strange, though. I mean, people must know that I'm not David Brent (on The Office), and they must know that I can't be Andy Millman (on his showbiz-satirizing series Extras). And they must know that I'm not Derek. So why don't they think, "Well, maybe his standup's a bit of a persona as well"?

It's odd. But you can't legislate against stupidity.

Also of Interest



See the AARP home page for deals, savings tips, trivia and more.