Rita Moreno Adds Life Achievement To Award List
By Austin O'Connor , September 27, 2013 06:03 PM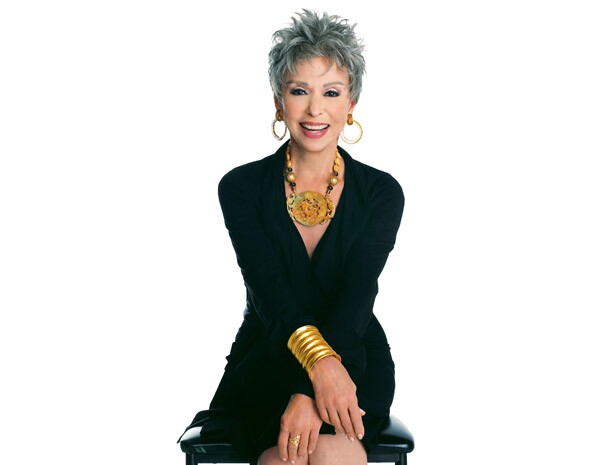 As movie awards season draws a little closer, it's worth noting that the Screen Actors Guild will give its Life Achievement Award of 2014 to the inimitable Rita Moreno, who turns 82 in December. She'll add the SAG statue to a shelf of many others, an Emmy, two Grammys, an Oscar and a Tony (she is one of only 11 artists in entertainment history to have won that grand slam), not to mention a Presidential Medal of Freedom and a National Medal of the Arts. The presentation will be made at the Screen Actors Guild Awards on Jan. 18 in Los Angeles.
"She is an inspiration in every effort," SAG-AFTRA co-President Roberta Reardon said of Moreno, who will be the award's 50 th recipient, "but never more so than with her civil rights activism, promoting equality and diversity while ushering in a more representative depiction of the American scene on screen."
Moreno truly has had a career of seven decades. She was born in Puerto Rico and moved to New York City with her mom at age 5. Six years later, she began was doing voiceovers to Spanish-language versions of Hollywood films. She made her Broadway debut while still a teenager, and in 1961 landed the splashy role of Anita in the film adaptation of West Side Story. That part, for which she won an Oscar as Best Supporting Actress, would define her career.
"I feel like I could go on forever," Moreno told AARP Viva in a 2011 cover story, and she still shows no sign of slowing down. In recent years, she has starred in Rita Moreno: Life without Makeup, a one-woman autobiographical play. She had a regular role on Fran Drescher's TV Land sitcom Happily Divorced until it was canceled recently. And she'll appear in the upcoming film adaptation of the Broadway play Six Dance Lessons in Six Weeks. Her self-titled memoir, in which she dished on her groundbreaking Hollywood career and detailed tumultuous affairs with the likes of Marlon Brando and Elvis Presley, was a New York Times bestseller when it was published in March.
The Screen Actors Guild Awards will air live on TNT and TBS at 8 p.m. EST on January 18, 2014.