Six Fun Facts About 'Vegas'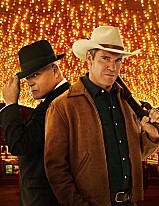 CBS's Vegas debuts Tuesday night (9/25) amid giant billboards and tall expectations, with Dennis Quaid as Ralph Lamb, the legendary "cowboy sheriff" of Las Vegas' Clark County, and Michael Chiklis as the casino owner/gangster who's his chief adversary.

This is not only Quaid's first series, it's also the first for producer Arthur Sarkissian - the man who bought us the Rush Hour movies, While You Were Sleeping and other feature fare. I met with him at the set the other day -- and came away with some water cooler-worthy tidbits to share with your soon-to-be fellow "Vegas" watchers.

1. Clint Eastwood once planned to play Ralph Lamb, and Sam Peckinpah was going to direct the feature. So what happened? "The story that I was told by Ralph is that when Clint and Sam went to Vegas to scout, at that time Sam Peckinpah was so - he was drinking so much and he was so gone with all that abuse, he couldn't even focus," Sarkissian said. "And Clint - he walked away from it."

2. The verisimilitude is high on Vegas, so when you see the city streets in that gambling town, circa 1960, you may well feel a rush of nostalgia. But the fact is, none of the Vegas you'll see in Vegas is, well, Vegas. According to Sarkissian, today's spectacular hotels and glittering desert high-rises have obliterated the Las Vegas landscape of 50 years ago. "I wish we could go to Vegas, but we can't because there's nothing there to shoot now," lamented the producer. They have reconstructed Fremont Street at studios in Santa Clarita, outside Los Angeles, utilizing a slightly miniaturized, trick-the-eye scale - and are filling in the rest digitally. Oh, but those great vintage T-birds and Cadillacs parked out front are real.

3. Author and screenwriter Nick Pileggi, who developed the series and crafted the first Vegas scripts with Greg Walker, crossed paths with Lamb before. As Sarkissian told me, "They used Ralph in Casino. He's the sheriff that walks in with the cowboy hat on, and slaps this mobster around for two minutes at the beginning.' " Of course!

4. The real Ralph Lamb is 85 but still has a stunning memory. Sarkissian and Pileggi, and later Quaid, flew to Las Vegas and stayed with Lamb for several days at a time to soak up his unique character. "The first time I met him, we went to the Bellagio to have lunch and I ordered the white pizza and a salad or whatever. Six months later I went back with Nick, and Ralph says, 'You ordered the same thing last time,' " noted Sarkissian. "The last time he was here, he said, 'Are you sure you didn't meet me, or didn't know anything about me, when you came to Vegas in the '70s?' I said, 'What are you talking about?' He said, 'Does May 1975 ring a bell?' I said, 'I was at Caesar's Palace.' He said, 'Do you remember having a little bit of an issue with some people there? ...' "

5. There are technical advisors aplenty on Vegas, and one-time fashion designer Sarkissian could be a technical advisor himself. Let's just say the man knows his way around a casino. His best day? "I once won 15 rounds in Baccarat - eights and nines." Sarkissian also has one of Hollywood's most extensive wine collections. I can almost hear Tony Bennett singing about the good life when I look at him.

6. Michael Chiklis initially thought he was being asked to play Ralph Lamb in Vegas, not a Chicago mobster who buys a casino. "Then he came in and we talked about this other character," said the producer. "It's based on several of the real guys. I can't say who." He laughed.

Right. We wouldn't want any of their associates angry at us, even now.