Snipers, Bears and Robots (Not All in One Movie, Alas!)
By Bill Newcott , January 15, 2015 05:23 PM
The heart of awards season makes this weekend the perfect time to catch up on Oscar-nominated films and actors. Many of these happen to be Movies for Grownups award winners as well!
American Sniper
Director Clint Eastwood's film about Chris Kyle, the most lethal sniper in U.S. military history, barrels along like a Humvee across the desert, hitting its targets with deadly accuracy before exploding with unexpected emotional force. As Kyle, Bradley Cooper ( The Hangover) is a revelation, portraying the inner life of a guy whose survival hinges on his ability to stuff his emotions into a psychological black hole.

Paddington
At last, a family film that neither panders to kids' baser instincts nor relies on winking pop references to appeal to adults. The story of the talking teddy bear found homeless at Paddington Station and adopted by a London family is as warm and fuzzy as Paddington himself. The great live-action cast includes Sally Hawkins and Nicole Kidman, but best of all is Hugh Bonneville — much funnier than his stiff demeanor as the Downton Abbey patriarch would lead you to expect.
Spare Parts
George Lopez stars as a high school teacher who helps four underprivileged Phoenix kids design and build a submersible robot for a competition that pits them against engineering whizzes from MIT and Cornell. Although the true story runs the risk of becoming overearnest, it's rescued by Lopez's amiability, the boys' street-smart antics and charming turns by Marisa Tomei (as a fellow teacher) and Jamie Lee Curtis (as a harried principal).  
Still out there:

Big Eyes
Winner: Movies for Grownups Best Time Capsule Award
The saucer-eyed waifs who populated the paintings of Margaret Keane helped define American culture in the early 1960s, so naturally Tim Burton's telling of her story is up to its peepers in period atmosphere. The men's ties are wide, Capri pants are everywhere, and fin-tastic sedans line the streets of tract developments straight out of Levittown. It's enough to bring tears of nostalgia to your big, dewy eyes.
Birdman or (The Unexpected Virtue of Ignorance)
Did Michael Keaton quit the Batman series 22 years ago just so he could one day make this dreamlike film about an actor who walked away from a smash superhero franchise? If so, the wait was worth every minute. ( FULL REVIEW)
Foxcatcher
Winner: Movies for Grownups Best Actor (Steve Carell)
The true story of two Olympic-wrestler brothers (Channing Tatum and Mark Ruffalo) who settled into a tragic relationship with a wealthy benefactor (Steve Carell, barely recognizable behind that understated performance and prosthetic nose) should have been a perfect match for director Bennett Miller ( Moneyball, Capote). But his two-and-a-half-hour telling drags like a grappler stalling to fend off a final takedown.
The Imitation Game
Benedict Cumberbatch is brilliant as Alan Turing, the man whose peculiar genius helped the Allies crack the Nazi Enigma Code during War II. The appealing supporting cast includes Allen Leech ( Downton Abbey), Matthew Goode ( The Good Wife) and, as a barrier-smashing female mathematician, Kiera Knightley. (FULL REVIEW)
Inherent Vice
David Thomas Anderson directs this adaptation of Thomas Pynchon's novel starring Joaquin Phoenix as Doc Sportello, a droopy-eyed, drug-mellowed L.A. private eye probing the disappearance of an ex-girlfriend. Along for the ride is a cast of endearing weirdos played by Josh Brolin, Reese Witherspoon, Owen Wilson, Benicio Del Toro and, as the worst dentist since Little Shop of Horrors , Martin Short.
Interstellar
As he transports his intrepid crew of space explorers (including Matthew McConaughey and Anne Hathaway) to a distant black hole, writer-director Christopher Nolan ( Inception) nods to sci-fi classics from 2001 to Ziggy Stardust. The results are spectacular, but we've grown to expect more originality from this screen visionary.
The Judge
Robert Downey Jr. is a hotshot big-city lawyer; Robert Duvall is a beloved small-town judge accused of murder. Will Junior find it in his heart to defend his estranged pop? And will Dad swallow his pride long enough to accept his son's help? (FULL REVIEW)
>> Get entertainment and dining discounts with your AARP Member Advantages.
Mr. Turner
Grunting and lurching through the streets of Victorian England, Timothy Spall brings uncanny life to the role of J.M.W. Turner, the eccentric painter whose dreamy, misty landscapes pointed the way toward 20th Century Impressionism. Directed by seven-time Oscar nominee Mike Leigh ( Vera Drake, Another Year). (FULL REVIEW)
Nightcrawler
Winner: Movies for Grownups Best Supporting Actress (Rene Russo)
Jake Gyllenhaal stars as a wild-eyed go-getter who discovers that a local TV producer ( Rene Russo) will pay him big bucks for video footage of accidents and crime scenes—even if it means moving bodies for better shots and following crooks after he witnesses their foul deeds. (FULL REVIEW)
Selma
Focusing on a pjvotal three-month period in 1965, this stirring historical drama follows Rev. Martin Luther King Jr. (David Oyelowo) as he lays the groundwork for his epic civil rights march from Selma to Montgomery, Alabama. Oyelowo uncannily channels King's appearance, manner of speech and quiet charisma. Much has been made of the film's depiction of President Lyndon Johnson as King's reluctant nemesis, but the hardest thing to swallow here is British star Tom Wilkinson's stab at a Texas twang.
Still Alice
Winner: Movies for Grownups Best Actress (Julianne Moore)
Julianne Moore delivers a performance that sweeps us up, then blows us away, as a 50-year-old college professor coming to terms with her early-onset Alzheimer's diagnosis. Her ability to convey the horror and tragedy of such an experience may well result in that long-overdue Oscar statuette. Based on Lisa Genova's best-selling novel. (FULL REVIEW)
St. Vincent
Winner: Movies for Grownups Best Intergenerational Film
Bill Murray deserves an Oscar nomination for his grumpy Long Island loner who agrees to look after the young son of his new neighbor (Melissa McCarthy). Would you subject your kid to Murravian supervision? (Think field trips to the racetrack and a local bar.) (FULL REVIEW)
The Theory of Everything
Winner: Best Movie for Grownups 2015
In this superbly acted and lovingly directed biography, Eddie Redmayne plays astrophysicist Stephen Hawking from his carefree college days, through his heart-rending descent into Lou Gehrig's Disease, to his ultimate triumph in the realm of science. Felicity Jones costars as his first wife, Jane, who married him despite his rapidly advancing illness and raised their three children. (FULL REVIEW)
Top Five
Chris Rock stars in (and wrote and directed) this comedy about a day in the life of a newly sober comedian who wants to become a serious movie star. Keep an eye out for a heaping helping of Rock's BFFs, among them Adam Sandler, Kevin Hart, Whoopi Goldberg, Jerry Seinfeld, Cedric the Entertainer and Tracy Morgan.
Whiplash
Winner: Movies for Grownups Best Supporting Actor: J.K. Simmons
J.K. Simmons — that bald, beaming guy we've loved for years in so many movies and commercials — finds the breakout role of a lifetime as the Mentor from Hell to a young drummer at a high-stakes music conservatory. (FULL REVIEW)
>> 'The Graduate' — and Other Essential Boomer Movies
Wild
Winner: Movies for Grownups Best Screenplay (Nick Hornsby and Cheryl Strayed)
Reese Witherspoon gets down and dirty as Cheryl Strayed, the troubled young woman whose solo 1,100-mile trek along the Pacific Crest Trail became the subject of her bestselling memoir. Director Jean-Marc Vallée ( Dallas Buyers Club) follows Strayed's journey from a dead-end life of drug use and back-alley sex to rebirth amid the majesty of the high sierra. In what could have been a thankless role, Laura Dern etches a tragic portrait as Strayed's abused mother. FULL REVIEW
New on DVD, Blu-Ray and Video on Demand: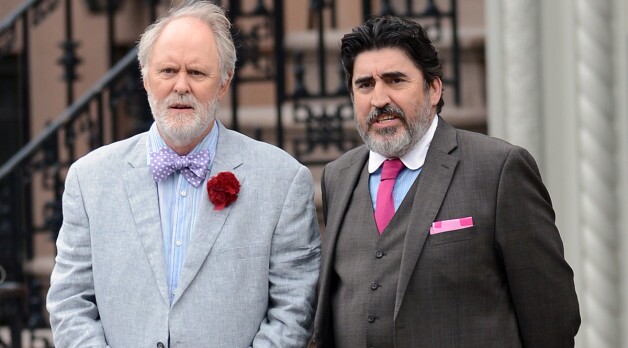 Love Is Strange
Winner: Movies for Grownups Best Grownup Love Story
Two of our finest actors, John Lithgow and Alfred Molina, bring warmth and humor to a modern yet timeless love story. They play a couple who've lived together for decades, only to see their comfortable Manhattan lifestyle come crashing down when they get married. Director/co-writer Ira Sachs lavishes uncommon dignity and consistent good humor on the guys, their families and even those who stand in the way of their happiness. A film like this requires a delicate balance; happily, everyone involved succeeds like a Wallenda — and makes the acrobatics look easy. FULL REVIEW
The Drop
More than a year after James Gandolfini's death, his final film (based on the Dennis Lehane short story "Animal Rescue") presents the star in the type of role that defined his career: a crusty, dangerous, yet somehow lovable thug. He plays Marv, who runs a Brooklyn bar used by the Mob for money drops. Of course someone has the bad idea to hold the place up, a move that ensnares Marv, his handsome young bartender (Tom Hardy) and a sociopathic dog beater (Matthias Schoenaerts). Gandolfini is mesmerizing as always, but you can't help ruing the fact that the actor (who died last year at 51) was just beginning to expand his repertoire beyond his character here. (FULL REVIEW)
Gone Girl
Hotly anticipated by fans of the book, Gillian Flynn's adaptation of her own novel is a crackerjack mystery that keeps the viewer wondering who's dead, who killed them, is anybody dead at all and who's next? Ben Affleck plays Nick Dunne, who comes home one morning to find signs of a struggle and his wife Amy (Rosamund Pike) gone. He calls the cops, who dutifully place Nick right at the top of their persons-of-interest list. If you try to think too far ahead of the narrative, you risk anticipating some of the best plot twists; best to let go of the wheel, therefore, and let Gone Girl hurtle down its meandering narrative road. (FULL REVIEW)
Men, Women & Children
Jennifer Garner, Adam Sandler, J.K. Simmons, Judy Greer and Emma Thompson are just some of the top-tier names starring in this insightful ensemble film about the myriad ways the Internet is ruining our lives. There's porn addiction, stalking and infidelity, for starters, not to mention the way smart phones cut us off from the flesh-and-blood folks around us. Director Jason Reitman nails the problems that bedevil us, but solving them eludes both him and his characters. (FULL REVIEW)
Keep on Keepin' On
Winner: Movies for Grownups Best Documentary
Clark Terry was Jazz legend Quincy Jones' first music teacher. He played with both Count Basie and Duke Ellington. Now 93, he's traveling the U.S. mentoring Justin Kauflin, a 23-year-old blind piano prodigy who suffers from crippling stage fright. Their unlikely friendship—and the dramatic turns it takes as Terry's health begins to fail—make this tuneful documentary a timeless document of generational torch-passing.