Spring Training At Last! Warm Up With the Best Baseball Movies of All Time
By Bill Newcott , February 21, 2012 10:52 AM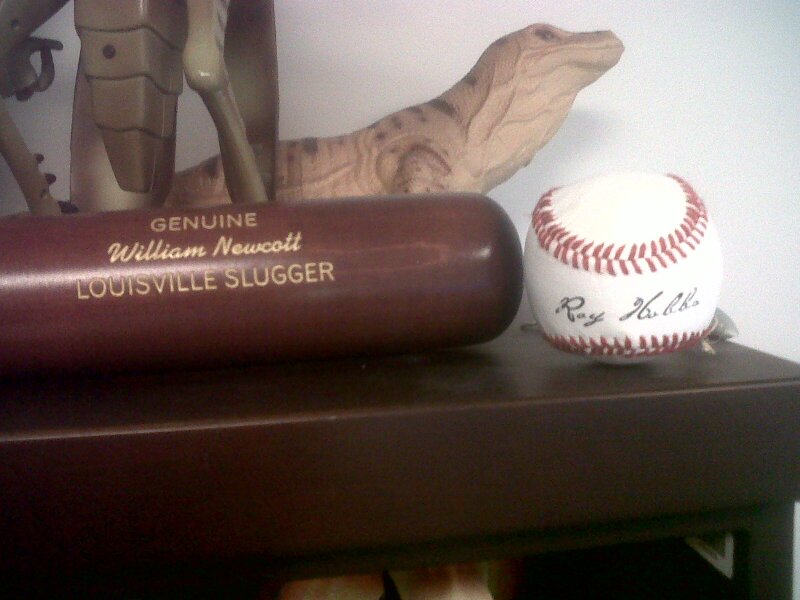 At last, I can focus on a mitt other than the one named Romney--they're breaking out the bats and balls in Florida and Phoenix, and another baseball season is about to get underway.
This is, of course, the year my beloved Washington Nationals go deep into the playoffs (you read it here first, or at least early). But until the season starts in earnest, I'm happy to settle into my own spring training regimen, soaking in these great movies about the greatest game.
Click on the highlighted type for a preview of each...
Bang the Drum Slowly (1956, 1974) Mark Harris' landmark baseball novel, about a slick star pitcher and the simple-minded third-string catcher he befriends, was terrifically realized in '74 with a young Robert De Niro as the ill-fated, awkward country boy. Vince Gardenia was nominated for an Oscar as their prototypically gruff manager. By all means, see it - but take a look at this remarkable Golden Age of TV version starring an impossibly young Newman. He plays the pitcher, and his closing monologue will leave you in tears, guaranteed. Here is a splendid example of how sports movies often manage to delve into the most secret parts of the human heart.
Kill the Umpire (1950) Pug-faced William Bendix was born to play an ump, and he's gloriously grumpy in this comedy about a guy whose sole pleasure in life is in heckling the officials who call the local minor league baseball games. When he suddenly gets laid off from work, guess what's the only job available? Yep. "Tryin' to make an umpire out of me," he moans, "that's the lowest thing that can happen to a man!" Of course, when he puts on that mask he finds himself subjected to the same abuse he dished out for so long (it doesn't help that, when the umpiring crew walks out on the field, the stadium sound system plays "Three Blind Mice").Written by Frank Tashlin, who directed many of the great Warner Brothers 'toons of the 1940s, Kill the Umpire is a manic masterpiece.
The Pride of the Yankees (1942) Who knows - if Lou Gehrig played baseball today, especially for the Yankees, we might know all sorts of unsavory things about Iron Man Lou. Then again, nah. By all accounts - and certainly by the account of this stirring biography starring Gary Cooper - Lou was a gentleman, a trusted teammate and a loyal husband. It's hard to believe that in a single year after Gehrig's death from ALS the Hollywood Dream Factory could fashion such a well-crafted tribute to the fallen star. But Paul Gallico's story is heroic without being cloying, and Damon Runyan's written prologue thoughtfully links Gehrig's bravery in the face of death to the heroism of U.S. soldiers just beginning the long slog of World War II. Rooting for the Yankees in the days of Gehrig and Babe Ruth may have been like rooting for General Motors (these days you'd replace GM with Microsoft), but the Big Pinstriped Machine played with uncommon heart and sheer love of a game that, at the time, seemed to transcend the foregone conclusion that the American League Pennant had a permanent home above the House that Ruth Built. The Pride of the Yankees, with Ruth playing himself in honor of his teammate and sometime rival, captures that moment with unflinching sentiment, without cynicism, without apology.
The Rookie (2002) It's the fantasy that lurks in the soul of every grown man who ever dirtied his sneaks in a childhood sandlot: You're sitting in the stands at Yankee Stadium, the manager strides out to the mound, takes the ball from his pitcher's hands, and turns to you. "Hey you! Yeah, you! Think you can pitch us out of this jam?" That's the nub of The Rookie, the marvelously told tale of a 39-year-old high school coach (Dennis Quaid) who tells his kids if they win a title, he'll go try out for a Major League Baseball team. Of course they win, he goes and, what do you know, Coach makes the team. Quaid, he of the dimples so deep he could be hiding his fugitive brother Randy in there, is at his engaging best as coach Jimmy Morris. But what makes The Rookie the best motivational film ever for recovering couch potatoes is this: Jimmy Morris was a real guy, he really did make that team, and pitched in the Bigs with the Tampa Bay Devil Rays.
The Life and Times of Hank Greenberg (1998) Even if the old joke is not true - if the thinnest book in the English language is not really "Great Jewish Sports Legends" - then chapter one has still got to be about the courageous Detroit Tigers first baseman Hank Greenberg. This stirring documentary chronicles the future Hall of Famer's breakthrough years with the Tigers, when as the first Jewish sports superstar in U.S. history - Greenberg refused to play ball on Yom Kippur in 1934 - he endured a torrent of anti-Semitism.
A League of Their Own (1992) For once, throwing like a girl is a good thing - this story of an all-female baseball league during World War II has one of the great ensemble casts of all time, including Geena Davis, Madonna, Rosie O'Donnell, and of course Tom Hanks as the team's ever-exasperated coach. But the real stars are screenwriters Lowell Ganz and Babaloo Mandell (Parenthood), who deliver one priceless line after another, among them, "There's no crying in baseball!" The best part of the '92 trailer is the narration by the great Dodger announcer Vin Scully.
Cobb (1994) Tommy Lee Jones may have won his Oscar that same year chasing Harrison Ford in The Fugitive, but he earns it here, starring as Ty Cobb, the most ruthless, ornery cuss ever to sharpen his spikes. Jones makes not even a gesture toward sentimentality. His Cobb is easy to hate, impossible to forget.
Major League (1989) You've got to hand it to the Cleveland Indians organization - the team's historic streak of World Championship-less seasons stood at 41 when the team OK'd the script for this comedy, about a new owner (Rene Russo) who intentionally fields a bad team in order to get out of her stadium contract. We all remember Charlie Sheen surprising us with his razor-sharp comic timing, but take another look at the film's pitch-perfect supporting cast, including Dennis Haysbert as Pedro Cerrano and Wesley Snipes as Willie Mays Hayes. It's been another 23 years, the Indians still haven't won the World Series, and Major League is still one of the funniest movies ever made about baseball.
The Naked Gun (1988) OK, it's not really a baseball film, but this hilarious-from-the-opening-credits cop comedy does have a hypnotized Reggie Jackson trying to kill Queen Elizabeth. And during a game at Angels Stadium, the Jumbotron shows some truly wacked-out baseball "bloopers," including a second baseman being devoured by a rampaging lion.
The Natural (1984) The mythic iconology of baseball has never been more majestically re-created on screen than in Barry Levinson's ode to the world's greatest game. The images of The Natural seem to have been burned into our consciousness before we even saw the film: The Wonder Boy Bat, hewn by lightning hitting a tree; the sepia-toned images of hot summer days in single-deck stadiums; the very face of Robert Redford as the middle-age "kid" who comes out of nowhere to become a phenomenon, the perfect combination of small-town good guy and tragic hero. And swelling above it all, Randy Newman's magnificent score, destined to play in our heads with each small victory, played out in our small lives, as we aspire to be something bigger than ourselves, just like the gloriously ordinary Roy Hobbs.
Bad News Bears (1976) Walter Matthau is in full grump as the wonderfully named Morris Buttermaker, the grudging coach of the worst team in a Southern California Little League. Determined to field a winning team he brings in a couple of ringers, including a hot-armed girl played by Tatum O'Neal. I do regret that Bad News Bears ushered in the era of foul-mouthed kids in the movies - I'm convinced that at least some of the incivility that plagues our society today can be traced back to the "modernization" of child characters in films. But the final scene of Buttermaker and his Bears after the championship game against their hated rivals (the Yankees, of course) remains a stand-up-and-cheer moment.
Fear Strikes Out (1957) Jimmy Piersall was still playing for the Boston Red Sox when Tony Perkins played him in this remarkably frank look at the outfielder's lifelong battle with bipolar disorder. In later years Piersall distanced himself from the flick, which he felt was a bit too tough on his dad. Understandable: As Piersall's pushy pop, Karl Malden is a monster.