Stallone's in 'Expendables;' Bridges is 'The Giver'
By Bill Newcott , August 14, 2014 11:11 AM
It's a man's world this weekend: Jeff Bridges tries to save it, Sly Stallone tries to blow it up, and two very funny friends try to eat their way through it.
The Giver
Stern elder Meryl Streep runs a future where older folks and undersized babies get "released" to "Elsewhere" (which is supposed to sound warm and reassuring, but not to those of us who've seen Logan's Run or Soylent Green). Also, the world's painful history has been erased and everyone lives in harmony, thanks to a potent combo of social engineering and daily drug injections. Only the Giver, played by Jeff Bridges, carries memories of the past, and his job is to use those memories to help guide the society's leaders in making wise decisions. But the Giver is getting old, and he must pass his collected knowledge onto a youngster (Brenton Thwaites) who realizes, pretty early on, that this is an unworkable system.
>> Slideshow: Robin Williams - 10 Unforgettable Movie Roles
The Expendables 3
Before this bomb-tastic action series bowed in 2010, few in Hollywood thought audiences would accept 50-plus stars dashing through blazing buildings and firing guns the size of Buicks. Now every veteran actor in town is a potential action hero (we're looking at you, Liam "Taken" Neeson). This time around, team leader Sly Stallone recruits some twentysomethings for a particularly tough mission versus a deliciously villainous Mel Gibson. In the end, naturally, he'll need his old pals to save their bacon. Don't look for surprises here, but buckle up for some first-rate mayhem courtesy of Sly and his cohorts - including Harrison Ford, Arnold Schwarzenegger, Kelsey Grammer, Dolph Lundgren, Jet Li and Wesley Snipes.
The Trip to Italy
If you missed Steve Coogan and Rob Brydon's brilliantly hilarious, largely improvised tour of British restaurants in The Trip, first thing you need to do is see that 2010 film, like, right now. Once you've seen it, a team of rampaging Ferraris could not keep you from joining the pair on their new gastronomical adventure across Italy. The scenery is breathtaking, the food looks so good you can almost taste it, and the stars keep up a stream-of-consciousness narrative that will have you a) laughing so much you'll shoot Chianti through your nose, and b) wishing to heaven you could hang out with these two forever.
We're in the middle of  the most promising Grownup Movie Summer ever!
Click here for our exclusive checklist of don't-miss flicks through August.
Still Out There ...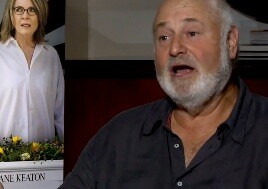 Twenty-five years after he arranged for Harry to meet Sally, director Rob Reiner proves that his take on grownup love has grown only richer with time. A sharp comedy with an ear tuned to the bittersweet cadences of mature romance, And So It Goes delightfully showcases two of Hollywood's most enduring stars: Michael Douglas and Diane Keaton. He's a mean-spirited real-estate hotshot (with a hidden heart of gold, of course); she's a retired widow and aspiring nightclub singer. You could sketch out their courtship, loveship, shipwreck and reunion with your eyes closed, but the knowing script by Mark Andrus ( As Good As It Gets) combines with Reiner's jaunty direction to make And So It Goes go down easy. FULL REVIEW
Having made us fall in love with Dublin street singers in Once, writer-director John Carney expands on that theme with a bigger budget and a much bigger city: New York. Mark Ruffalo ( The Kids Are All Right) is a self-destructive music executive who sees his path to redemption in a gifted young English singer (Keira Knightley). The Pride & Prejudice star has a sweet set of pipes to match the film's pleasing soundtrack, and the Big Apple's streets never looked - or sounded - better. FULL REVIEW
Boyhood
In 2002, writer-director Richard Linklater wrote a script about a young boy's life from age 6 to his late teens. He filmed it over the ensuing 12 years, letting his actors literally grow into their parts. Sure, the nearly three-hour Boyhood could stand some trimming, but it's easy to understand Linklater's reluctance to leave anything on the cutting-room floor. His gamble on casting Ellar Coltrane as the boy is inspired; as his parents, Patricia Arquette and Ethan Hawke show it's not just children who evolve over a decade or so. In fact, Boyhood is most compelling when it explores the complex dynamics between growing children and their oft-confounded parents. FULL REVIEW
>> Sign up for the AARP Leisure Newsletter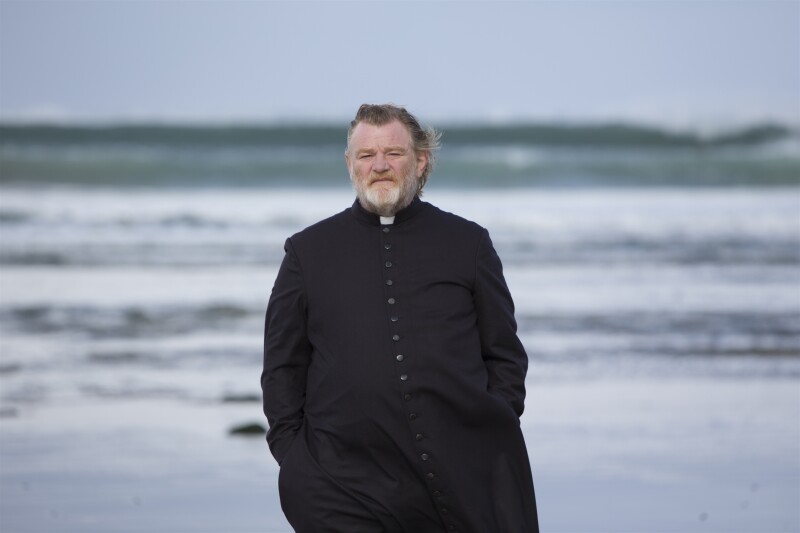 Calvary
Once you recover from one of the most startling opening lines in movie memory, relish Brendan Gleeson (In Bruges) in one of the towering performances of the year. He plays an Irish village priest who takes the confession of a local man who calmly declares, "I'm going to kill you, Father." The deed is to be done a week from Sunday: "Killing a priest on a Sunday," muses the shadowy figure. "That'll be a good one." Gleeson is mesmerizing, and writer-director John Michael McDonagh (The Guard) is relentless in his study of a good man in an increasingly dark world.
Dawn of the Planet of the Apes
It ' 's been a decade or so since apes and humans reached a fragile peace. But the winds of war are whipping across San Francisco Bay, and despite the best efforts of a human-loving chimp named Caesar (Andy Serkis), a band of urban gorillas may be on the brink of establishing the ultimate banana republic.
>> Get entertainment and dining discounts with your AARP Member Advantages.
The Fault in Our Stars
Like the bestselling John Green novel that inspired it, this young romance about two teens who meet and fall in love in a cancer-support group aims squarely at the YA (young adult) audience. But veterans Laura Dern and Willem Dafoe provide solid support for youngsters Shailene Woodley and Ansel Elgort, and comedian Mike Birbiglia is hilarious as a clueless support-group leader.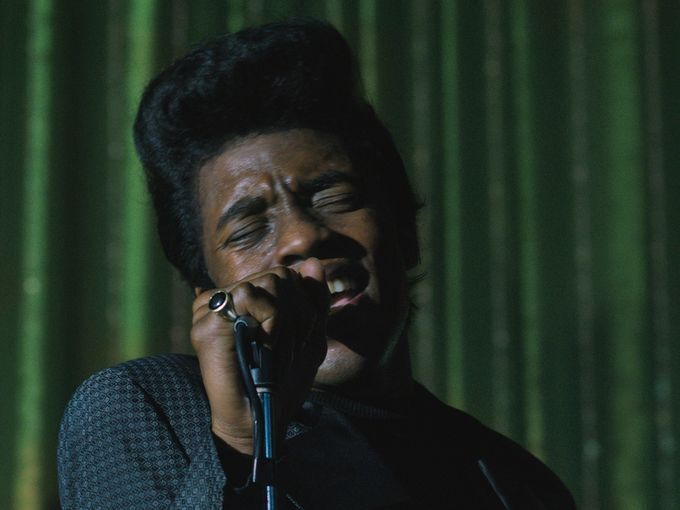 Get on Up
Chadwick Boseman ( Jackie Robinson in 42) makes playing The Hardest-Working Man in Show Business seem easy in this spectacular, funk-driven biography of James Brown. The soundtrack is the genuine Brown, but Boseman nails his Mashed Potato dance steps and inseam-defying splits. At first you may think director Tate Taylor (The Help) is showing you random moments from Brown's tumultuous life, but you'll quickly see the method to his montage.
Guardians of the Galaxy
You won't have more fun at a theater this year than you will at this shockingly smart sci-fi adventure. Chris Pratt (the doofus from TV's Parks and Recreation) is a revelation as the wisecracking leader of a gang of intergalactic misfits who accidentally find themselves defending the universe from a very bad dude (Lee Pace). Groot - a gentle, treelike giant, voiced by Vin Diesel - is the most endearing sci-fi character since R2D2. Director-cowriter James Gunn ( Dawn of the Dead) inserts knowing echoes of Star Wars and Indiana Jones, along with a dash of The Adventures of Buckaroo Banzai. Best of all, because Pratt's character is a transplant from 1980s Earth, his personal soundtrack (played on a Sony Walkman) is a greatest-hits mix featuring Blue Swede's "Hooked on a Feeling" and 10cc's "I'm Not in Love." I'd buy that soundtrack - if they release it on cassette.
The Hundred-Foot Journey
Helen Mirren is a snooty French chef; veteran Indian star Om Puri (East Is East) is the immigrant who opens an authentic Mumbai-style restaurant, replete with secret spices and blaring santoor music, across from her chic, white-tablecloth place in the South of France. The resulting culture clash fuels this foodie romance from Lasse Hallström, who also directed Chocolat. The dishes look delicious and the stars are endearing, but the predictable script could have used more seasoning.
Into the Storm
The movie tornado that still gives me nightmares is the one that sucked Dorothy and Toto all the way to Munchkinland in The Wizard of Oz. But latter-day funnel vortices those in Twister (1996), The Day After Tomorrow (2004) and the lamentable Sharknado series have been sufficiently terrifying to send windstorm-shy moviegoers scuttling for shelter. In that grand tradition, Into the Storm pits one small town against a swarm of super 'nadoes unlike any the world - and, presumably, funnel-cloud film fans - has ever seen. Look for the flying cow, a nifty little tribute to Twister...which in turn paid homage to those wind-blown farm animals Dorothy saw above Kansas.
>> Sign up for the AARP Leisure Newsletter
Land Ho!
Equal parts comedy, adventure and coming-of-age drama (for the 70-plus set), this is the year's most engaging buddy picture. Paul Eenhoorn (This Is Martin Bonner) and 72-year-old Earl Lynn Nelson (in his first major film role) play a couple of guys who head to Iceland for one a final hurrah. The two actors reportedly improvised roughly half the dialogue, and their spontaneity fuels a film in which surprisingly little happens. Which is just fine: For the most part we happily join the pair's idyll, marveling alongside them at Icelandic geysers and misty hot springs. The landscape they traverse is barren and beautiful; the emotional chasms they bridge are honest and universal. FULL REVIEW
Lucy
When a brain-altering drug accidentally gets released into Scarlett Johansson's title character, she becomes a superhuman fighting machine, capable of controlling the world around her by mere thought. Because Lucy was directed by Luc Besson ( La Femme Nikita, The Fifth Element), expect lots of kiester-kicking and slo-mo action scenes. Thankfully, Morgan Freeman's on hand to spread some class around.
Magic in the Moonlight
Woody Allen's winning streak comes to a calamitous halt with this period-piece trifle, set in 1920s South of France. Colin Firth is a world-famous debunker of supernatural claims, and Emma Stone is the high-society conjurer he intends to take down a peg or two. The plot is promising. The photography, by Iranian genius Darius Khondji, is nothing short of splendid. But the undernourished creature Woody and his uninspired cast manage to pull out of this particular hat won't please anybunny.
 Maleficent
Angelina Jolie is the chief attraction here. As the "evil" queen who cast that shut-eye curse on Sleeping Beauty, she gives a brainy, heartfelt performance in a movie that mostly sacrifices nuance for bombast. Director Robert Stromberg visually quotes a lot of better movies, including Fantasia, Wings of Desire and Kevin Smith's Dogma (check them out!). Jolie's stellar turn aside, however, he seems unwilling to make an emotional connection. FULL REVIEW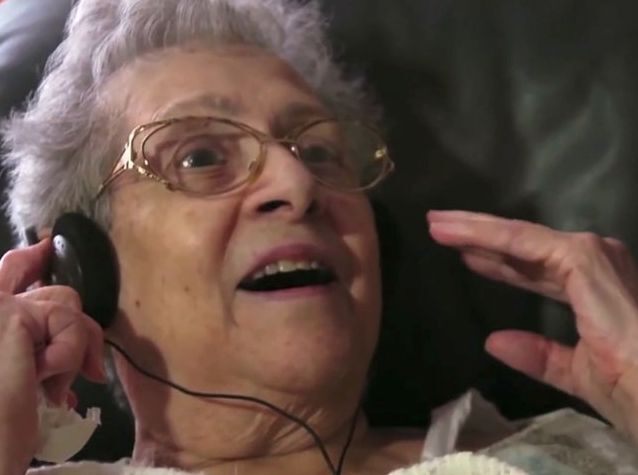 Mood Indigo
Of all modern directors, Michel Gondry (Eternal Sunshine of the Spotless Mind, The Science of Sleep) comes closest to consistently drawing his audience into a dreamlike state. And while Mood Indigo has a story - an inventive, lovesick man (Romain Duris) strives to find a cure for the rare disease afflicting his lover (Audrey Tautou) - it is Gondry's lyrical, otherworldly images (done without benefit of CGI) that stick with you once you leave the theater.
>> Sign up for the AARP Money newsletter
Tammy
Melissa McCarthy must have realized she can't base an entire name-above-the-title career on the loudmouth-lout character that earned her an Oscar nomination for Bridesmaids. So it's a relief to see her soften up considerably in this appealing comedy: She plays an impulsive, aimless woman who, fired from her job and betrayed by her husband, takes off on a road trip with her vulgar, alcoholic grandma - acted with exquisite comic timing by Susan Sarandon. They play off each other beautifully: While McCarthy adopts some of Sarandon's subtlety, Sarandon channels a bit of McCarthy's manic unpredictability. FULL REVIEW
Transformers: Age of Extinction
Mark Wahlberg, Stanley Tucci and Kelsey Grammer lend grownup presence to the latest toy-inspired Michael Bay heavy-metal fest, but when it comes to this series, there's nothing more than meets the eye.
Wish I Was Here
Zach Braff (Scrubs, Garden State ) stars as a 35-year-old father who decides to home-school his two children and ends up learning a lot about himself. Kate Hudson is his loving wife, Mandy Patinkin his ailing dad. Look for a brief appearance by the wonderful James Avery (Fresh Prince of Bel Air) in his final film role; he died December 31, 2013.
X-Men: Days of Future Past
You needn't be obsessed with the X-Men mythology to be utterly caught up in this spectacular new adventure about Marvel's ultimate crime-fighting tag team. Set partly in the future and partly in the past, it's the story of how a government program to eliminate the X-Men "mutants" goes horribly awry. The team sends Wolverine (Hugh Jackman) back in time to enlist younger versions of the group to head off the carnage before it starts.
New on DVD, Blu-Ray and Video On Demand:
Elvis: That's the Way it Is (1970)
Fresh from a theatrical re-release, this behind-the-scenes look at The King's triumphant return to Las Vegas looks and sounds better than ever. Oscar-winning documentarian Denis Sanders captures both the energy of Elvis' performances and his creeping exhaustion. Thrilling as the performance is, it's a little sad to think the Vegas era marked the end of Rock and Roll Elvis and the beginning of Elvis the self-parody.
Locke
Writer-director Steven Knight ( Dirty Pretty Things) never lets his camera leave the sporty BMW driven by Tom Hardy in this ingenious thriller. Hardy's character Ivan Locke is driving home from work when he gets a cell phone call that sets into motion one shocking twist after another, all of which require that he stay there behind the wheel of his car. It sounds gimmicky, but Knight and his cast (the rest of whom appear only on the phone) blow through every narrative roadblock, full throttle.
The Marx Brothers TV Collection
They were vaudeville and movie legends, but by the time TV came along The Marx Brothers seldom worked together, and so their television work has been likewise scattered. Now Shout Factory has assembled the most complete collection of the boys' TV work ever, and if the bits don't quite add up to the inspired anarchy that marked their earlier work, their fans will agree diluted Marxes is far better than no Marxes at all. We get to see Harpo play the harp for Pepsi, Chico star in a short-lived sitcom, and Groucho, for one last time, donning his greasepaint moustache to sing "Dr. Hackenbush," a song cut from Animal Crackers.
The Railway Man
Colin Firth is a World War II veteran who won't talk about his ordeal in a Japanese POW camp; Nicole Kidman is the wife who forces him to come to terms with it - and, in a sense, finally escape that long-ago prison. It starts out as a touching husband-and-wife drama, but when Firth's character heads to Thailand to confront the man who tortured him, the stakes rise exponentially. FULL REVIEW
Herzog: The Collection
If you define a grownup filmmaker as one who has a singular view of the world, and who is absolutely uncompromising in his pursuit of it, then German director Werner Herzog would belong right near the top of the list. This 13-disc, 16-film set collects most of his most memorable work, most notably Nosferatu The Vampyre, arguably the greatest vampire movie ever made, and Fitzcarraldo, a movie of such outrageously epic ambition that it inspired a classic making-of documentary, Burden of Dreams. Whether working with a big budget-or, more often, from the seat of his pants-Herzog brings a uniquely hand-made quality to his work. Every disc here is a revelation.