Stiller and Meara at the Oscars
By Nicole Shea, February 21, 2012 12:16 PM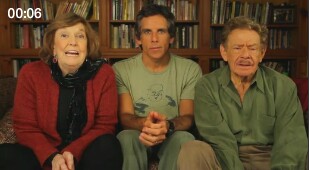 I want Anne Meara and Jerry Stiller to hit the red carpet and interview stars at this year's Oscars. I think they are fabulous and frankly, I don't know why they are not already a go-to team for this sort of thing. They are Hollywood icons. They are hilarious. And they produced one of the best things going in show business: Ben Stiller.

This would be a great way to make up for last year's Oscar invite snub (see the video below for details). Plus, they could give some perspective and insight on all of the red carpet madness by say, oh, I don't know, asking, "what aren't you wearing?" to a scantily clad tween for example.

Fine, I promise to leave the joke-writing and hilarity to the pros.

What do you think? Do you agree that this duo would be amazing on the red carpet? If you need any convincing, check out their web series, Stiller and Meara. First Time on the Internet is my favorite episode.

http://www.hulu.com/watch/220278/stiller-and-meara-the-oscars

I think Stiller and Meara would give Sofia Grace and Rosie a run for their money.