Taste of 'Happily Divorced' Sweet for Fran Drescher, Peter Marc Jacobson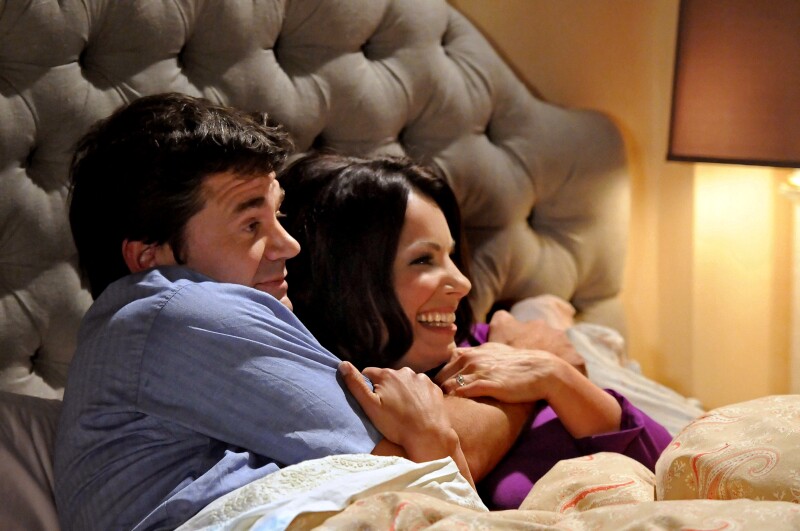 Now here's a new kind of hoopla. Fran Drescher's "Happy Divorced" launches its second season Wednesday (3/7), preceded by Fran's officiating at a same sex wedding in New York City the day before. The grooms are winners of her "'Love Is Love' Gay Marriage Contest." Here's hoping she laughs that insane honking laugh of hers at some point in the ceremony, which will be followed by a reception including such niceties as a cake by renowned baker Sylvia Weinstock It's the sweet taste of success that Drescher and her former husband, Executive Producer Peter Marc Jacobson, are savoring today. Their TV Land show has been swamped with so much positive mail, Jacobson says, "I should have come out sooner."
Not bad for a series that took a critical beating upon its debut last year.
Among the complaints: "Happily Divorced" is full of stereotypes. Jacobson defends that characters on the show are based on real people, starting with John Michael Higgins' character, "who is based on me. I have an interest in musicals. If that makes it a big old stereotype, well, what can I do?"
To recap: Fran and Peter were married for 18 years, had massive success together with "The Nanny," split up, and then he faced the reality that he is gay. They were inspired by their own story to create " Happily Divorced." The show, with Rita Moreno as Fran's mother, has been visited by guest stars including her "The Nanny" cohorts Charles Shaughnessy and Renee Taylor. Taylor returns in a recurring capacity this season, and Ann Guilbert will turn up, along with such names as this week's guest, Morgan Fairchild.
Plus, Jacobson shamelessly teases, "In the first episode, Fran will show a part of her anatomy she's never shown on television before."