Felicity is back - as a spy!
By Austin O'Connor , January 30, 2013 03:55 PM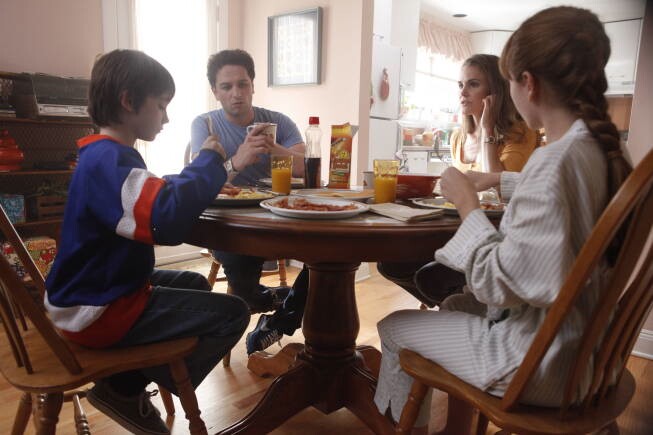 The Americans , the new cold war-era spy drama that premieres tonight at 10 p.m. on FX, has a juicy premise: It is 1981, and Philip and Elizabeth Jennings (Matthew Rhys and Keri Russell) are a seemingly hum-drum couple living outside of Washington, D.C. with two kids, a station wagon, a nice house and a picket fence. Unbeknownst to all, even their children, are their true identities as Russian sleeper agents, trained to live as Americans and unearth government secrets.
It's easy to see the hook here: The success of Showtime's award-winning Homeland shows there's an appetite for the spies-living-among us concept (though The Americans will do well to focus more sharply on the "intelligent" part of international intelligence.) And like AMC's Mad Men , which evokes nostalgia with its perfect portrayal of 1960s culture, The Americans is making a real effort to recreate the look and sound of the early '80s - Quarterflash and Phil Collins are featured prominently on the soundtrack, and feathered hair-dos abound. Not all details are so meticulous, however: In flashbacks set nearly 20 years prior, there's no attempt to make Russell appear age-appropriate and Rhys' little flop wig hardly peels away two decades. What happened there?
A crackerjack sequence in tonight's opener, in which the couple kidnaps a defecting KGB agent before he's able to turn himself over to U.S. authorities, gets things going, but the rest of the first show is spent building up the spies' backstories flashing back to their early training in the Soviet Union and their arrival in the U.S.
1981 was, of course, the first year of Ronald Reagan's presidency, and so it should be fun to watch these Soviet sleepers try to stay ahead in the spy game as the new administration ratchets up its pursuit of foreign agents. The pilot also introduces the Jennings' new neighbor Stan Beeman (Noah Emmerich), who just happens to be a newly named member of the FBI's counterintelligence unit. The Beemans think they've moved in to a boring haven of suburbia, where nothing exciting ever happens. Here's hoping they're wrong about that.
Are you excited for the show? Do you plan to tune in? Tell us in the comments below.
Watch a trailer for The Americans here.