'The Bridge': Intriguing New Cop Drama On FX
The Bridge begins with the sudden appearance of a dead body, sliced in half at the torso and straddling the U.S./Mexican border. The crossing is closely watched by dozens of cameras and round-the-clock security personnel - how the body parts were placed there undetected is but the first mystery presented in this moody, unnerving new crime drama, which premieres Wednesday night at 10 on FX.
FX is a network on a roll, with a stable of dramatic hits that includes Justified, American Horror Story, Sons of Anarchy and The Americans. Add The Bridge, an adaptation of the Danish TV hit of the same name, to that list. It may not hook you as immediately as The Americans, which quickly pulled in audiences with tricky spy games upon its premiere last winter. But it builds momentum as it broods, all that tension bathed in a sepia light that perfectly captures the dusty roads and deserts of its dual settings: El Paso, Texas and Juarez, Mexico.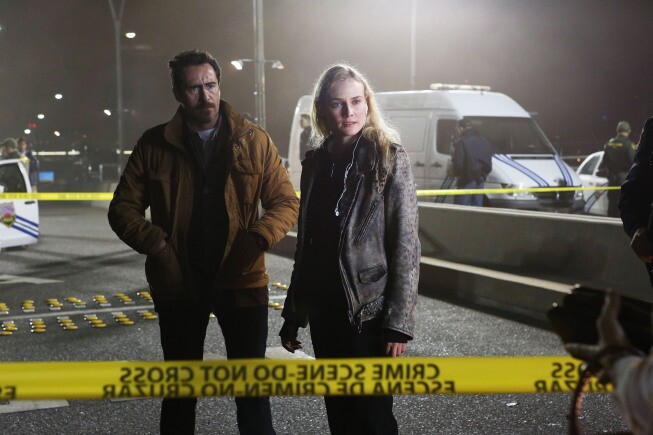 That dead body on the bridge brings together detectives from foreign lands separated by mere miles - El Paso Homicide Detective Sonya Cross (Diane Kruger) and Chihuahua State Trooper Marco Ruiz (Demian Bichir) - who must collaborate to catch the killer. It turns out the first corpse is only an opening salvo. Clues from the scene lead to other unsolved murders, and the detectives suddenly have a serial killer case on their hands.
The cat-and-mouse games between the killer (who, in rote dramatic convention, sends voice-disguised messages to the cops) are actually among the least interesting parts of the show, at least in initial episodes.
There are seemingly disparate story threads - one involving a recently widowed Texas trophy wife and socialite (Annabeth Gish) whose husband's secrets are slowly coming to light, another about a Texas journalist (Matthew Lillard) targeted by the killer - that remain tantalizingly untied-together. And pity poor Ted Levine, the versatile character actor who appears as El Paso Police Chief Hank Wade. Levine's most famous role remains that of serial killer Buffalo Bill in The Silence of the Lambs. That kind of cinematic baggage is tough to shake. Viewers can be forgiven if they suspect Chief Wade - by all appearances a nice man and caring mentor to Detective Cross - may be up to something.
It's the dynamic between the detectives, though, that most distinguishes The Bridge at its outset. As Cross, Kruger is a bundle of nerves, social ineptitude (there are ample clues that the detective has something like Asperger's syndrome) and obsessive devotion to police work. She seems to have no friends, and huddles in her dark apartment examining grisly crime scene photos in her downtime. As her Mexican counterpart, Ruiz is the opposite: married with kids, an easygoing sort whose years in the criminal maelstrom of Juarez may have worn down his belief in justice, if not his pursuit. Bichir's character is more defined so far, and the writers would do well to tone down Kruger's tics just a tad as things move along. But with border towns teeming with deadly intrigue, a tangle of sociopolitical knots to unravel along with those murder cases, and an across-the-board winning cast, The Bridge is worth crossing.
Also of Interest

Join AARP: Savings, resources and news for your well-being
See the AARP home page for deals, savings tips, trivia and more