'The Honorable Woman' Creator Fan of Great 70's Spy Thrillers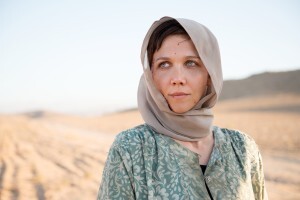 A first-class, cerebral mystery/espionage thriller set amidst the Israeli-Palestinian conflict, British auteur Hugo Blick's "The Honorable Woman" has become one of the most talked-about television dramas of the summer. Its title star, Maggie Gyllenhaal, has said she is more proud of the eight-part mini series than anything else she's done in her career. Its supporting cast, including Stephen Rea and Janet McTeer as British agents, is absolutely brilliant. And of course, it could not be more timely.
Blick noted that he could not have predicted that his latest offering would come at a time when war was raging in Gaza. Speaking at the recent Television Critics Association summer press tour, he said of the conflict, "It is cyclical. And it has now tragically become this hot spot yet again. It will abate, and then it will happen again. And the idea of this cycle was something that I was engaged in."
>> Sign up for the AARP Advocacy Newsletter
This is the story of Anglo-Israeli businesswoman Nessa Stein (Gyllenhaal), the titular honorable woman who is fraught with threats and secrets, has a panic room and is under such stress as to make her occasionally crack. As a child, she witnessed the assassination of her father, an Israeli arms dealer, and now, as head of the family business, she is engaged in turning their legacy into a positive, "laying cables for telephone, for the Internet -- millions of miles of communication" in the Palestinian territories. "Terror thrives in poverty. It dies in wealth," declares Stein, who is made a baroness by the British Government in recognition of her peace-making efforts. However, even as she announces her latest plans, the Palestinian she has contracted to lead the project is hanging dead outside his hotel room, the victim of a very suspicious-looking suicide. His probable murder and the kidnaping of the son of a family staff member are the two mysteries that underpin the series going forward.
Blick ("The Shadow Line," "Sensitive Skin") is an avowed admirer of such "post-Nixon, pre-Reagan" thrillers as "Three Days of the Condor" and "The Parallax View" and it shows. "The Honorable Woman" has also been likened to the work of Jean Le Carre. Certainly, like Le Carre, he expects his audience to pay attention and keep up with the complexities of his storytelling.
Blick's world is populated by fully-dimensional women. Janet McTeer, who was also at the TCA panel, complained about movies that have 1,700 parts for guys but just three women, who all have to be gorgeous and under 25. She also made it clear she's fed up with movie roles that require women to wear shoulder pads and talk and behave like men. Gyllenhaal admitted she likes wearing shoulder pads, but otherwise found much to agree with in McTeer's statement.
>> Get travel discounts with your AARP Member Advantages.
As for whether "The Honorable Woman" will spawn a second season, it appears not. "Part of the trust we offer the audience is that it's this story," Blick told critics. "We're not trying to wink and say 'Maybe there's another one.' It's got something profoundly engaging to say...because the conclusion it takes is final."
This Sundance TV (in cooperation with the BBC) limited series will also be available for viewing on Netflix.
Photo: Des Willie
Also of Interest

See the AARP home page for deals, savings tips, trivia and more