The Three Stooges Fight Arthritis Fraud. Nyuk!
By Bill Newcott , January 09, 2012 03:43 PM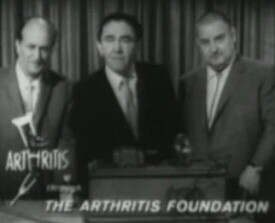 "Why youuuuu, I oughta.......!"
Right about when your mom was telling you not to hit your little brother over the head with a saucepan (or was that just me?), the Three Stooges were doing their bit to make the world a better place with this little TV spot for the Arthritis Foundation. By this time, of course, Moe Howard and Larry Fine were old men, and they were on their fourth partner (First came Moe's brother Shemp, then Moe and Shemp's brother Curly, then Shemp again, then Joe Besser, then Curly Joe DeRita).
It was the early 1960s, and the Stooges were, unbelievably, at the absolute height of their popularity. Their Columbia shorts had always been welcome time fillers in movie theaters, but it wasn't until 1958, when local TV stations began running them, that kids across America, seemingly all at once, started poking each other in the eyes, yelling "Whoop-whoop-whoop," calling each other numbskulls and hitting their little brothers over the head with saucepans (or was that just me?).
The boys are enjoying yet another renaissance these days: The Farrelly Brothers are about to release a new Stooges movie, starring Chris Diamantopoulos as Moe, Sean Hayes as Larry, and Will Sasso as Curly.
Then there's the upcoming re-release of 1982's The Three Stooges Scrapbook, co-authored by Moe's daughter Joan. And the recently published Three Stooges FAQ, a truly exhaustive career overview.
I don't recall seeing this Arthritis spot at the time, and I'm kind of glad I didn't. The Stooges with a social conscience? Nyuk nyuck nyuck! It was the Stooges' promise of sheer anarchy that made them the stuff of pre-adolescent dreams. In a Stooge Universe, falling bricks just bounced off your noggin, a monkeywrench clamped to your nose was a mere annoyance, and a blow torch to the butt meant nothing more than a singed pair of pants. These were lessons any young boy could carry with confidence into adulthood.
Or was that just me?