This Weekend: Birdman, Bill Murray, Late-Life Love
By Bill Newcott , October 22, 2014 05:07 PM
In Theaters This Weekend: Bill Murray is an artful codger; Michael Keaton wings his way to Broadway; Shirley MacLaine and Christopher Plummer discover it's never too late to find love.
At Home: Billy Crystal and Pee-wee Herman remember when.

Birdman or (The Unexpected Virtue of Ignorance)
Did Michael Keaton quit the Batman series 22 years ago just so he could one day make this dreamlike film about an actor who walked away from a smash superhero franchise? In the performance of a lifetime, Keaton evokes the soul of a tortured artist desperate to make one last contribution to the world — in this case, by writing, directing and starring in a four-character Broadway play. The supporting cast — especially Edward Norton — makes a perfect counterpoint, and director Alejandro González Iñárritu films the action as if it were a single take.

St. Vincent
Bill Murray deserves an Oscar nom for his grumpy Long Island loner who agrees to look after the brat next door (his idea of "supervision" includes field trips to the racetrack and local bar). Murray pioneered the I-don't-care stare that actually reveals the heart within, but here he adds a tragic undercurrent, giving his Vincent extra allure. Melissa McCarthy, as the boy's mother, continues her emergence as a screen treasure. And as her wise and adorable son, Jaeden Lleberher proves we should all take a moment now to learn to pronounce his name. The film's epilogue alone, with Murray singing along to Dylan's Shelter from the Storm, is worth the ticket price. Better yet, see it here.

Elsa & Fred
Shirley MacLaine and Christopher Plummer are cute as they come as the title characters in this story of late-life love. He's a bitter old dude; she's a free-spirited, impulsive breath of fresh air (who also happens to be a cheat and a pathological liar). Elsa would be insufferable in the hands of any other actress, but MacLaine makes her irresistible.
>> Celebrity Couples Still Crazy for Each Other
VIDEO: Bill Murray hijacks a press conference (while Melissa McCarthy fumes at The Reporter Who Wouldn't Stop Typing)
Still Out There...
Boyhood
In 2002, writer-director Richard Linklater wrote a script about a young boy's life from age 6 to his late teens. He filmed it over the ensuing 12 years, letting his actors literally grow into their parts. Sure, the nearly three-hour Boyhood could stand some trimming, but it's easy to understand Linklater's reluctance to leave anything on the cutting-room floor. His gamble on casting Ellar Coltrane as the boy is inspired; as his parents, Patricia Arquette and Ethan Hawke show it's not just children who evolve over a decade or so. In fact, Boyhood is most compelling when it explores the complex dynamics between growing children and their oft-confounded parents. FULL REVIEW
>> Sign up for the AARP Leisure Newsletter
The Disappearance of Eleanor Rigby: Them
Jessica Chastain and James McAvoy are heartbreaking as a tragedy-stricken couple watching their youthful love unravel. The subtitle (Them) signals what went before, when director Ned Benson made two separate films with the same cast: Him, told from the husband's viewpoint, and Her, told from the wife's. Those individual films will be released later this year by The Weinstein Company; in the meantime, savor this rich, sad, compelling story of romantic, delirious love and its aftermath. (FULL REVIEW)
The Drop
More than a year after James Gandolfini's death, his final film (based on the Dennis Lehane short story "Animal Rescue") presents the star in the type of role that defined his career: a crusty, dangerous, yet somehow lovable thug. He plays Marv, who runs a Brooklyn bar used by the Mob for money drops. Of course someone has the bad idea to hold the place up, a move that ensnares Marv, his handsome young bartender (Tom Hardy) and a sociopathic dog beater (Matthias Schoenaerts). Gandolfini is mesmerizing as always, but you can't help ruing the fact that the actor (who died last year at 51) was just beginning to expand his repertoire beyond his character here. (FULL REVIEW)
The Equalizer
If Denzel Washington and director Antoine Fuqua were to surprise us at any point during this over-the-top action flick, they would have failed at their mission. The Equalizer is not about breaking ground, nor creating art. It's about Denzel — older, wiser, more experienced than those around him — kicking bad-guy butt against a backdrop of dark alleys and rusting industrial landscapes. No one does the dead-eyed-hero bit better than Denzel, and few directors choreograph action more deftly than Fuqua ( Training Day, Olympus Has Fallen). Is there a story line? Yep. Will you recall it after the last nail gun fires? Doubt it. (FULL REVIEW)
>> Get entertainment and dining discounts with your AARP Member Advantages.
Gone Girl
Hotly anticipated by fans of the book, Gillian Flynn's adaptation of her own novel is a crackerjack mystery that successively keeps the viewer wondering who's dead, who killed them, is anybody dead at all, and who's next? Ben Affleck plays Nick Dunne, who comes home one morning to find signs of a struggle and his wife Amy (Rosamund Pike) gone. He calls the cops, who dutifully place Nick right at the top of their Persons of Interest list. If you try to think too far ahead of the narrative, there's a danger that you might anticipate some of the best plot twists, so it's best to let go of the wheel and let Gone Girl do all the driving along its meandering narrative road. (FULL REVIEW)
Hector and the Search for Happiness
Simon Pegg, impish as ever, plays a successful London shrink who is beloved by his patients and his beautiful, patient girlfriend (Rosamund Pike again!). But he's got this nagging sense of unhappiness, and so he shuts down the office, bids his gal an uncertain cheerio, and takes off on a worldwide research trip to find out just what makes people happy. Pegg's Hector is funny and engaging, and that makes it easy for him to cozy up to a number of rather broadly drawn strangers. When he finally arrives back home, it is with a revelation that has been preached from movie sets since before The Wizard of Oz: "There's no place like home."
The Hundred-Foot Journey
Helen Mirren is a snooty French chef; veteran Indian star Om Puri (East Is East) is the immigrant who opens an authentic Mumbai-style restaurant, replete with secret spices and blaring santoor music, across from her chic, white-tablecloth place in the South of France. The resulting culture clash fuels this foodie romance from Lasse Hallström, who also directed Chocolat. The dishes look delicious and the stars are endearing, but the predictable script could have used more seasoning. (FULL REVIEW)
The Judge
The most challenging thing about this drama may be accepting fast-talking Robert Downey Jr. as the son of taciturn Robert Duvall. Downey is a hotshot big-city lawyer; Duvall is a beloved small-town judge accused of murder. Will Junior find it in his heart to defend his estranged pop? And will Dad swallow his pride with a deep enough gulp to accept his son's help? (FULL REVIEW)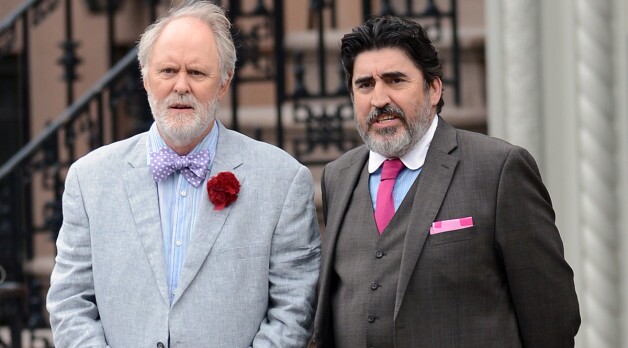 Love Is Strange
Two of our finest actors, John Lithgow and Alfred Molina, bring warmth and humor to a modern yet timeless love story. They play a couple who've lived together for decades, only to see their comfortable Manhattan lifestyle come crashing down when they get married. Director/co-writer Ira Sachs lavishes uncommon dignity and consistent good humor on the guys, their families and even those who stand in the way of their happiness. A film like this requires a delicate balance; happily, everyone involved succeeds like a Wallenda — and makes the acrobatics look easy. FULL REVIEW
Men, Women & Children
Even the unreconstructed Luddite in me takes no joy in reporting that Ivan Reitman's new film proves the Internet is ruining our lives. Porn addiction, eating disorders, social estrangement and child endangerment all have roots in the Web. If the situations and characters here are a tad broadly drawn — they're played with endearing befuddlement by the likes of Adam Sandler, Rosemarie DeWitt, Jennifer Garner and Judy Greer — it's hard to contest the film's cautionary message.
This Is Where I Leave You
Jane Fonda is radiant as the newly widowed mother who summons her four grown children to sit shiva at her house following the death of their father. Talk about your surly bunch: The three brothers (Jason Bateman, Adam Driver and Corey Stoll) don't much care for one another, and each is undergoing a life crisis. They are, however, fond of their sister (Tina Fey) — but, like her, they blame their hangups on their psychologist/author mom. It's all a bit too complex for one movie, but the wonderful cast moves things briskly along. (FULL REVIEW)
Whiplash
J.K. Simmons — that bald, beaming guy we've loved for years in so many movies and commercials — finds the breakout role of a lifetime as a fierce music instructor who mentors a young drummer at a high-stakes music conservatory. (FULL REVIEW)
New on DVD, Blu-Ray and Video On Demand: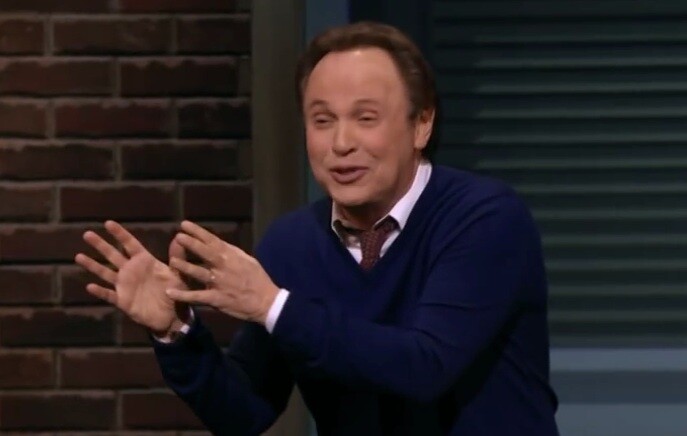 Billy Crystal: 700 Sundays
Trust me on this: Billy Crystal's family was funnier than yours. Thankfully, Crystal captured his formative years in a bittersweet memoir, 700 Sundays, which he then turned into a one-man show. Named for roughly the number of weeks he got to spend with his father, who died when Crystal was 15, the 2004 Broadway production won a Tony Award. Last year Crystal reprised it as an HBO special, and that's the version you get here (plus some never-aired outtakes).
 Snowpiercer
The scientists meant well when they tried to stop global warming, but their experiment wound up freezing everyone on the planet to death. Whoops! Everyone, that is, except the folks on Snowpiercer, a round-the-world train powered by a perpetual-motion engine. In this cautionary tale from director Joon-ho Bong (The Host), Tilda Swinton is the Thatcheresque strongwoman who keeps the privileged few at the front of the ride — and the rabble in the rear.
Downton Abbey: Seasons 1-4
As the world prepares for the fifth season of upstairs-downstairs drama from everyone's favorite British estate, here's your chance to brush up on who's done what to whom. With each unspooling decade, only Maggie Smith's Dowager Countess of Grantham never seems to age.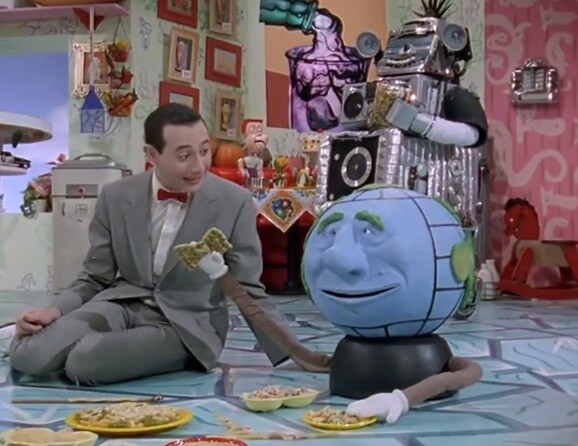 Pee Wee's Playhouse: The Complete Series
Paul Reubens watched the same Saturday-morning TV shows we did as kids. Could that be why his 1980s series cut so close to our collective psyche? (Look closely for a framed photo of Andy Devine hanging on the playhouse wall.) Through elegantly scripted skits, sharply drawn characters and a sensibility tuned to both children and adults, Reubens crafted a show seemingly conjured from our most fondly remembered childhood moments.
The Red Skelton Show: The Early Years
Unless you were watching TV from 1951 to 1955, you've never seen these classic episodes from Red Skelton's early career. That's because Skelton locked them in his vault and never screened them again — not even as reruns. This collection reminds us that Skelton was one of television's original subversives, catapulting TV comedy far beyond the vaudeville stylings of Milton Berle.
>> Visit (And Like!) the Movies for Grownups Facebook Page
Also of Interest

See the AARP home page for deals, savings tips, trivia and more.