Two Books, One Title - Round Two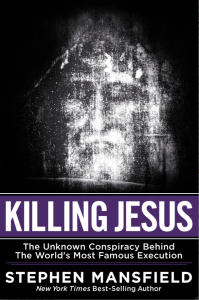 Two books with the same title?

Yup, it's happened again.

The last time around, it was Life after Life by both Kate Atkinson and Jill McCorkle. This time the shared title is Killing Jesus, which you'll find on book covers by both Stephen Mansfield tomorrow and Bill O'Reilly in the fall.

In the first one to hit bookshelves, Mansfield, a prolific religious historian, details the machinations and political intrigue surrounding the death of Jesus. His version of Killing Jesus is subtitled The Unknown Conspiracy Behind the World's Most Famous Execution.

It mirrors the title of Bill O'Reilly's Killing Jesus: A History, the third in a series of homicidal blockbusters that began with Killing Lincoln in 2011 and continued with Killing Kennedy in 2012. Sticking with his winning formula - those first two have sold more than 6 million copies combined - O'Reilly once again shares writing duties with Martin Dugard, whom he calls "the most honest historian I know."

Mansfield's publisher learned of the title overlap very late in the process, and chose not to change the title. "Stephen's book was conceived long before there was any news about an O'Reilly book," reports Worthy Publishing President Byron Willliamson. "We were uploading digital files to the printer for Killing Jesus when we first heard [about the title duplication]."

Why change it? The title sharing may have augmented sales of both Life after Life novels mentioned above, and Mansfield's numbers are likewise apt to benefit from a little authorship confusion.

Now let me tell you about a little book I'm planning to write called The Bible...