Tyler Perry Delivers A Christmas Present
By Bill Newcott , December 11, 2013 06:59 PM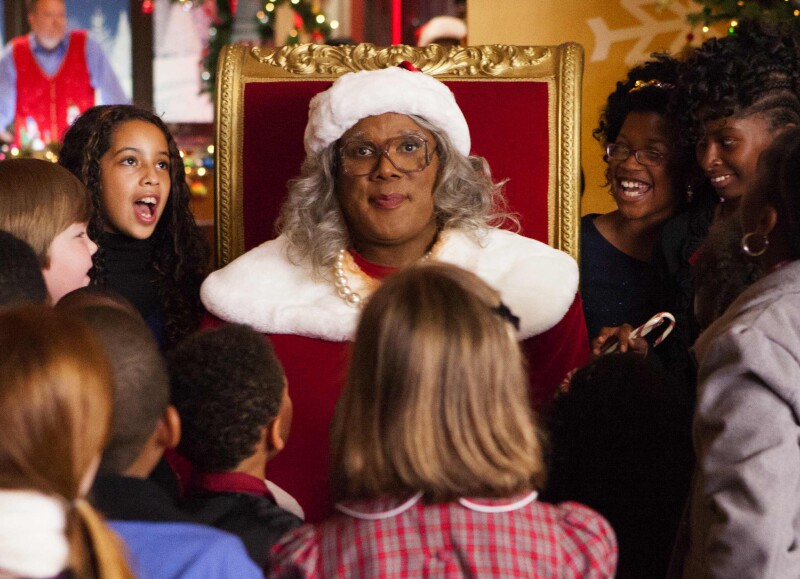 Tyler Perry has known Madea for fifteen years now, but he confesses that she still can surprise him.
"There are moments when her jokes come up, and I find myself laughing as I hear them," says Perry, who created the outspoken southern matriarch in a 1999 play, I Can Do Bad All By Myself. He has since played Madea (pronounded Muh-DEE-uh) in nine plays and seven films-including his newest, A Madea Christmas.
Madea is foul-mouthed and ill-tempered-and unrepentant about both. She packs a gun and did a spell in prison ( Madea Goes to Jail). Madea almost never lets her guard down, but Perry-a better actor and more nuanced writer than lots of people give him credit for-nevertheless finds almost subliminal ways to reveal her soft-hearted core.
"Show Us Your Modern Family" Photo Contest. Upload your photo for a chance to be photographed in AARP The Magazine. See official rules.
Perry may have created Madea, but in a way Madea also shaped Perry.
"It's me imitating true life," he says. "My mother and my aunt are those women. They would love you, they would pray for you, but they would also knock the heck out of you and cuss you out and then cut you-and then bring you to the hospital all in the same breath.
"My mother spoke her heart and told it the way it was, but she was a wonderful, loving woman."
Like Perry's mother, Madea is also a God-fearing woman. But she's most comfortable putting the fear of God into others.
"Madea doesn't p-r-a-y, she p-r-e-y-s," says Perry. "She has the Bible all screwed up like lots of people do. Pretty much like the culture at large."
There's no such thing as a perfect track record in the movie business, but Tyler Perry comes darn close. His Madea movies always clean up at the box office: The first six, all made on modest budgets, have reaped nearly $400 million. And the many other films he's written and directed-including Why Did I Get Married Too?, The Family That Preys, and For Colored Girls - have virtually all been profitable.
Tyler's non-Madea movies have a continuing theme of morality: Characters often find their lives taking off in self-destructive directions, and by the end of the film a valuable life lesson has been learned. It's a world view that Tyler developed as a child, and one that led him to make his latest film a decidedly "Christmas" movie at a time when the rest of the industry, with its eyes on international markets, insists on creating more generalized "Holiday" -themed fare.
"I wanted this movie to remind people that Christmas is about the birth of Christ," he says. "No matter how commercial it becomes, and how far down the road we get with Santa Claus, that's what it's really all about."
The Hollywood establishment still doesn't quite get Tyler Perry. That's one reason why he makes his movies at his own studio a few thousand miles away from Tinseltown, in Atlanta, Georgia.
The New Orelans-born filmmaker also loves being in his native South, among people who have supported him from the beginning.
>> Get entertainment and dining discounts with your AARP Member Advantages.
"Atlanta is a great and wonderful town," he says. "I love the real-ness of it. There's no Hollywood fakery. If they don't like you, they don't like you."
And make no mistake: Tyler Perry's fans absolutely, positively like him. He may well have the most singularly devoted fan base in filmdom.
"Isn't that something?" he marvels. "There's this sense of ownership and belonging. I'm their brother, their husband, their friend. We've been together since the very, very beginning, when no one in Hollywood knew my name, when I was just doing traveling shows. It's been beyond wonderful."
So, what would a devoted fan get for Madea as a Christmas present? Perry doesn't hesitate.
"A bra!" he barks, adopting his character's trademark clarion voice. "Triple support! Double cross-your-heart, crisscross your back and up under your arm and around your sleeve!"
Also of Interest

Join AARP: Savings, resources and news for your well-being
See the AARP home page for deals, savings tips, trivia and more