'Under the Dome' Looks Like a Summer Hit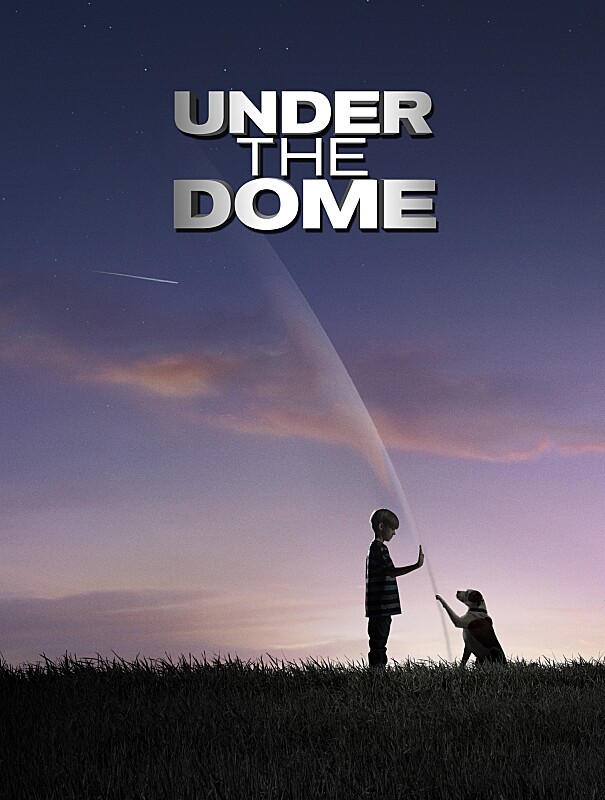 The first must-watch TV series of the summer has arrived, and for a change it isn't airing on a niche cable network, appealing only to a demographic sliver. Under The Dome, which premieres Monday June 24 at 10 p.m. on CBS, is a big, broad crowd-pleaser that should pull a huge audience into its mysterious tent - and then trap us all inside.
If you've watched CBS recently, you may have seen promotion of Under The Dome, a 13-episode summer series adapted from Stephen King's 2009 bestseller, and, therefore, be familiar with the concept. And if you've ever seen 2007's The Simpsons Movie, in which the animated town of Springfield is trapped under an impenetrable, transparent dome, you're very familiar with the concept. The plots are so strikingly similar that King posted a disclaimer on his personal website detailing his writing process for Under the Dome, which he says began back in the late 1970s. But there are no new stories, right? More important is how they are executed. The Simpsons Movie played the scenario for laughs while Under the Dome goes for creepy, suspenseful thrills - and, at least in its first episode, it delivers.
Tiny Chester's Mill seems like a quiet, peaceful New England town. But look more closely: As the series begins, a drifter digs a hole in the woods to dump a dead body. Out in the countryside, an old woman tells a local newspaper reporter about dozens of propane trucks making deliveries across the street at odd hours. In town, a police officer spots a car with no plates. An intimate bedroom conversation between two young lovers turns suddenly violent.
All of that, along with a few more table-setting scenes, happens even before the dome slams down atop the town ten minutes into the premiere. That set-up is an impressive bit of compact storytelling - equally impressive is the arrival of the dome, which falls suddenly with a booming thud, and then silence. Cows grazing on an open field are hardly disturbed, save for the poor one that ends up unceremoniously bisected by the barrier.
Superior, if a bit grisly, visual effects give Under the Dome an expensive, polished look (it's produced by Steven Spielberg's Amblin Entertainment, so viewers should expect quality.) Familiar faces among the strong cast include Dean Norris (the DEA agent brother-in-law from Breaking Bad) as a shifty town councilman, and Aisha Hinds ( True Blood) as a mom taking her daughter to summer camp and just passing through town (or so she thinks).
Chester's Mill is teeming with juicy drama - jealous lovers, cuckolding couples, dead bodies and simmering personal feuds - even before the dome falls and turns the town into a petri dish, leaving them to settle their differences and survive together. I like the way the residents stumble around in a stupor after their entrapment, trying to figure out what has just happened. Those shut out of town peer silently through at the people trapped within. Military vehicles start to appear outside the dome. All hell doesn't break loose, but it slowly encroaches upon everyone, and you can feel it coming.