Who Will Win Oscars — and Who Really Should
By Bill Newcott , February 19, 2015 01:37 PM
Still on the fence about who should win Oscars this Sunday night? Here's a little grownup guidance.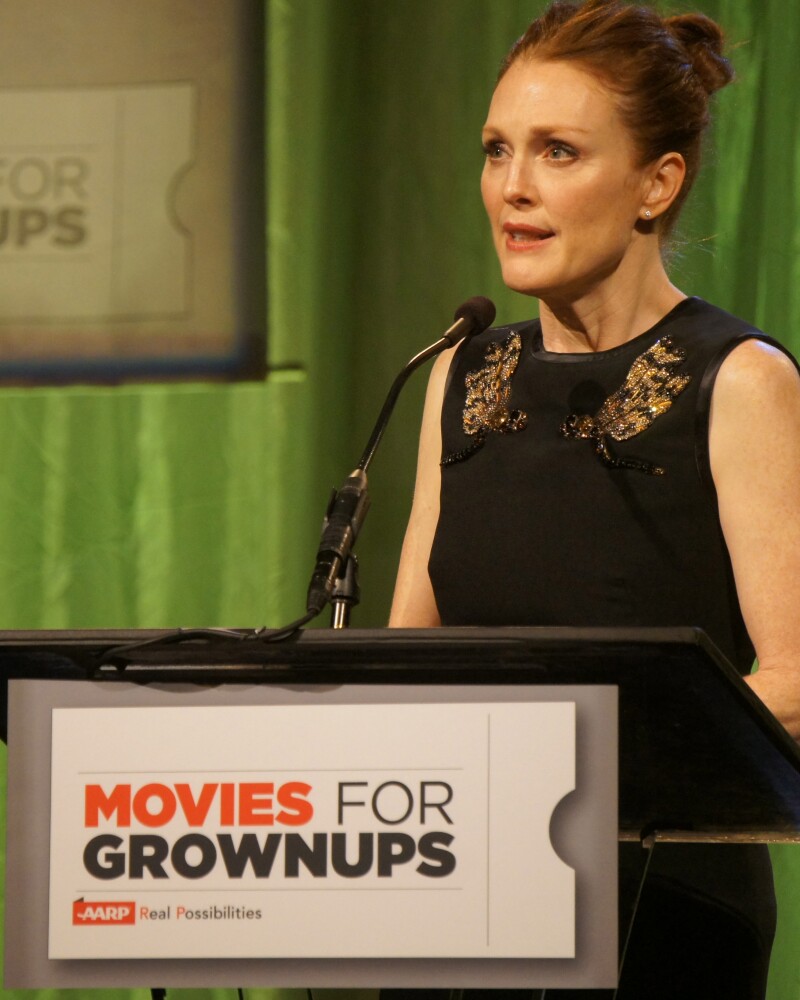 Best actress: Not even close. Our own Movies for Grownups best actress winner, Julianne Moore, gave the performance of a lifetime as a woman with early-onset Alzheimer's in Still Alice. Reese Witherspoon will get some sentimental votes for going gritty in Wild, but Oscar voters will issue "see-you-next-time" condolences to youngsters Marion Cotillard ( Two Days, One Night), Felicity Jones ( The Theory of Everything) and Rosamund Pike ( Gone Girl).
My prediction: Nothing less than Moore will do!
Best actor: How can anyone overcome young Eddie Redmayne's transformative performance as Stephen Hawking in The Theory of Everything? Of course, I'd love to see a statuette go to either of the 50-plus actors in the mix: Steve Carell (winner of our best actor award for Foxcatcher) or Michael Keaton (a close second for Birdman). But this isn't rocket science. Or quantum science either, for that matter, so …
My prediction: Get ready for Redmayne!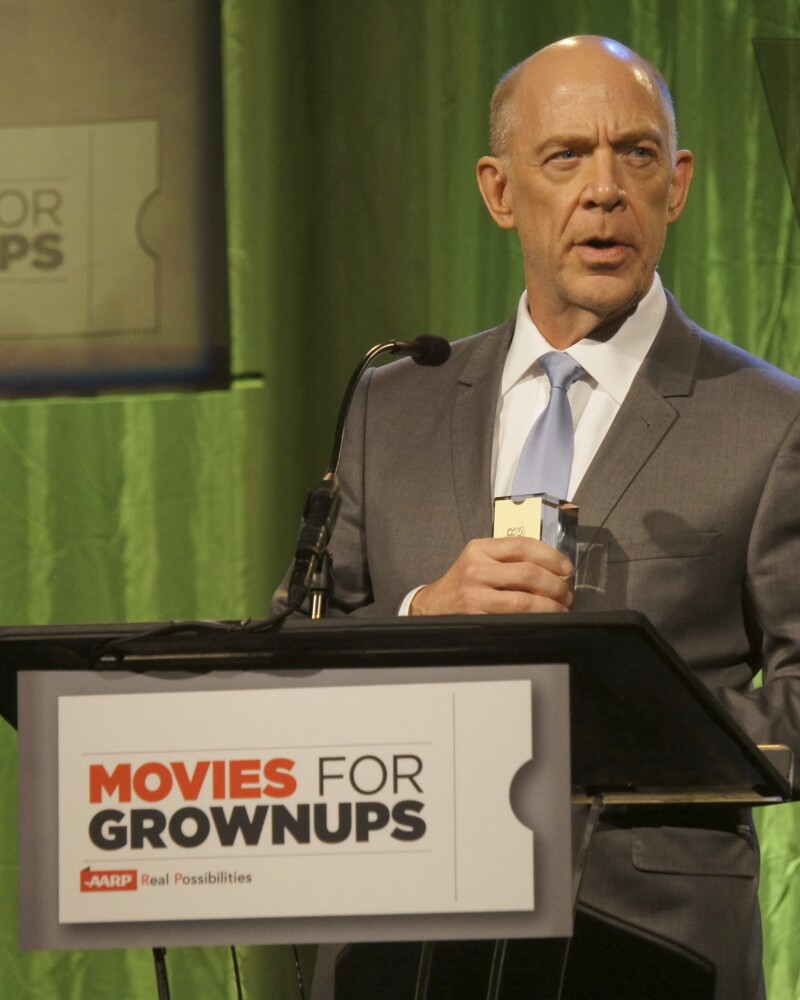 Best supporting actor: Grownup legend Robert Duvall ( The Judge) is a perennial favorite, while 40-somethings Ethan Hawke ( Boyhood), Mark Ruffalo ( Foxcatcher) and Edward Norton ( Birdman) would be strong contenders in any other year. But if there's a supporting-actor trophy that has not found its way into Whiplash costar J.K. Simmons' hands this awards season, I don't know about it. That's him at left, accepting our best supporting actor award earlier this month; bet on Simmons to do it again at the Oscars.
My prediction: J.K. is more than just OK with me!
Best supporting actress: A tight race, and with apologies to Grownup superstar and sure-fire vote-getter Meryl Streep ( Into the Woods), it's clear that Patricia Arquette — whose brave performance in Boyhood was 12 years in the making — is this year's sentimental favorite. Laura Dern ( Wild), Kiera Knightley ( The Imitation Game) and Emma Stone ( Birdman) all gave solid supporting performances, but Arquette (who graciously appeared at our awards gala Feb. 2) provided Boyhood's essential center.
My prediction: Stand pat with Patricia!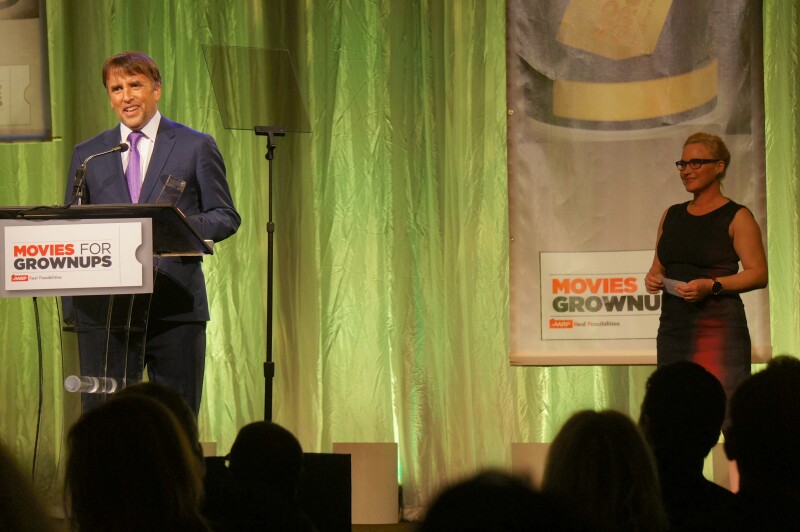 Best director and best screenwriter: Alejandro G. Iñárritu ( Birdman) and Richard Linklater ( Boyhood) are both in their 50s. Both men richly deserve either of these awards for their films, which they wrote (or cowrote) and directed. There are plenty more 50-plus types in the screenwriters mix: Anthony McCarten, 54 ( The Theory of Everything); Hugo Guinness, 55 ( The Grand Budapest Hotel); Dan Gilroy, also 55 ( Nightcrawler); and E. Max Frye, 59 ( Foxcatcher). The better angels of my nature have me hoping the Academy will find a way to send both Iñárritu and Linklater home with a trophy, but my reality devil has me thinking:
My prediction: Linklater's a two-fisted winner!
Best picture: I saved the least-predictable category for last. Every work nominated for 2014 is a uniquely grownup film.
AARP's Best Movie for Grownups winner, The Theory of Everything, would be a solid choice, but we picked it based on its grownup themes and the central character's generational import — criteria not always the focus for Oscar consideration.
If the 6,124 Academy members, like millions of U.S. general-election voters, go with their pocketbooks, Clint Eastwood's runaway hit, American Sniper, will win Best Picture; its ultimate box-office total may well surpass that of all the other nominees combined.
>> Get entertainment and dining discounts with your AARP Member Advantages.
Boyhood will likely sweep many of the creative categories, so that makes it hard to resist as best picture.
Though some say that writer-director Wes Anderson is overdue for an Oscar, his style is quirky enough that not everyone likes it; that probably rules out his Grand Budapest Hotel.
Powerful central performances drove The Imitation Game (Benedict Cumberbatch) and Whiplash (J.K. Simmons ) to their nominations, making both films a bit too one-dimensional for winner status.
That leaves Selma, the movie that so powerfully told the story of Dr. Martin Luther King's voting-rights march, which got criminally overlooked in every other category but best song. Only one film has ever received just two nominations and gone on to win best picture — and that was this category's first winner ever, way back in 1927: Wings. So much has been made of the Selma slight that Oscar voters may feel shamed into awarding it the best picture Oscar . And that would be too bad, because while Selma is a very good film, it is not a great one.
Then again, the best overall film of the bunch — Birdman, a scriptwriting and directorial tour de force with a mind-blowingly fierce performance by Michael Keaton — probably won't win best picture, either.
Our prediction: American Sniper hits the bull's-eye.
Photos: Bill Newcott
Also of Interest

See the AARP home page for deals, savings tips, trivia and more.