Your Book Club Has a Question? Ask the Author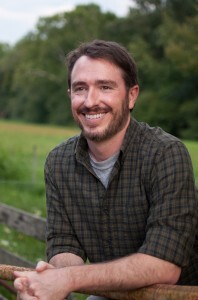 Back when we got together to discuss books rather than drink wine, my book club wrestled with questions like, "What do you think the author meant by...?" or "Why do you think the author ended with...?"
Maybe we would actually read the books if we knew we could ask those questions of the authors themselves - which today we could easily do. In the flesh, via Skype or speaker phone, lots of authors, from first-timers to established writers, are happily joining living-room discussions of their own works to explain a character's motivation, or what the title really means, or why so-and-so had to die.
Some writers get around more than others. Wiley Cash (left), author of a gripping debut novel about a tragedy in a small Southern town, has virtually visited more than 30 book clubs since A Land More Kind Than Home was published last year.
"It's fun," Cash says. "Where else can you get in front of an audience that's guaranteed to have read your book?" On his website, Cash invites readers to send him questions. Or, he adds, "I'd be honored to meet with your reading group and discuss these questions in person."
Cash, who lives in West Virginia, claims not to mind answering a few of the same predictable queries each time he speaks to a club. (Before you ask, though: Yes, Wiley Cash is his real name.) But he admits that some writer friends think his doting on book clubbers is a waste of time. "They say, 'Why are you doing this?' I tell them, 'This is my first book, and people are actually reading it - I'd be a fool not to take advantage of that.'" Once a book has been a success with some clubs, says Cash, word spreads and "other book clubs tend to embrace it as well."
Jennifer Hart, group marketing director for William Morrow, Cash's publisher, says, "It helps sales for authors to connect directly to book clubs." Hart points to Adriana Trigiani ( The Shoemaker's Wife) as "one of the first authors to do this in a big way. It helped make her the New York Times bestselling author she is today." According to Trigiani's website, she addresses three to five book clubs a week. You can e-mail her assistant to set up a talk; if you're in the New York City area, Trigiani might even come chat in person.
Even top sellers like Gillian Flynn, whose mystery-thriller Gone Girl has been riding the charts since last summer, works the book club call-ins (maybe to defend that disappointing ending?) when she's not busy writing or traveling.
One super-snaggable author is Brian Freeman, an affable guy in the Twin Cities area whose most recent thriller is Spilled Blood. "Honestly," says Freeman, "It's fascinating to discover how readers react to different components of a book.
I learn a lot about my own writing when I'm chatting with a book club." Freeman usually talks to groups by speaker phone. A few times he has climbed out of bed in the middle of the night to address club meetings in Australia. "It's such an important way of reaching out to the reader community these days."
So book clubs, take note: If your readers go for psychological thrillers, Freeman would love to talk about his. Really, he insists: "It would be fun to have more readers contact me."
Photo credit: Tiffany B. Davis
Also of Interest

Join AARP: Savings, resources and news for your well-being
See the AARP home page for deals, savings tips, trivia and more