Are You a Viagra Wife?
By Candy Sagon , April 25, 2011 06:09 PM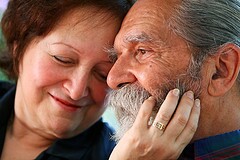 Millions of boomer men have recharged their sex lives thanks to Viagra and other erectile dysfunction drugs, but are their wives equally thrilled?
That was the question that writer Judith Newman poses in her article "Love in the Time of Viagra," in the May issue of Prevention magazine.
Sign up for the AARP Health Newsletter
As she puts it, "While men of a certain age are undoubtedly thrilled to have their sexual potency restored, maybe their wives' enthusiasm is a bit more subdued? What at first glance seems an obvious win-win situation for both husbands and wives can have a raft of unintended consequences. "
She's not knocking the little blue pill. She calls it "a wonder drug," and says it can have both psychological and cardiovascular benefits for men.
The problem comes in balancing the husband's newfound sexual prowess with his wife's post-menopausal changes , including lower sexual desire and vaginal changes that can make intercourse uncomfortable.
Newman also writes that both partners need to realize that the pill doesn't work by itself -- desire and intent are still needed.
Get discounts on everyday products and services with your AARP Member Advantages.
"Couples really need to talk about what each partner in the relationship expects," says a couples counselor in the article.
Good advice even if you're not taking the little blue pill.
Photo credit: bravenewtraveler via Flickr.

Also of Interest