Toasty Bruschetta With An Israeli Touch
By Lauren Fielder , November 30, 2012 02:30 PM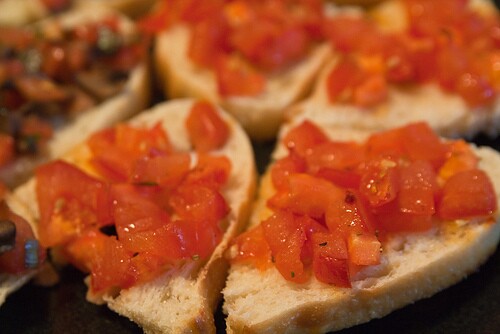 Excerpted from Faye Levy
Makes 4 servings
Bruschetta are trendy Italian appetizers often served at restaurants, but they're extremely easy to prepare at home. They're simply garlic toast with a fresh tomato-basil topping. I like to add the popular Israeli hot pepper chutney, zehug, to give it extra zip. Sometimes I substitute cilantro, which many Jews of Middle Eastern descent prefer to basil.
These hors d'oeuvres are terrific for serving in the Sukkah. You can bring them on a tray or simply bring a plate of toast and a bowl of topping, and your family and guests will make their own. If you prefer, you can skip the step of brushing the bread with oil and simply toast it in a toaster instead of in the broiler.
1/2 teaspoon Zehug (recipe follows), hot salsa, or hot sauce, or to taste
2 cups diced fresh tomatoes
3 tablespoons thin strips fresh basil or chopped cilantro
2 to 3 tablespoons extra-virgin olive oil
Salt and freshly ground pepper, to taste
8 slices Italian bread or 16 slices baguette or other slim crusty bread
2 large cloves garlic, peeled and halved
1. Prepare Zehug.
2. Mix tomatoes with Zehug, 2 tablespoons basil, and 2 tablespoons olive oil in a medium bowl. Season with salt and pepper.
3. Lightly brush bread with olive oil. Broil it until lightly toasted; turn over, brush with oil and lightly toast second side. Watch carefully; they burn easily. Rub both sides of toast with cut garlic while bread is still hot.
4. Serve toast topped with tomato-basil mixture.
Reprinted by permission of the publisher from AARP 1,000 Jewish Recipes, by Faye Levy. Copyright © 2000 by John Wiley & Sons, Inc.
Photo Credit: Steven Depolo VIA Flickr http://www.flickr.com/photos/stevendepolo/
AARP Recipe Ebook: http://bookstore.aarp.org/WileyCDA/AarpTitle/AARP-1-000-Jewish-Recipes.productCd-1118248546.html