Common Meds Can Cut Potency Of Some Cancer Drugs
By Candy Sagon , March 20, 2012 08:00 AM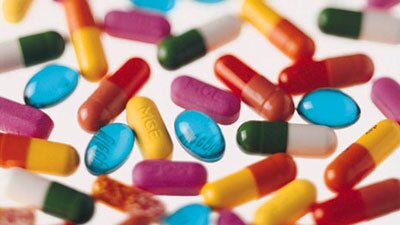 New research underscores why it's crucial for all your doctors to know all the drugs you are taking.
The study, which looked at possibly harmful drug interactions among patients taking targeted cancer drugs, found that as many as 74 percent of the patients were also taking common medications that could limit the cancer drugs' effectiveness or cause toxic side effects.
The research was conducted by Medco Health Solutions Inc., which manages prescription drug benefit plans for 65 million Americans, and presented last week at the annual meeting of the American Society for Clinical Pharmacology and Therapeutics.
Some of those common drugs that can interfere with cancer drugs include proton pump inhibitors like Nexium and Prevacid; steroids; certain blood pressure and heart medications known as calcium channel blockers; and some antibiotics and antifungal treatments.
For example, the study found that 43 percent of patients taking the highly effective leukemia drug Gleevec were also on another medicine that could diminish its effectiveness, Reuters reported, while 68 percent were taking something that could potentially raise the toxicity level.
Nearly three-quarters of patients taking the kidney cancer drug Votrient were also taking a drug that could increase serious side effects, researchers said. Of those taking the lung cancer drug Tarceva, 57 percent were also taking a drug that could weaken its effectiveness.
Medco says the problem lies with doctors -- not the pharmacies, of course -- for forgetting to ask about what other drugs a person is taking.

"Oncologists are not always aware of other medications prescribed by other doctors and vice-versa, which can pose a real hazard for their patients on oral cancer therapies," said study co-author Steven Bowlin in a statement. "More communication needs to take place across all doctors who are prescribing for the patient."

A better question might be why pharmacies (or big companies that manage pharmacy benefits) don't do a more thorough computerized check for possible drug interactions among patient prescriptions and warn people of problems. Or have the pharmacist actually talk to patients taking such specialized drugs about medications they need to be concerned about.
In their study, Medco researchers examined drug claims data for 11,600 cancer patients who had taken one of nine targeted cancer drugs during a 29-month period ending in mid-2010.
The researchers found that 23 to 57 percent of patients on targeted cancer drugs were also prescribed medicines that could diminish the drugs' effect. Some 24 to 74 percent of patients were taking drugs that could add toxic side effects if used at the same time as certain cancer therapies.
Anything that may reduce a cancer drug's effectives "is obviously very concerning," co-author Eric Stanek told Bloomberg News. "You don't want to wait and see if the cancer comes back" to realize there is a problem.
In other health news:
Women prescribed more drugs than men, but don't always take them. Women are prescribed more medications than men are, but they're less likely than men to use those medications as prescribed, new research found. One reason may be because those prescriptions are not ideally suited to the way women's bodies process medications, according to a Washington Post article on the recent "Women's Health 2012" annual conference.
Fraud alert: Phone scam offers "free" diabetes supplies. If you have diabetes and you get a call from someone offering free glucose meters, diabetic test strips, lancets and other supplies, beware: It's almost certainly a scam. Hang up, says the federal government, which has just issued a new fraud alert about such calls, USA Today reports. Many of these scammers pose as employees of Medicare or other legitimate diabetes groups in order to get your Medicare or Social Security numbers or other financial information.
Antioxidants may not help people with Alzheimer's. Daily use of antioxidant pills, including vitamins C and E, didn't improve thinking and memory skills in people with Alzheimer's disease, a new study found. In fact, researchers said that some patients taking the antioxidants actually had faster declines in memory over the four-month study compared to those who took placebo pills containing no vitamins, Reuters reports.
Photo credit: news.sky.com