Facing Facts About Hearing Loss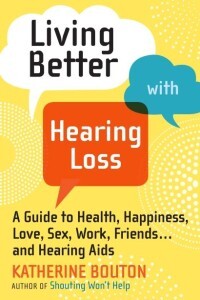 May was Better Hearing Month, and I did a lot of radio interviews, some on behalf of AARP, others for my new book, Living Better With Hearing Loss: A Guide to Health, Happiness, Love, Sex, Work, Friends … and Hearing Aids. As I heard myself repeating the statistics in one interview after another, I was unhappily reminded of the magnitude of the numbers of people with hearing loss, and the blithe dismissal with which it is generally treated. The prime example of this attitude is the fact that Medicare doesn't cover hearing aids.
Here are the facts: Forty-eight million people in the United States have hearing loss. Of those, 60 percent are in the workforce or in school. Ninety percent, or 43.2 million, could benefit from hearing aids, according to data collected by the Better Hearing Institute, whose MarkeTrak surveys provide a valuable overview of the state of hearing loss in this country. The average age of first-time hearing aid users is approximately 70, even though research shows that half of them began to lose their hearing at least a decade earlier. By the time we reach our 80s, 90 percent of us have hearing problems. And yet fewer than a quarter of all people who need hearing aids actually get them, according to the American Speech-Language Hearing Association.
Get the latest tips on staying healthy — AARP Health Newsletter »
That is a lot of people with less than optimal hearing. In most cases their hearing loss could be helped with hearing aids.
If it's that simple, why aren't people wearing them?
Some people with hearing loss think that they hear — and understand — perfectly well, and that they don't need to hear better. Others assume that the loss is part of aging and that it would be vanity to try to reverse it, akin to plastic surgery or coloring your hair. Some people with hearing loss simply can't afford hearing aids. Some are curmudgeons and don't like hearing other people anyway. Or they think that wearing hearing aids will make them look old.
Those in the workplace worry that hearing aids will make them look compromised, imperfect, so they try to disguise the loss. They may find schmoozing in the cafeteria difficult, or after-work drinks too noisy for them to really participate. Employers may interpret this as being "not a team player." That very accusation led to my departure from a longtime job. I was semi-open about my hearing loss. Would asking for accommodations under the ADA have made a difference? I don't think so. Hearing loss, like many hidden disabilities, poses a quandary for job seekers and employees, as the New York Times Sunday Business section acknowledged.
There are good reasons for these worries — discrimination against those with hearing loss certainly exists. But there are also good arguments to counter them. The worry that hearing aids will make you look old? Fumbling through a conversation because you can't follow it is much more likely to make you seem old.
Given the demographics — 8,000 boomers turning 65 every single day between 2011 and 2029, according to AARP — the numbers of those with hearing loss is going to skyrocket.
Our society needs to understand that hearing loss is no different from being nearsighted or having high cholesterol or high blood pressure, or sensitive skin, or allergies. We wouldn't think of ignoring those health issues and if we did, it could be at our peril. If you continue with a high-fat diet, never exercise and refuse to take a statin, you may end up with a heart attack. If you refuse to wear glasses, you may trip over things or have trouble reading. If you fail to use sunscreen, you may end up with melanoma. And if you continue to ignore hearing loss, you put yourself at risk for falls and dementia.
Get discounts on hearing aids with your AARP Member Advantage »
So what can we do?
The more of us who are open and outspoken about our hearing loss and the need for affordable, effective and accessible hearing help, the quicker the stigma of hearing loss will disappear. More people will want more choices, at less expense, for treating their hearing problems. The market will change to meet that demand. Hearing aid companies are already feeling the competition from the manufacturers of other types of hearing devices — as are audiologists. Big-box stores like Costco offer full audiological services and hearing aids at half the price, or even less, than those offered at independent audiological practices, though an independent audiologist may offer valuable additional services to those with more complicated hearing loss.
Nobody wants hearing loss, but most of us will have it sooner or later. So let's talk about hearing loss, and treat it as the fact of life that it is. Let's make every month Better Hearing Month.
This essay is adapted from Living Better With Hearing Loss: A Guide to Health, Happiness, Love, Sex, Work, Friends ... and Hearing Aids.
Book cover courtesy of Workman publishers.
Also of Interest

See the AARP home page for deals, savings tips, trivia and more