Feel Like You're Paying More for Health Insurance? Blame Deductibles
By Eileen Ambrose , September 22, 2015 05:30 PM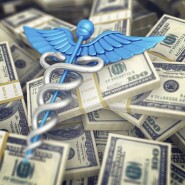 Though workers have seen moderate increases in health insurance premiums in recent years, deductibles and the number of workers paying them have increased sharply, according to a new study by Kaiser Family Foundation.
Five years ago, 70 percent of workers in an employer-sponsored plan paid a deductible, compared with 81 percent today, Kaiser found. Over that time, the average deductible has grown from $917 to $1,318 for single coverage. Together, this amounts to a 67 percent increase in deductibles in the past five years alone — seven times the growth of workers' wages and inflation, Kaiser said. Deductibles, in fact, have been rising even faster than premiums.
"It's no surprise that consumers have not felt the slowdown in health spending," Drew Altman, the foundation's CEO, said in a statement.
Kaiser's annual report of health care costs surveyed 2,000 small and large employers.
Read simple ways to save a buck, expert investment advice, scam alerts and much more! — AARP Money Newsletter »
The group found that, on average, premiums this year rose 4 percent for single and family coverage. That's slightly lower than the 5 percent average annual increase going back to 2005. And it's far lower than during five-year period before 2005, when premiums typically jumped 11 percent annually.
Fortunately for workers, employers still pay the bulk of the insurance costs. The average yearly premium this year for singles, for instance, is $6,251, with workers kicking in $1,071 of that. The annual premium for family coverage averaged $17,545 this year, with employees' share amounting to $4,955.
The recent moderate increases in premiums may not last, though. Gary Claxton, the Kaiser Foundation study's author, says health care costs are expected to go up as inflation increases, new drugs come on line and more people use the health care system as the economy improves.
Photo: Pagadesign/iStock
Also of Interest

See the AARP home page for deals, savings tips, trivia and more.