Fettuccine with Gorgonzola Cream
By Lauren Fielder , January 04, 2012 02:30 PM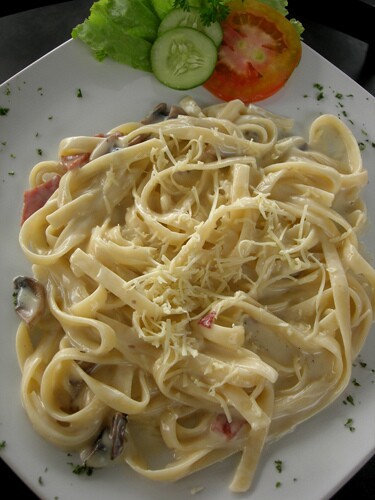 Excerpted from Michele Scicolone
MAKES 4 TO 6 SERVINGS
Of all the blue cheeses produced around the world, gorgonzola is my favorite. To make it, cow's milk is innoculated with penicillin spores, which gives the cheese its color and distinct flavor. It is not too sharp and melts beautifully, so it is ideal for sauces. Use a mild type of gorgonzola for this recipe.
2 tablespoons unsalted butter
8 ounces gorgonzola dolce, rind removed
1 cup heavy or whipping cream
Salt
1 pound fresh fettuccine
Freshly ground black pepper
1/2 cup freshly grated Parmigiano-Reggiano
1."'In a medium saucepan, melt the butter and add the gorgonzola. Stir over low heat until the cheese is melted. Stir in the cream. Bring the sauce to a simmer and cook 5 minutes or until the sauce is slightly thickened.
2."'Bring at least 4 quarts of water to a boil. Add the pasta and salt to taste. Stir well. Cook over high heat, stirring frequently, until the pasta is al dente, tender yet still firm to the bite. Drain the pasta, reserving some of the cooking water.
3."'In a large warm serving bowl, toss the pasta with the sauce. Add the Parmigiano and toss again. Add a little of the cooking water, if needed, to thin the pasta. Serve immediately.
Reprinted by permission of the publisher from AARP 1,000 Italian Recipes, by Michele Scicolone. Copyright © 2011 by John Wiley & Sons, Inc.
Photo Credit: Rizkabp VIA Flickr http://www.flickr.com/photos/rizkapb/
AARP Ebook recipe: http://bookstore.aarp.org/WileyCDA/AarpTitle/AARP-1-000-Italian-Recipes.productCd-1118248635.html