Is That Online Pharmacy a Fake? How to Find Out
By Candy Sagon , September 28, 2012 01:37 PM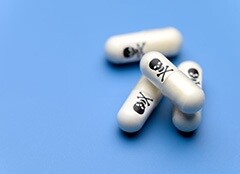 Talk about frightening: Only 3 percent of online pharmacies meet state and federal laws, yet a new government survey finds that one in four Internet customers has purchased prescription medications from a pharmacy they found online.
At the same time, said the Food and Drug Administration (FDA), nearly 30 percent surveyed said they lack confidence in making safe online medication purchases.
As proof of the problem, the FDA announced this week that they have cracked down on thousands of online pharmacies in the past two months for selling potentially unsafe, unapproved or fake medicines, including the erectile dysfunction drug Viagra and antiviral Tamiflu, Fox News reported.
The crackdown resulted in the shutdown of more than 18,000 illegal pharmacy websites and the seizure of 3.7 million doses of counterfeit medicines worth an estimated $10.5 million, the FDA said. Earlier this year, there were problems with a shady wholesaler selling fake Avastin, a cancer drug.

The risks for consumers in buying from fraudulent, cut-rate online pharmacies is that they could get fake drugs that are contaminated, past their expiration date or contain no active ingredient, the wrong amount of active ingredient or even toxic substances, such as arsenic and rat poison, the FDA warned.

To protect consumers from fake online pharmacies, the FDA has launched a national awareness campaign and a new website with resources for patients and caregivers.
Called BeSafeRx - Know Your Online Pharmacy, the site provides advice for figuring out who a consumer is buying from when they order medication online, and whether the medication they're buying really matches what their doctor prescribed.
It includes tips on how to spot illegal pharmacies, links to state databases of licensed pharmacies and explanations of all the dangers of rogue pharmacies.

"Our goal is to increase awareness," FDA commissioner Margaret Hamburg, M.D., told the Associated Press, "not to scare people away from online pharmacies. We want them to use appropriate pharmacies."

Fraudulent and illegal online pharmacies often offer deeply discounted products, she added. "If the prices seem too good to be true, they probably are."
Many rogue online pharmacies also claim to be based in Canada, because Americans know that medicines are cheaper there and they assume they're getting a deal from a safe supplier.
Dangerous drugs aren't the only risk from questionable online pharmacies. The websites can also infect your computer with viruses, sell your personal and financial information to other rogue websites and Internet scammers, or charge you for products you never ordered or received.
According to the FDA, patients should only buy prescription medicine through online pharmacies that:

require a valid prescription from a doctor or other health care professional

are located in the United States

have a licensed pharmacist available for consultation

are licensed by the patient's state board of pharmacy
Click here for more FDA tips on buying medicines over the Internet.
( Updated Friday Oct. 5, 2012)
In other health news:
Sex problems in older women common with breast cancer drugs. Reuters reports that women treated with hormone-blocking drugs to stave off breast cancer recurrences are often dissatisfied with their sex lives, according to a new study from Sweden. More than half of older women treated with so-called aromatase inhibitors said sex was almost always painful and they frequently had "insufficient lubrication," researchers reported in the journal Menopause. In contrast, less than one-third of women on tamoxifen, another anti-estrogen drug, reported painful sex.
Photo: Getty Images