It's All About Team Work for Joe on 'Biggest Loser'
By Ian Cunningham, February 19, 2013 02:43 PM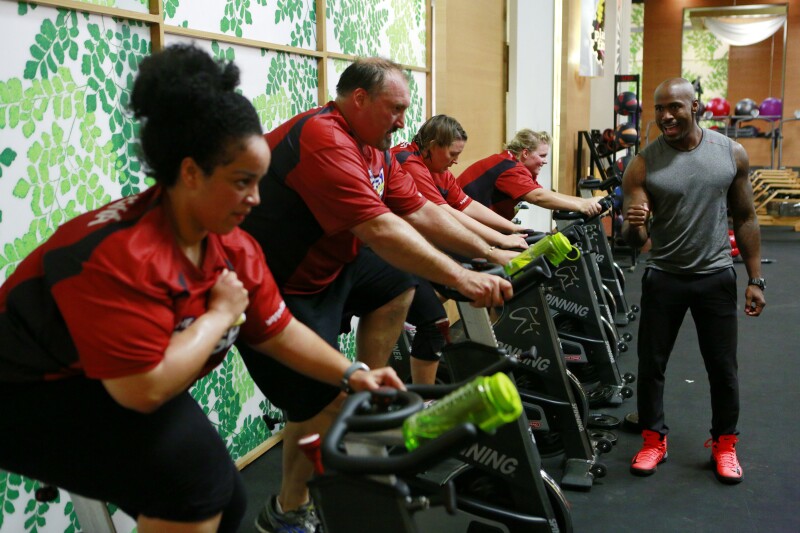 The following is a guest post from Joe Ostaszewski of the Biggest Loser. Look for his posts here every Tuesday after the show.

What a journey it's been so far, both individually and collectively. Week 8's theme of "working together" seemed simple enough, at first glance, but THAT'S before daily living tensions and unbridled egos propelled two fiery contestants down the Chaos Causeway. This week the group had to collectively lose 70 pounds to avoid sending someone home. A daunting task with less people, but possible, given that the kids were back to help out.

As the weeks mounted, the physical challenges of living together and relentless training gave each of us the opportunity to examine the mental and emotional triggers that keep us chained to unhealthy patterns and the excess weight. Doing so was often profound even when it felt like you were tearing scabs off wounds. Once in awhile though things took an unexpected left turn and, when the planets lined up just right, a series of "petty" events morphed into "crimes against humanity" and no one had the first clue how things got THERE!.

Week 8's Perfect Storm hit Doppler Radar when Gina and I went toe-to toe over spilled milk, fresh sage and who got to ride "shotgun." Things got so heated that some of the other housemates considered hiring a Ring Announcer and a Corner Man aka "cut-man" for each of the Bickerson Twins. Emotions continued to swirl like hurricane force winds and lightning struck when I joked to Dolvett, "I HATE ATTORNEYS TOO!"

Before Gina & I could take our petty battle to titan proportions, Jillian jumped in and paired us up in a rope challenge to remind both Gina and I of this week's theme, "working together..."

Despite Gina's grumbling and grousing, we were forced to rely on each other if we wanted to succeed. Each step on the high wire required more focus and more trust that soon we forgot our laundry list of trifles. Without a doubt Gina & I still have our differences, we realized that we could work together to accomplish a common goal.

The score ... Gina & I "ONE", Ropes Course zero!

Finally, with clear skies ahead, Gina & I along with the others were ready to tackle the flag pole challenge in pursuit of taking 10 more pounds off the "Collective 70".

At one point, Gina fell, with me running right behind her. Hours earlier I may have run past Gina, sniping "too bad for you"; however, with the tempest in a teapot abated, I stopped, helped Gina up, and we continued on, working together for the good of all.

Sadly, the "Collective 70" was not to be and Francelina, one of the hardest working people in the house, was sent home. It was tough to see her go as her dedication and drive was always inspirational to me. Equally touching was her bond with Jeff. There is no doubt in my mind that Francelina will reach her goal on her own and continue to be a shining example for others. "YOU Rock Franci, I am so Proud of You..."

Good food for thought from Week 8... unchecked negative emotions often prevent good decision making and are stumbling blocks to success ...everyone of us fundamentally owes respect and courtesy to another ... despite differences, people can effectively work together to accomplish common goals ... and ... always doing your best lifts you up as well as others (that one's for you Francelina!).

Once again, "It's a wrap!" I AM JOE ... "if I can DO IT so can YOU!"

Wear Your Soul,

Joe O.

P.S. I actually love Attorneys, mostly because they are fluent in Legalese!