Kidney Sharing System May Change to Better Accommodate Older Patients
By Judith Graham for Kaiser Health News

This story was produced in collaboration with The Washington Post .



Kidneys from deceased donors are carefully rationed under rules established by the nonprofit United Network for Organ Sharing, or UNOS. The system is set up so that kidneys go to people who have spent the longest time on waiting lists and who are a good match, with provisions made for distributing organs to patients within the same region, when possible.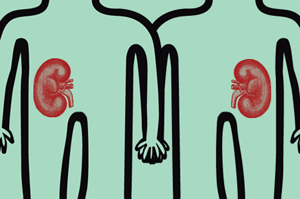 That method of allocating organs would change under a proposal from the UNOS's kidney transplant committee.
The proposal, released in September, has two main goals, according to John Friedewald, chair of the committee and associate professor of surgery-organ transplantation at Northwestern University Feinberg School of Medicine.
The first is to maintain access to transplantation for everyone on waiting lists, more than 94,000 people currently. The second is to better use the available organs. Slightly more than 7,400 kidneys were harvested from deceased donors in 2011.
Under the proposed plan, all kidneys from donors who have died would be ranked, based on their expected survival after implantation. All kidneys do not function equally, and the age and health condition of a donor can affect an organ's longevity, among other factors. A similar ranking would be done for potential recipients. Then, the top 20 percent of kidneys - those with the greatest expected longevity - would be matched to patients expected to live longest after receiving the organ.
No system of formally ranking patients by likelihood of survival currently exists.
The approach favors younger patients with longer life expectancies, Friedewald acknowledged. But computer simulations of the new methodology indicate that "more than half of kidneys would still go to candidates older than 50," he said. "We certainly are not shutting off access to older people."
For the 80 percent of patients and organs not placed in the top tier, the current allocation system would remain largely intact. However, kidneys with the lowest expected survival would be distributed more widely across the country - a move that would help older patients whose own life expectancy is limited.
Currently, more than 2,600 less-than-optimal kidneys from donors who have died are discarded each year, in part because surgeons prefer higher quality organs but also because the current allocation system does not take into consideration potential recipients' age.
Friedewald's committee originally considered "age matching" people waiting for transplants. That strategy called for making sure that a patient got a kidney from a deceased donor who was no more than 15 years older than the patient.
Many experts consider this a fairer system than one in which age plays no part.
But Friedewald said the Department of Justice objected to the idea. "We were told that could constitute age discrimination and be illegal, so we dropped it."
This article was produced by Kaiser Health News with support from The SCAN Foundation.