Memory Foam Mattress: Choosing Sleep Over Sex?
By Candy Sagon , May 21, 2012 08:00 AM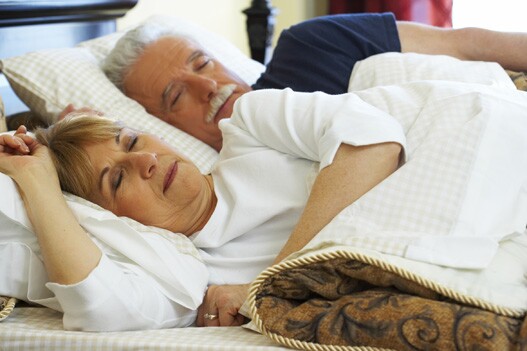 Which is more important to you, sleep or sex?
That seems to be the choice if you're considering (or have bought) one of those cushy, squishy, memory foam mattresses that have become wildly popular in the past eight years.
A lengthy story in Barron's finds that while the mattresses are good at supporting the body during sleep, they're not so supportive of our sex lives.
People commenting on Internet message boards complain about "lack of traction." One mattress owner wrote, "It's like trying to do it in quicksand."

And New York sex therapist Sari Eckler Cooper told Barron's, "There's a lack of resistance for the knees and feet. And whoever is on the bottom is sinking into the bed."

Not surprisingly, baby boomers are the chief buyers of memory foam mattresses to ease their achy joints and backs and improve their quality of sleep. For them, sleep trumps sex, maybe because they're less interested in sex, as a 2009 AARP survey of adults age 45 and older found.
They also have the money to splurge on memory foam mattresses, which the article describes as "the Lexus of bedding," especially the Tempur-Pedic ones that generally range from $3,000 to $7,500.
Memory foam, developed for NASA back in the 60s, is a dense material that softens in reaction to body heat, something standard mattress
foam doesn't do. That makes it comfy for sleeping, but it doesn't give you the "bounce" that mattress coils provide during sex, as one mattress salesman explained.
Considering that some 50 million Americans suffer from a chronic sleep disorder, according to the Institute of Medicine, it's not surprising that a mattress that helps you get more zzzz's is deemed more important than other bed-related activities.
The mattress review site SleepLikeTheDead.com reported that, based on user comments, about 40 percent of memory foam mattress owners said the sex is less than ideal, but 80 percent said they are satisfied with their bed -- the highest rate of any mattress type on the market, the site's editor said.
Translated: Many people don't care if the sex isn't great as long as the sleep is good.
In other health news:
Baby boomers should get tested for hepatitis C. For the first time, the government is proposing that all baby boomers get tested for hepatitis C, the Associated Press reports. Anyone born from 1945 to 1965 should get a one-time blood test to see if they have the liver-destroying virus. Hepatitis C is most commonly spread through sharing needles to inject drugs or long-age blood transfusions, and causes about 15,000 deaths annually, according to Centers for Disease Control and Prevention estimates.
Salmonella-linked sushi toll rises to 316 in 26 states. Msnbc.com reports that the toll from latest outbreak of salmonella-spiked sushi has climbed to 316, according to a new government report. The likely culprit is frozen, chopped tuna that was used to make sushi sold in grocery stores and restaurants.
Chain restaurant entrees among the unhealthiest. USA Today reports that a whopping 96 percent of main entrees sold at top U.S. chain eateries exceed daily limits for calories, sodium, fat and saturated fat recommended by federal nutrition guidelines, according to a new 18-month study that examined nearly 31,000 menu items from 245 restaurant brands across the U.S. As the study's top researcher put it: "If you're eating out tonight, your chances of finding an entree that's truly healthy are painfully low."
Photo credit: Top photo, pillowreview.org; small photo, memoryfoam.com