More Men Choose Nursing - And Earn More Than Women
By Candy Sagon , March 12, 2013 08:00 AM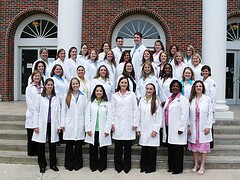 Most nurses are women, but the number of male nurses is growing and - no surprise - they earn more than their female counterparts.
A new study from the Census Bureau found that while the nursing profession is still overwhelmingly female, the percentage of male nurses has more than tripled, from under 3 percent in 1970 to nearly 10 percent in 2011. The biggest growth has been in nurse anesthetists, which also pays the most, where men's representation has grown to 41 percent.
"The aging of our population has fueled an increasing demand for long-term care and end-of-life services," the report's author, Liana Christin Landivar, a sociologist in the Census Bureau's Industry and Occupation Statistics Branch, said in a news release. "A predicted shortage has led to recruiting and retraining efforts to increase the pool of nurses. These efforts have included recruiting men into nursing."
Men typically earn more in nursing fields than women do, but not by as much as they do across all occupations, the study showed. For every dollar male nurses earned, female nurses earned 91 cents; in contrast, women earned 77 cents to every dollar men earned across all occupations.
Male nurses earned, on average, $60,700 annually in 2011, while female nurses earned an average of $51,000 (16 percent less). The difference is partly due to the concentration of men in higher-paid nursing occupations, like nurse anesthetics. "Men have typically enjoyed higher wages and faster promotions in female-dominated occupations," the study noted, a phenomenon known as the "glass escalator" effect.
Because the demand for skilled nursing care is so high, nurses have very low unemployment rates, according to the report. Unemployment was lowest among nurse practitioners and nurse anesthetists (about 0.8 percent for each). For registered nurses and licensed practical and licensed vocational nurses, these rates were a bit higher but still very low, at 1.8 percent and 4.3 percent, respectively, the Census Bureau reported.
Other highlights from the report:

There were 3.5 million employed nurses in 2011, about 3.2 million of whom were female; 330,000 were male.
Of the employed nurses (both sexes), 78 percent were registered nurses, 19 percent were licensed practical and licensed vocational nurses, 3 percent were nurse practitioners, and 1 percent were nurse anesthetists.
The majority (64 percent) of registered nurses of both sexes worked in hospitals. The majority of licensed practical and licensed vocational nurses worked in nursing-care facilities or hospitals (about 30 percent each).
Male nurse anesthetists earned more than twice as much as the male average for all nursing occupations: $162,900 versus $60,700.
Photo: Nursing class of 2006 in Belton, Texas. Courtesy timefornurses/flickr