Navigating That Airport Scrum — With Hearing Loss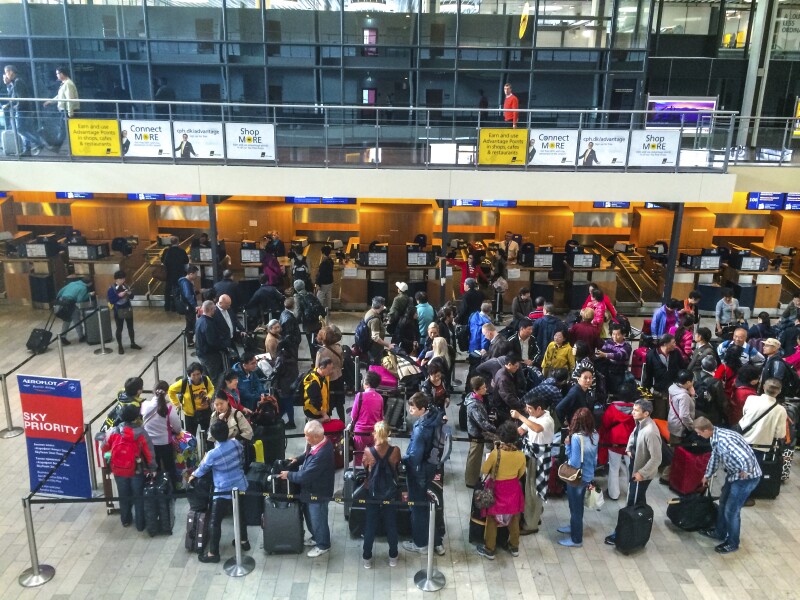 I found myself in the newly renovated Delta terminal at LaGuardia Airport this week, and for once — at an airport — was pleasantly surprised.
There was much to admire: new restaurants with actual food for sale rather than chips, doughnuts or candy; intelligent seating that allows not only a sense of private space but also armrests, cupholders and a flat surface for putting things on; and Internet stations offering electrical outlets and ergonomic chairs for working on a laptop while you wait for your plane.
Get the latest tips on staying healthy — AARP Health Newsletter »
As someone of a certain age who has spent her share of time sitting on the floor of airports because that was the only place you could find an electrical outlet or maybe even the only place to sit, I am grateful for the thoughtful design that went into this renovation. It was long in coming, but worth the wait.
What's this got to do with hearing loss? When it came time to board the plane, the old ways prevailed. A gate attendant hollered through a public address system what "zone" was boarding. Since half of the plane these days seems to have priority boarding, the zone system doesn't make much sense anyway. But even so, if you're in zone 2, you're not going to get in with the zone 1 passengers.
I stood in the scrum, inching forward, peering at other people's boarding passes and trying to figure out if it was my turn to board. I asked a couple of people, who either didn't know themselves or weren't sharing. Finally, I took a chance and inched forward to the attendant, who looked at my boarding pass and waved me on. I have sometimes had less pleasant experiences, with attendants who looked at my boarding pass and barked at me to wait till my zone was called.
Do you use headphones? Have you? »
There are several ways around this. The simplest would be prominent electronic notices saying which group is boarding. Even handheld signs (zone 1, zone 2, etc.) would do. I saw this at the Shanghai airport, where dozens of languages were being spoken. Induction looping — technology that allows people to hear announcements directly through their hearing aids — allows people with hearing loss to hear as well as anyone else. Better, probably, since a loop cuts out the extraneous noise. Looping is immensely helpful, but it doesn't work for all, and it does require a working knowledge of the language being spoken.
But until any of that happens, here are a few suggestions: Be prepared. Make sure all your documents are in the same place. There's nothing like being flustered to put a person with hearing loss even more at a disadvantage. Book your seat online and use SeatGuru to make sure you're not sitting in an especially noisy spot.
Don't take off your hearing aid or implant going through security. They won't set off alarms and they will allow you to hear any questions from the TSA agent. If the gate is crowded and noisy, go up to the gate attendant before boarding begins and tell him or her — very politely — that you have hearing loss and will not be able to understand when your zone is boarding.
Get discounts on hearing aids with your AARP Member Advantage »
I've never been asked for documentation. Sometimes the attendant says that she'll let me know if I stand nearby. But nine times out of 10, you'll be told to join those who are pre-boarding: military in uniform, parents with small children, the old, the infirm. And you. And once you're on board, you'll have miles of overhead bin space at your disposal.
Conditions may deteriorate after that: a middle seat, a howling baby, an hour-long wait on a runway, bad weather, rude people. But getting off to a less stressful start can make both predictable and unpredictable annoyances a little easier to tolerate.
Photo: Anouchka/iStock
Also of Interest

See the AARP home page for deals, savings tips, trivia and more