Pumpkin and Roasted Red Pepper Soup
By Lauren Fielder , November 02, 2012 02:30 PM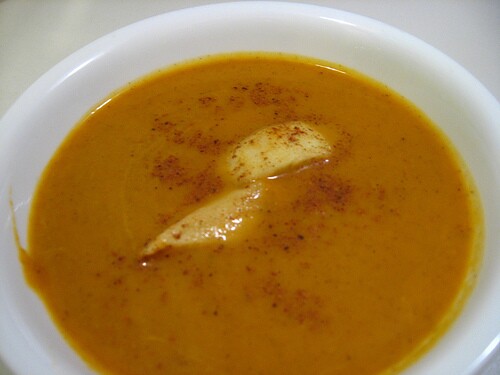 Excerpted from Jackie Mills, RD
QUICK
HIGH FIBER
Makes 6 servings
This is a delicious-and much easier-alternative to butternut squash soup. The canned pumpkin makes it a breeze to make. It's perfect for an autumn picnic, a Halloween get-together, or the Thanksgiving table. If you want to dress it up a little, swirl a tablespoon of plain low-fat yogurt into each bowl just before serving.
2 teaspoons extra virgin olive oil
3 large carrots, peeled and chopped
1 large onion, chopped
2 garlic cloves, chopped
1/2 teaspoon ground cumin
1/2 teaspoon ground coriander
5 to 5 1/2 cups low-sodium vegetable broth
1 cup roasted red peppers from a jar, chopped
1/2 teaspoon kosher salt
1/4 teaspoon freshly ground pepper
1 (15-ounce) can pumpkin (not pumpkin pie filling)
2 tablespoons lemon juice
1. Heat a large pot over medium heat. Add the oil and tilt the pan to coat the bottom evenly. Add the carrots and onion and cook, stirring often, until the vegetables are softened, 5 minutes. Add the garlic, cumin, and coriander and cook, stirring constantly, until fragrant, 30 seconds.
2. Add 5 cups of the stock, the roasted pepper, salt, and ground pepper and bring to a boil over high heat. Cover, reduce the heat to low, and simmer until the vegetables are very tender, 15 to 20 minutes.
3. Place the vegetable mixture in a food processor or blender in batches and process until smooth. Return the soup to the pot and stir in the pumpkin. Add the remaining 1/2 cup stock a few tablespoons at a time, if needed, to reach the desired consistency. Cook over medium heat, stirring often, until heated through. Remove from the heat and stir in the lemon juice. Ladle into 6 bowls and serve at once. The soup can be refrigerated, covered, for up to 4 days or frozen for up to 3 months.
Each serving: 16 g carb, 80 cal, 2 g fat, 0 g sat fat, 0 mg chol, 4 g fib, 2 g pro, 324 mg sod - Carb Choices: 1; Exchanges: 1/2 starch, 2 veg
Reprinted by permission of the publisher from AARP 1,000 Diabetes Recipes, by Jackie Mills, RD. Copyright © 2011 by John Wiley & Sons, Inc.
Photo Credit: QFamily VIA Flickr http://www.flickr.com/photos/dasqfamily/
AARP Ebook recipe: http://bookstore.aarp.org/WileyCDA/AarpTitle/AARP-1-000-Diabetes-Recipes.productCd-1118248503.html