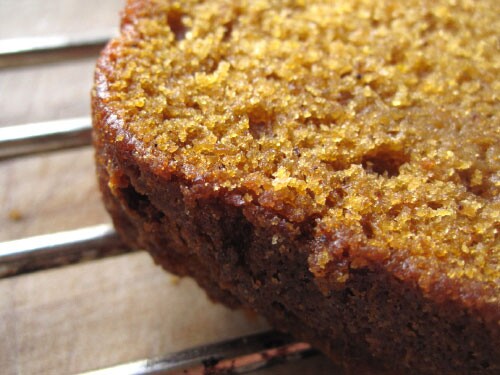 Excerpted from Terry Blonder Golson
Makes: 1 loaf (12 slices)
Slather thick slices with cream cheese.
1/2 cup unbleached, all-purpose white flour
2 cups whole wheat flour
1/2 teaspoon salt
1 1/2 teaspoons ground cinnamon
1/8 teaspoon ground cloves
1/4 teaspoon ground nutmeg
1/2 teaspoon ground ginger
1 teaspoon baking powder
1 teaspoon baking soda
1 cup pumpkin puree
3 tablespoons vegetable oil
1 cup honey
1/2 cup buttermilk
1 whole egg
1 egg white
1) Preheat the oven to 350°F. Coat 2 small loaf pans or 1 large one with nonstick spray.
2) Sift together the dry ingredients until there are no dark spice streaks.
3) In a separate bowl, beat together the remaining ingredients.
4) Pour the wet ingredients into the dry. Gently but quickly fold the two together until a moist batter forms. Pour the batter into the pan(s).
5) Bake the smaller loaves for 35 to 40 minutes and the large one for 50 minutes to 1 hour. If your oven heats unevenly, turn the pan(s) once during baking. The bread is done when the color becomes an even golden brown, the loaves feel firm to the touch, and the crack along the top looks baked, not raw. Let the bread cool in the pans for 5 minutes, then turn out onto a cooling rack.
Per Slice: Calories 221; Protein 5g; Fat 4g (Saturated 1g); Carbohydrates 44g; Fiber 3g; Sodium 258mg
Reprinted by permission of the publisher from AARP 1,000 Lowfat Recipes, by Terry Blonder Golson. Copyright © 1997 by John Wiley & Sons, Inc.
Photo Credit: The Delicious Life VIA Flickr http://www.flickr.com/photos/thedelicious/4078859323/sizes/m/in/photostream/
AARP Ebook recipe: http://bookstore.aarp.org/WileyCDA/AarpTitle/AARP-1-000-Low-Fat-Recipes.productCd-1118245660.html