Recipe: Peperoni e Melanzane-A Mouth-Watering and Healthy Vegetable Dish
By Carole Carson , January 20, 2012 08:49 AM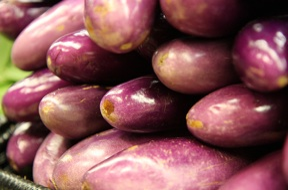 One of my neighbors, Richard Scammell, is a wonderful cook. Even though Richard does not cook for a living, I consider him a chef. Cooking is Richard's hobby, but when it comes to food preparation, Richard is a highly skilled and well-educated professional. (He's even traveled to Europe to take cooking classes.)
Richard and I share a love of creative, healthful cooking. When I asked him for ideas that I could share with readers, he sent this recipe for a hearty vegetable dish.
Richard writes, "Peppers, eggplant, onion and tomatoes simmered together with just a little olive oil produces the most marvelous vegetable dish. The dish may be use to accompany a large range of main dishes." His recipe follows:
Peperoni e Melanzane
Serves 6 to 8 as side dish
4 tablespoons olive oil
1 medium red onion
4 peppers, red and yellow
2 medium eggplants (about 1 pound each)
1 cup canned diced tomatoes
salt and freshly ground pepper to taste
Drizzle olive oil into a large pot or Dutch oven. Cut onion into 1-inch pieces and add to the pot. Remove stems and inside stems of the peppers and cut into 1/4 inch rings. Make a layer on top of the onions in the pot. Cut the eggplant into 1-inch cubes and place on top of the peppers. Add the tomatoes and sprinkle with salt and pepper. Do not mix.
Cover the pot with a lid and place it on the stove on medium heat. Simmer for 20 minutes without mixing. Then mix thoroughly and taste for salt and pepper.
Simmer for 15 minutes more uncovered, mixing every so often with a spoon. Transfer to serving dish and serve. The dish can be served hot or at room temperature. Leftovers can be placed in zip lock bag and placed in freezer then brought back to room temperature at a later date.
Bon appetito!
P.S. Do you have a recipe to share?
Photo credit: Kristian Hí¸gsberg on Flickr