Ricotta Pancakes with Fresh Strawberries
By Lauren Fielder , November 09, 2012 02:45 PM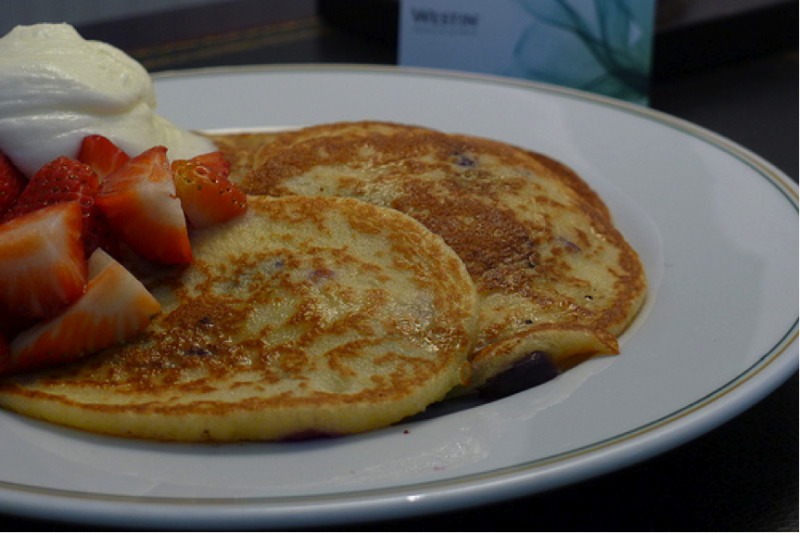 Excerpted from Jackie Mills, RD.
QUICK
Makes 6 servings
Syrup would overwhelm the delicate flavor and texture of these airy pancakes. Serve them with a light dusting of confectioners' sugar and fresh berries, sliced peaches, or orange segments.
1 cup part-skim ricotta
1/3 cup skim milk
2 large eggs, separated
1/3 cup unbleached all-purpose flour
1 tablespoon granulated sugar
2 teaspoons grated orange zest
Pinch of salt
1 1/2 teaspoons canola oil, divided
2 teaspoons confectioners' sugar
3 cups sliced fresh strawberries
1. Preheat the oven to 250°F. Place a large baking sheet in the oven.
2. Combine the ricotta, milk, egg yolks, flour, granulated sugar, orange zest, and salt in a large bowl and whisk until smooth.
3. Place the egg whites in a large bowl and beat at high speed with an electric mixer until stiff peaks form. Fold the egg whites into the ricotta mixture in 3 additions, stirring until no white streaks appear.
4. Heat a large nonstick griddle or large nonstick skillet over medium heat. Brush with 1/2 teaspoon of the oil using a silicone brush. Spoon the batter by scant 1/4-cup measures onto the griddle 4 at a time. Turn the pancakes when the tops are covered with bubbles and the edges look cooked. Place the pancakes on the baking sheet in the oven to keep warm. Repeat the procedure with the remaining oil and batter to make 12 pancakes.
5. Place 2 pancakes on each plate. Sprinkle the pancakes evenly with the confectioners' sugar. Accompany each serving with 1/2 cup of the strawberries.
Each serving: 17 g carb, 156 cal, 6 g fat, 3 g sat fat, 84 mg chol, 2 g fib, 8 g pro, 106 mg sod - Carb Choices: 1; Exchanges: 1 starch, 1 fat
Reprinted by permission of the publisher from AARP 1,000 Diabetes Recipes, by Jackie Mills, RD. Copyright © 2011 by John Wiley & Sons, Inc.
Photo Credit: UggBoy VIA Flickr http://www.flickr.com/photos/uggboy/
AARP Ebook recipe: http://bookstore.aarp.org/WileyCDA/AarpTitle/AARP-1-000-Diabetes-Recipes.productCd-1118248503.html