Robocalls: A Major Annoyance Gets Worse
By Candy Sagon , June 04, 2012 08:00 AM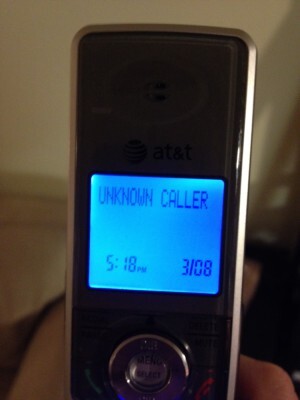 I wish someone would research the detrimental health effects of constantly receiving those annoying robocalls.
Maybe then those miserable irritants could be banned as a health hazard and we could finally escape their escalating, uncontrollable presence.
Not likely, I know, and despite all the national "Do Not Call Registry" efforts, the number of these unwanted calls is increasing, according to a recent story in the New York Times.
Writer Alina Tugend had written an earlier column about whether she should give up her land line phone as a way to escape the telemarketing calls and robocalls she kept getting.
That sparked a huge response from equally frustrated, enraged readers, who told her that the calls, particularly those that offer lower interest rates for credit cards and mortgages,"are becoming more frequent, despite using every tool available to block them."
As Tugend wrote, "Reporting such calls to the Federal Trade Commission, as I suggested, was an exercise in frustration and futility, many readers told me."
Back in 2003, the "Do Not Call Registry" seemed to work at blocking these calls, and the effect continued for several years. Most legitimate companies still obey the Registry, but it's the fraudulent calls that are increasing, driven by unscrupulous organizations using technology to work around safeguards.
William Maxson, a staff attorney with the FTC, told the Times:

 "The technological advances in the past 18 months have allowed illegal dialers to increase the number of calls they can make and to spoof - that is, use fake caller IDs."

Thanks to voice-over-Internet protocol, robodialers can blast out millions of calls cheaply from anywhere in the world. If you answer and take the bait to talk to someone, your number will then be sold to other telemarketers.
The scams these calls are promoting usually involve so-called lower credit card interest rates or mortgage rates or phony payment plans for debt avoidance.
If they can get you to cough up your credit card number ( don't do it!!!), they'll use it to make fraudulent charges.
In my own case, I use caller ID on my land line phone and don't answer numbers I don't recognize. I have entered a list of 30 telemarketing numbers my phone automatically blocks, and yet...every day, we get at least three or four more of these evil, annoying calls. Most I don't answer, but I still regularly get suckered into picking up the phone.
To relieve their stress over these calls, some readers told the Times writer that they have been driven to extremes. Some have blown a whistle into the receiver, while others pretend they don't speak English.
And one reader admitted that she snapped after receiving two such robocalls. "I pressed 1, put the call on speaker phone and screamed into the phone. It had no impact," she wrote.
I know the feeling.
In other health news:
'Smart bomb' drug successfully attacks breast cancer. An Associated Press story reports that doctors have successfully dropped the first "smart bomb" on breast cancer, using a drug to deliver a toxic payload to tumor cells while leaving healthy ones alone. In a key test involving nearly 1,000 women with very advanced disease, the experimental treatment extended by several months the time women lived without their cancer getting worse.
Hormone pills slows prostate cancer growth. A hormone-blocking pill approved last year for some men with advanced prostate cancer now also seems to help a wider group of men who were given it sooner in the course of treating their disease, according to the Associated Press. In a study of nearly 1,100 such men, Johnson & Johnson's Zytiga doubled the time patients lived without their cancer getting worse.
Follow-up Avastin shown to benefit colon cancer patients. Reuters reports that colorectal cancer patients treated with a follow-up round of Avastin fare better than those given chemotherapy alone after their disease has worsened, according to results of a large clinical trial.
Photo credit: thegatewaypundit.com