Southwestern Breakfast Tostados Mixed With Queso
By Lauren Fielder , December 21, 2012 02:30 PM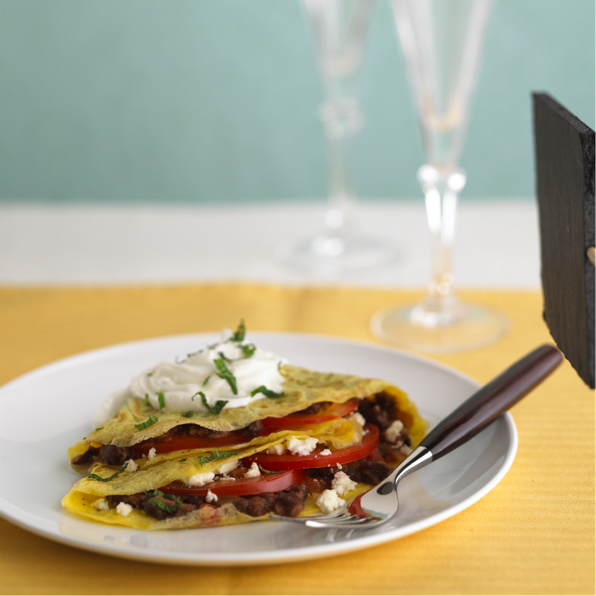 Excerpted from Diabetic Living Editors
26 g Carb
SERVINGS 2 (1/2 tostada stack each) START TO FINISH 20 minutes
2 6-inch corn tortillas
1/2 cup canned black beans, rinsed and drained
2 eggs
1 tablespoon fat-free milk
1/8 teaspoon black pepper
1/8 teaspoon salt
Nonstick cooking spray
1/2 medium tomato, sliced
2 tablespoons shredded queso fresco or reduced-fat Monterey Jack cheese
2 teaspoons snipped fresh cilantro
Light sour cream (optional)
Chopped fresh cilantro (optional)
1. Warm tortillas according to package directions. Meanwhile, in a small bowl, use a potato masher or fork to slightly mash beans; set aside. In another small bowl or 1-cup glass measure, combine eggs, milk, pepper, and salt; beat with a rotary beater or wire whisk.
2. Lightly coat an unheated medium nonstick skillet with nonstick cooking spray. Preheat over medium heat. Pour egg mixture into hot skillet. Cook, without stirring, until egg mixture begins to set on the bottom and around edge. With a spatula or large spoon, lift and fold the partially cooked egg mixture so the uncooked portion flows underneath. Cook for 2 to 3 minutes more or until egg mixture is cooked through but is still glossy and moist. Immediately remove from heat.
3. Spread one tortilla with mashed beans. Top with the remaining tortilla, cooked egg mixture, tomatoes, cheese, and snipped cilantro. If desired, top with a dollop of sour cream and chopped cilantro. Serve immediately.
NUTRITION FACTS PER SERVING: 213 cal., 7 g total fat (2 g sat. fat), 217 mg chol., 446 mg sodium, 26 g carb., 5 g fiber, 12 g pro. Exchanges: 2 starch, 1 lean meat, .5 fat. Carb choices: 2.
Reprinted by permission of the publisher from AARP Diabetic Living Quick and Easy Meals, by Diabetic Living Editors. Copyright © 2011 by John Wiley & Sons, Inc.
AARP Ebook recipe: http://bookstore.aarp.org/WileyCDA/AarpTitle/AARP-Betty-Crocker-Cooking-for-Two.productCd-1118281187.html