Sweets Minus Guilt = Better-For-You Holiday Cookie Recipes
By Alejandra Owens , November 30, 2011 09:17 AM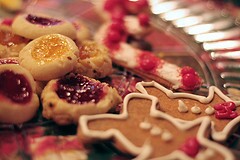 This is a guest post by Annie Lynsen, on loan to AARP from Small Act.
I'm committed to my healthy lifestyle, but the idea of a holiday without cookies makes me really sad.
That's why I was so excited to find not just one, but several collections of better-for-you holiday cookies. They all include healthy swaps to help cut the fat, calories and guilt that often go hand-in-hand with holiday sweets.
A word of caution, however - even though these cookies are healthier, they are still treats, so indulge sparingly.

Photo credit: chadmagiera on Flickr