What Improves Sex? For Boomers, a New Hip or Knee
By Candy Sagon , April 10, 2013 07:00 AM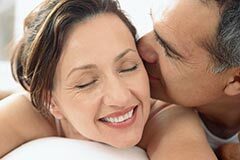 If your joints hurt when you move, it's no surprise that your sex life suffers as well. But as more boomers get hip- or knee-replacement surgery, they're finding an added benefit: a better love life.
Among 147 joint-replacement patients (average age: 57) surveyed in a new study, most said their arthritis had interfered with their sex lives, the New York Times reported. After surgery, 81 percent of those who said their sex lives had suffered as a result of a bad joint said they had more frequent and satisfying sexual activity.
The findings were presented last month by lead author José A. Rodriguez, M.D., director of the Center for Joint Preservation and Reconstruction at Lenox Hill Hospital in New York, at the annual meeting of the American Academy of Orthopaedic Surgeons (AAOS).
The Times noted that many of the patients "reported an increase in libido and stamina and an improvement in their ability to climax. The benefits were especially pronounced among patients whose complaint had been failing hips, as well as women, who reported the most discomfort during sex because of painful joints."
More than a million hip- and knee-replacement surgeries are performed each year in the U.S., most on adults older than 60, according to the National Institutes of Health. Nearly twice as many people get new knee joints as hip implants. The AAOS estimates that the total number of these surgeries will hit close to 4 million by 2030.
Rodriguez explained to USA Today that the reason he did the study was because some doctors aren't comfortable discussing sex with patients, an issue he would like to see improve.
"I never want to see someone's intimacy with a partner destroyed because of a joint problem," Rodriguez said. "Sexual function needs to be discussed with patients when we make routine evaluations. I've found most patients to be very receptive to talking about it."
Claudette Lajam, M.D., an orthopedic surgeon at the Center for Musculoskeletal Care at NYU Langone Medical Center, told the New York Times that so many of her patients have questions about intimacy after joint replacement that she has added a page to her website devoted to sex.
As she said to the Times: "That page gets the most hits of any page on my Web site. There are a lot of people who get back out there, or get closer to their spouse, because they've been unable to participate in that intimacy for a while. Just the relief of pain itself improves the relationship."
Photo: Laura Doss/Corbis
Also of Interest

Join AARP: Savings, resources and news for your well-being
See the AARP home page for deals, savings tips, trivia and more