Andy Granatelli: The Indomitable Showman
By Patrick Kiger, December 31, 2013 04:22 PM
Though he immodestly titled his memoirs They Call Me Mister 500, Andy Granatelli actually was behind the wheel at the famed Indianapolis Motor Speedway just once, in the time trials in 1948. Back then, he was billed "Antonio the Great, Famed Italian Speed Ace," even though he hailed from Chicago and had raced only a few times, on state fairgrounds and small tracks in the Midwest. Despite the hype, Granatelli's career as an Indy driver ended ignominiously, when he crashed, breaking his shoulders and knocking out 11 teeth in the process.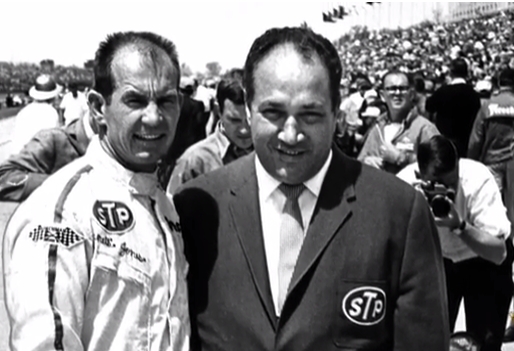 But that setback didn't stop Granatelli, who died on Dec. 29 at age 90 in Santa Barbara, Calif., from becoming one of the most famous names in motor sports in the 1960s and 1970s. A masterful promoter and flamboyant showman, Granatelli became the president of an obscure fuel-additive company and proceeded to turn its product, STP, into "the racer's edge," a national brand whose logo was emblazoned on racing cars and crew uniforms. As a builder of race cars, he pushed the limits with controversial innovations that achieved new extremes of horsepower and at times vexed the sport's rule-makers. He helped to promote the careers of scores of famous drivers, including Mario Andretti and Richard Petty, and sponsored cars that won the 500 in 1969 and in 1973.

>> Sign up for the AARP Health Newsletter

Here are some facts about Granatelli and his career:

Granatelli was born in Dallas, the son of a Sicilian immigrant grocer who was forced to move to Chicago and live with relatives when his business failed during the Great Depression. The Granatellis family later drove to California and tried unsuccessfully to find farm work. Back in Chicago, Andy Granatelli quit school at age 14 to work with his two brothers, Joe and Vince, as self-taught auto mechanics. They borrowed $500 to start a gas station and garage, which they called Andy's Super Service, according to Illinois Heritage magazine.
During World War II, Granatelli - who'd tried to join the U.S. Army Air Corps but failed the physical - and his brother Joe started a business towing house trailers to California on the back of their souped-up hot rods at speeds of more than 100 miles per hour.
After World War II, the Granatellis opened a shop that sold parts for racing cars, and themselves started competing in unsanctioned street-racing contests along Illinois Highway 83. They first got involved in organized racing when a customer commissioned them to build a special car, whose gasoline engine was augmented by eight surplus military rockets that originally were used to help get seaplanes aloft. Granatelli, in the guise of fictional Italian racing legend Antonio, drove the rocket car at the Illinois State Fair. "The announcer and my posters said I would drive 650 miles an hour," Granatelli once recalled. "But who could tell? I could have been going a thousand."
According to his New York Times obituary, as sponsor of a racing team and builder of cars, Granatelli first shook up the racing establishment by entering cars in the Indianapolis 500 with supercharged V-8 engines, capable of achieving nearly twice the horsepower of the then-standard engines. In 1967, he created another stir by building a car with a turbine engine and 80 percent fewer parts than a conventional piston engine. The visionary vehicle, driven by Parnelli Jones, entered the 500 that year and was leading by a lap with three laps to go, until a $6 transmission ball bearing broke. After that, racing officials started piling so many restrictions on turbine cars that Granatelli gave up on them.
Granatelli got his first Indy win in 1969, sponsoring a car driven by an actual Italian-born race driver, Mario Andretti. According to Autoweek, the ecstatic Granatelli beat the 500 Festival's queen to Andretti to give him a kiss.
In 1973, another Granatelli car, driven by Gordon Johncock, won the Indianapolis 500.
A New York Times profile once noted that "wherever he goes, he slaps STP stickers on just about everything, including the backside of the cocktail waitresses in the nearby Holiday Inn."
Granatelli also sponsored NASCAR legend Richard Petty, but couldn't get him to change his car's paint job from blue to STP's favored red. Eventually they compromised and painted the car half blue and half red.
He was one of the last people to see heavyweight boxing champion Rocky Marciano alive. The fighter reportedly attended a dinner party thrown by Granatelli in Chicago on the same evening in 1969 that he was killed in a plane crash.
Three years after leaving STP in 1973, Granatelli bought an auto-parts distributor, Tuneup Masters, for $300,000. A decade later, he sold the company for a reported $60 million.
According to the Los Angeles Times, at age 62, Granatelli drove a street-legal 1982 241.731 miles per hour over the Bonneville Salt Flats in Utah. "I wanted the world to know that you are never too old to do something you want to do," he explained.


Here's a 2011 video about Granatelli from the Indianapolis Motor Speedway.




>> Get travel discounts with your AARP Member Advantages.



Also of Interest



See the AARP home page for deals, savings tips, trivia and more