Annette Funicello: From Mouseketeer to Teen Idol
By Patrick Kiger, April 8, 2013 04:40 PM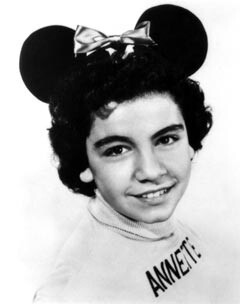 In a sense, Annette Funicello created the template for Britney Spears, Lindsay Lohan and Miley Cyrus. Funicello, who passed away on April 8 at age 70 in Bakersfield, Calif., proved the possibility of evolving from a cute child star in the Disney firmament into a sexy teen idol.

But when Funicello accomplished that feat in the 1950s and 1960s, she did it without the personal drama that has plagued her recent successors. The closest that Annette came to a scandal was in her "beach party" movies for American International Pictures in the early 1960s, when she wore a two-piece swimsuit, against the wishes of her former employer and mentor Walt Disney.

Here are some highlights from the career of the "Queen of Teen," America's prototypical girl-next-door:

Annette the Mouseketeer: Walt Disney discovered Funicello at age 12 when she performed in a children's recital of "Swan Lake" in Burbank in the mid-1950s. He subsequently cast her in a new TV show, The Mickey Mouse Club, which showcased her singing.

Annette: Funicello had such star potential star that Disney created a serial, Annette.

Teen singing sensation: At age 17, Funicello reached number 7 on the Billboard Hot 100 chart in 1959 with "Tall Paul," written by Robert and Richard Sherman, who later would create the music for Mary Poppins and other hit Disney films. Here she is, appearing on The Dick Clark Beech-Nut Show in 1959, in a bizarre skit in which she plays a marionette.

Beach Party Babe: When American International Pictures started casting for Beach Party, a 1963 flick that hoped to capitalize upon the popularity of surf culture, the company turned to the former Mouseketeer, who had blossomed into a voluptuous 21-year-old beauty. Because Funicello was still under contract with Disney, beach movie historian Thomas Lisanti writes, director William Asher had to meet with Walt himself. Disney cautioned Asher to preserve Funicello's wholesome marketability: He would pull her from the picture if she was asked to wear a swimsuit he deemed too skimpy - a condition that went down in cinematic history as the "no navel clause." Here's an excerpt from 1965's Beach Blanket Bingo, in which Funicello's comparatively demure attire is a marked contrast to the other beach bunnies.

Back to the Beach: In 1987, Funicello and her former beach movie co-star Frankie Avalon did a reunion movie, Back to the Beach. In the scene below, Funicello displayed her dancing ability at 45.


Photo: Everett Collection



Also of Interest

Join AARP: Savings, resources and news for your well-being


See the AARP home page for deals, savings tips, trivia and more