Bea Kozera: Jack Kerouac's Lost Lover
By Patrick Kiger, August 30, 2013 03:49 PM
If you've read Jack Kerouac's 1957 novel On The Road , you probably remember the heart-rending section in which protagonist Sal Paradise, who's waiting to catch a bus from Bakersfield to Los Angeles, suddenly spies "the cutest little Mexican girl in slacks coming across my sight." Suddenly lovestruck, Sal rushes to jump instead onto the bus that the woman is boarding, and spends five minutes trying to find the courage to offer her his raincoat to use as a pillow. Sal and the woman - "Terry," in the novel - end up becoming lovers. Before long, however, they sadly realize that they aren't meant for each other: "We turned at a dozen paces, for love is a duel, and looked at each other for the last time."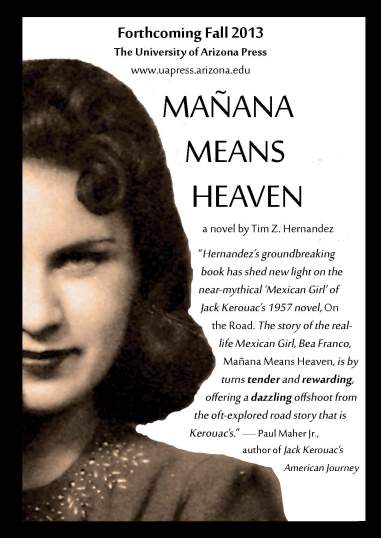 Terry - like the rest of the characters who people Kerouac's feverish, frenetic prose - was based on a real woman named Beatrice Kozera, whom he actually met on a bus in 1947 and with whom he had a brief affair. For decades scholars and Kerouac biographers searched for her to no avail, until in 2012 a writer named Tim Z. Hernandez finally located her in Fresno, Calif.

Here are some fascinating facts about Kozera, who died on Aug. 15 at age 92 in Lakewood, Calif.:

Kozera actually was Mexican-American. She was born in Los Angeles, the daughter of a migrant farm worker.
She married at age 23, but by the time Kerouac met her several years later, her husband had left her to support their two children. She had to leave them with their grandparents while she waited tables and worked in the fields.
According to biographer Paul Maher, Kerouac met Kozera, who was then known as Bea Franco, in October 1947 on a bus to Los Angeles, and spent about two weeks with her and her family in the San Joachim Valley, during which time he tried his hand at picking cotton for $1.50 a day. Kerouac eventually left, according to biographer Dennis McNally, on realizing that he was too inexperienced and inept at farm labor to earn enough money to support Kozera and her children.
When Kerouac went off with Kozera, that meant skipping an arranged rendevous with Neal Cassidy, the model for On The Road's Dean Moriarty.
While Terry's eyes are blue in the book, in real life Kozera had green eyes.
When Kerouac left Kozera and went back to New York, he took with him a picture of her, which is now part of the New York Public Library's Jack Kerouac Archive. She also wrote letters to him in New York, asking when they would see each other again, according to biographer Michael J. Dittman. There's no record of Kerouac ever responding.
After Kerouac finished On The Road in 1951, he spent years trying to get it published. His initial breakthrough was convincing the Paris Review to publish the excerpt titled "The Mexican Girl" in 1955. The literary publication paid him just $50, but after the piece was republished in an anthology of the year's best American short stories, Viking Press bought the entire novel.
Franco eventually married a well-driller named LeRoy Kozera, and the two stayed together until his death in 2004.
When Hernandez located Kozera in 2010, she still remembered the young man from New York with whom she'd had a romance, but was unaware that he had become a famous writer, or that she had been depicted in his work.
More than six decades after the romance that would make her a part of literary history, Kozera herself became the subject of a novel, Hernandez's Mañana Means Heaven, recently published by the University of Arizona Press. Here's an interview in which Hernandez discusses Kozera and his book about her: