Bob Fletcher: An Unsung Hero During World War II
By Patrick Kiger , June 04, 2013 09:50 AM
Robert Emmett "Bob" Fletcher, who died on May 23 at age 101 in the Sacramento area, fought heroically to defend his fellow Americans during World War II, though he never put on a uniform or fired a shot. His struggle, though, was not against the Axis powers. Rather, it was against an injustice perpetrated by the U.S. government itself: the 1942 forced relocation of 122,000 Japanese-Americans, most of them citizens, to internment camps, where they were held without charges out of a misguided suspicion that they might be disloyal. In addition to losing their liberty, the Japanese-American internees often lost the homes and businesses that they had to leave behind. In particular, Japanese-American farmers, who had to leave their crops untended, risked ruin.
Join the discussion: WWII-Historical Moments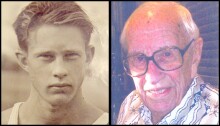 That's where Fletcher, who had a degree in agriculture from the University of California-Davis and worked at the time as a state agricultural inspector, came in. As he told the Sacramento Bee in 2010, "I did know a few of them [Japanese-Americans] pretty well, and never did agree with the evacuation. They were the same as anybody else. It was obvious they had nothing to do with Pearl Harbor."
When some of Fletcher's Japanese-American neighbors asked him for help, he decided to do what he could to right that wrong. He quit his state job and began working in Florin, a town near Sacramento, to maintain 90 acres of land owned by the Tsukamoto, Nitta and Okamoto families. He harvested and sold their Tokay grapes, paid their taxes and mortgages, and did whatever else was needed. To support himself, he took a portion of the net profit, and saved the rest for the owners. "It took a devil of a lot of work," he said in 2010.
Related: George Aratani: A WWII Internee Turned History Buff
But Fletcher's efforts put him at personal risk, in a community where many viewed the Japanese-Americans with suspicion and resentment, in the wake of Japan's surprise attack on Pearl Harbor. He was reviled as a "Jap lover," and was nearly hit by a rifle shot that someone fired into the Tsukamoto family's barn. But Fletcher persevered. In 1945, when the three families were released, their homes and farms were waiting for them.
After the war, Fletcher stayed in Florin, where he became a farmer, helped start the area's water district, and for a time served as fire chief. But the Japanese-American families whose farms he had saved never forgot his efforts. At Fletcher's 100th birthday celebration in 2011, Doris Taketa, who was just 12 when her family was sent off to a camp in Arkansas, recalled how they had viewed him as a hero. "My mother called him God, because only God would do something like that," she said.
Here's a 2012 talk by four other northern California survivors of the internment:
Also of Interest

Join AARP: Savings, resources and news for your well-being
See the AARP home page for deals, savings tips, trivia and more